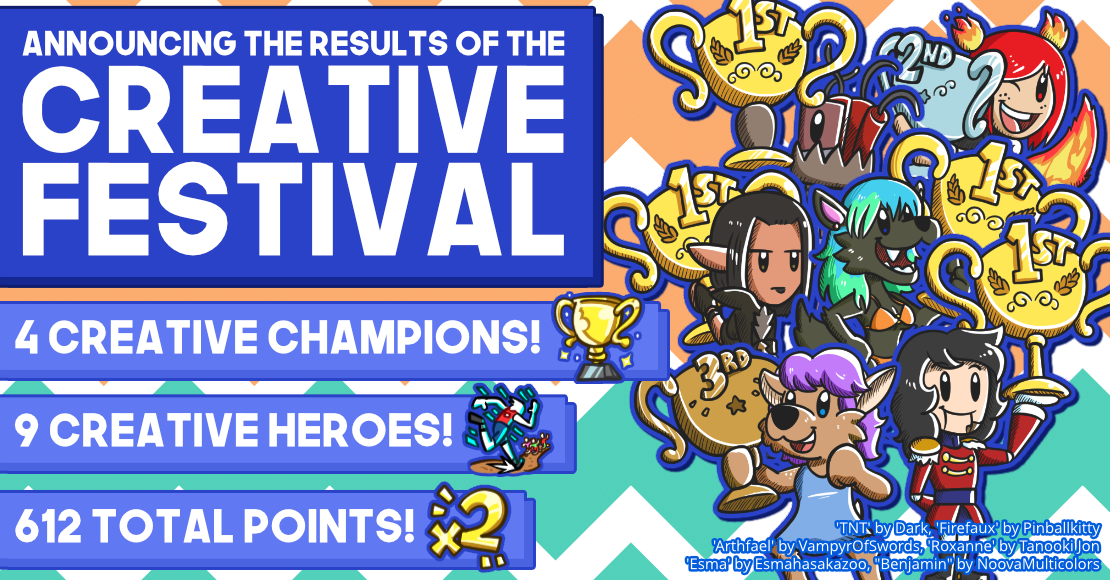 It's been practically a month since our Discord Server's Creative Festival server event has ended! Before we celebrated everyone's creative efforts, we wanted to properly finish-up and release Art Fight Duel, and while it took us a while, now it's the time to commemorate the end of the festival and our high-scoring Creative Champions for 2020! 🏆
The Creative Festival has been our most successful server event yet, clocking at 37 participants and a community total of 618 points, with all participants keeping a permanent Creative Initiator 🎨 role on the server! 11 participants also made it to at least 20 points, and will keep an additional permanent Creative Hero 🏆 role!
However, four participants raised the stakes even higher and scored a whopping-total of 54 points across all the event, leading to an incredible four-tie! Huge congratulations to Dark, NoovaMulticolors, Tanooki Jon and VampyrOfSwords for being our Creative Champions for 2020 🥇!
Nevertheless, we felt it'd be a bit disheartening to miss the champion commendations for a mere 1-2 points of difference. As such, we also want to congrats Pinballkitty for the 2nd Place 🥈 at 53 points, and Esmahasakazoo for the 3rd Place 🥉 at 52 points!

All these six members, beyond receiving these incredibly-neat digital art trophies, will get the perk of having a unique color-customizable role up until the end of next year's festival! Creative Champions for 2020 will also have the additional perk of being pinned to the top of the server (just underneath Server Boosters) as well! Wowie! 🖌️
We hope that you've enjoyed this big creative-season! There's a lot we have to learn from this first Creative Festival and community-server-activity, but it was incredibly fun to organize! Bellow you can find a gallery of some of our favourite highlights (of many) that were submitted for the event, and the final leaderboard with all the participants and points on it!
Thank you to everyone that has participated, and we look forward to surprising you with events like these on our Discord Server, as well as our upcoming games! Cheers! 🐳
---
---
Festival Leaderboard
The names listed before the points correspond to each participants Discord handle through which they participated in the event!
Current Champions! 🏅
1st. Dark ε#2791 • 54 Points
1st. NoovaMulticolors#8358 • 54 Points
1st. Tanooki Jon#7195 • 54 Points
1st. VampyrOfSwords#6580 • 54 Points
Creative Heroes 🏆
2nd. Pinballkitty#1738 • 53 Points
3rd. Esmahasakazoo#2973 • 52 Points
4th. Elnu#2917 • 45 Points
5th. TuxMMMMM#7172 • 30 Points
6th. Orange#2964 • 23 Points
Creative Connoisseurs 🥇
7th. dy#3761 • 16 Points
7th. chabashiron#6230 • 16 Points
Creative Aficionados 🥈
8th. Mr Tickle Monster#7308 • 13 Points
9th. Krazy#4633 • 11 Points
9th. Man of Many Snails#6151 • 11 Points
10th. Arctiq#7205 • 10 Points
Creative Enthusiasts 🥉
11th. Koi#7243 • 7 Points
12th. kroltan#5555 • 6 Points
13th. Gerkek#5979 • 5 Points
13th. Mentita-Kirby#2138 • 5 Points
13th. Snappy#4516 • 5 Points
13th. The Chao Mage#8480 • 5 Points
Creative Initiators 🎨
14th. Pallid#9203 • 4 Points
14th. Saishi#7724 • 4 Points
15th. Tian#7695 • 3 Points
16th. Bubba#2937 • 2 Points
16th. HyperionNova#9656 • 2 Points
17th. Allemn#4552 • 1 Point
17th. Corvus#3215 • 1 Point
17th. doogyhatts#1134 • 1 Point
17th. ermgerd#4070 • 1 Point
17th. Jawa#2976 • 1 Point
17th. Lazerzen#0904 • 1 Point
17th. Robinaite#1111 • 1 Point
17th. that girl#0009 • 1 Point
17th. thatsweetiecoco#9716 • 1 Point