Right before we went on studio vacations, we closed out the second edition of our Discord's Creative Festival! Ever since we've come back, one of the things we've been working on has been fulfilling prizes for this year's festival. Now that we have them ready, we want to officially commemorate our Creative Champions for 2021! 🏆
If you're not familiar with the Creative Festival, it's a yearly seasonal event that we host on our Discord Server during July and August. During the event, members of our community can post personal creative work to score points daily and exchange feedback! Taking into account feedback from last year, this time, we experimented with having Weekly Challenges and even a Grace Week for those that missed a few days.
While last year's edition was already a huge success, this year's stats were even better than we expected! We had 15,268 text messages exchanged over the duration of the festival, and a total of 1,262 total community points! This means that this has been the best seasonal event our server has had yet! ✨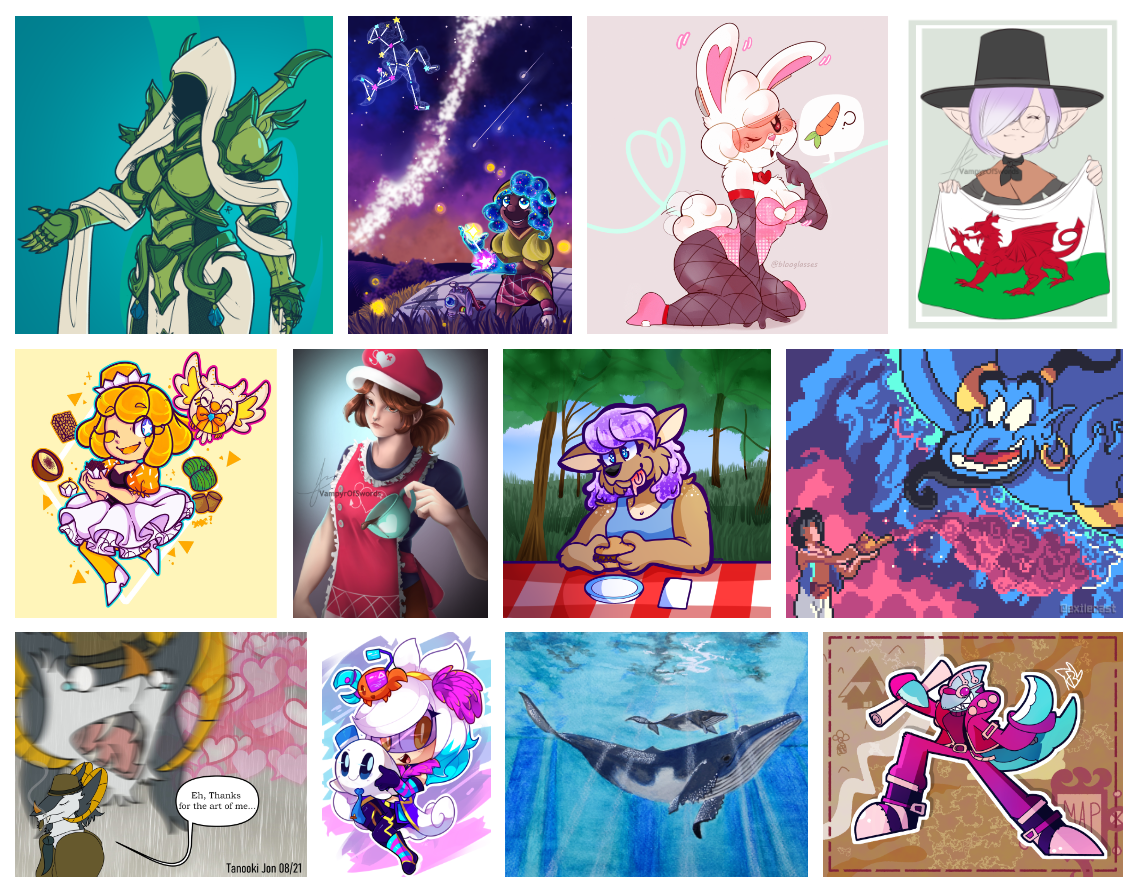 All of this year's participants will be keeping a permanent Creative Initiator 🎨 role if they didn't have it from last year! 12 participants will also be keeping an additional Creative Hero 🏆 role for having reached at least 25 points! You can find the full leaderboard on the second page of this post!
CREATIVE CHAMPIONS
At the top of the leaderboard, and having achieved the 70 points necessary to qualify for becoming a Creative Champion for this year, we have Amuerion, BlackMageChao, Dark, Esmahasakazoo, ShiniApples, Tanooki Jon, Tian and VampyrOfSwords! Congratulations to all of the eight champions, and thank you for your assiduous participation! 🥇

We're awarding these eight champions with these digital Art Fight Duel styled trophies above; a unique customizable colour role on our server; gold pins for them to pin their work on the Creative Showcase channel on demand; and a free copy of something we're announcing next week! That's a lot of rewards, but they deserve it! 🙌
We're extremely grateful for all the participation we've had this year! We're really glad that so many of you kept coming back to share their creative work! We've already started discussing some new ideas for how we want to mix-up the rules next year. But of course, we have a whole nother year before we get there!

For now, we hope that you keep up with us for some major Whales And Games announcements coming this next week, and that you continue being a part of our Discord Server! Cheers! 🐳