Pack up the ghosts and put out the gifts! November is almost over, and the holidays are right around the corner! Up to a point, this time of the year can be a bit spooky on its own too, right? Preparing for holidays can be demanding, so take in the jolly spirit one day at a time! 🎅
As this month comes to a close, a new Status Report is inbound! Like always, a lot of things have happened since October's Status Report, and things are quickly picking up even more speed! While we had a short break last month, things have been non-stop for our team as a whole!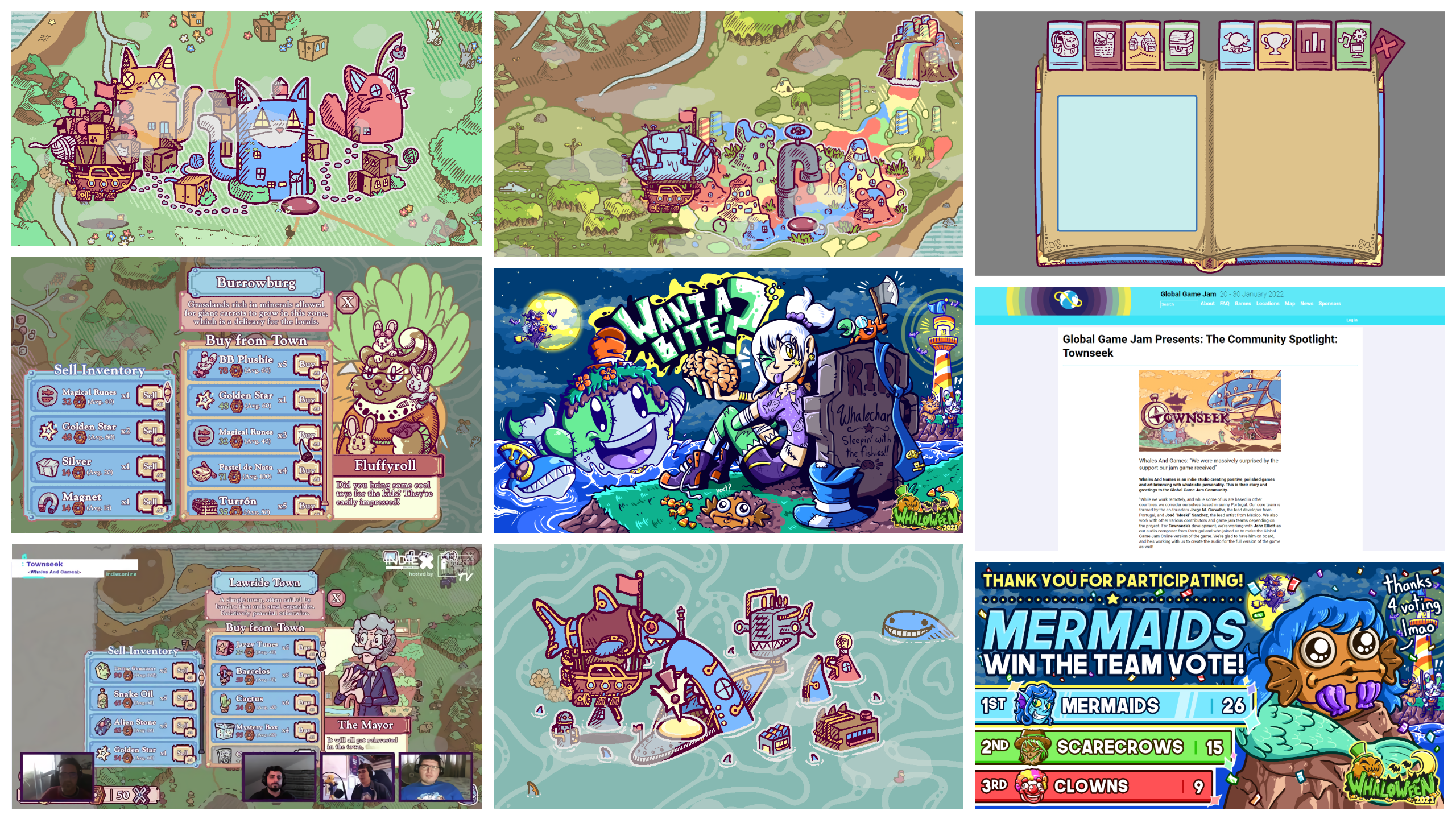 This month, we've got more Townseek to talk about! New areas and towns continue coming together as we keep sculpting the gameplay out. The team at Indie X had a chance to stream the game with us for a first in-game look! Our Whaloween Server Event ended recently; and the results of the Whaloween Team Vote are in! And of course, we're also checking on how we want to celebrate Whalidays this year.
Without further ado, let's head in! 👇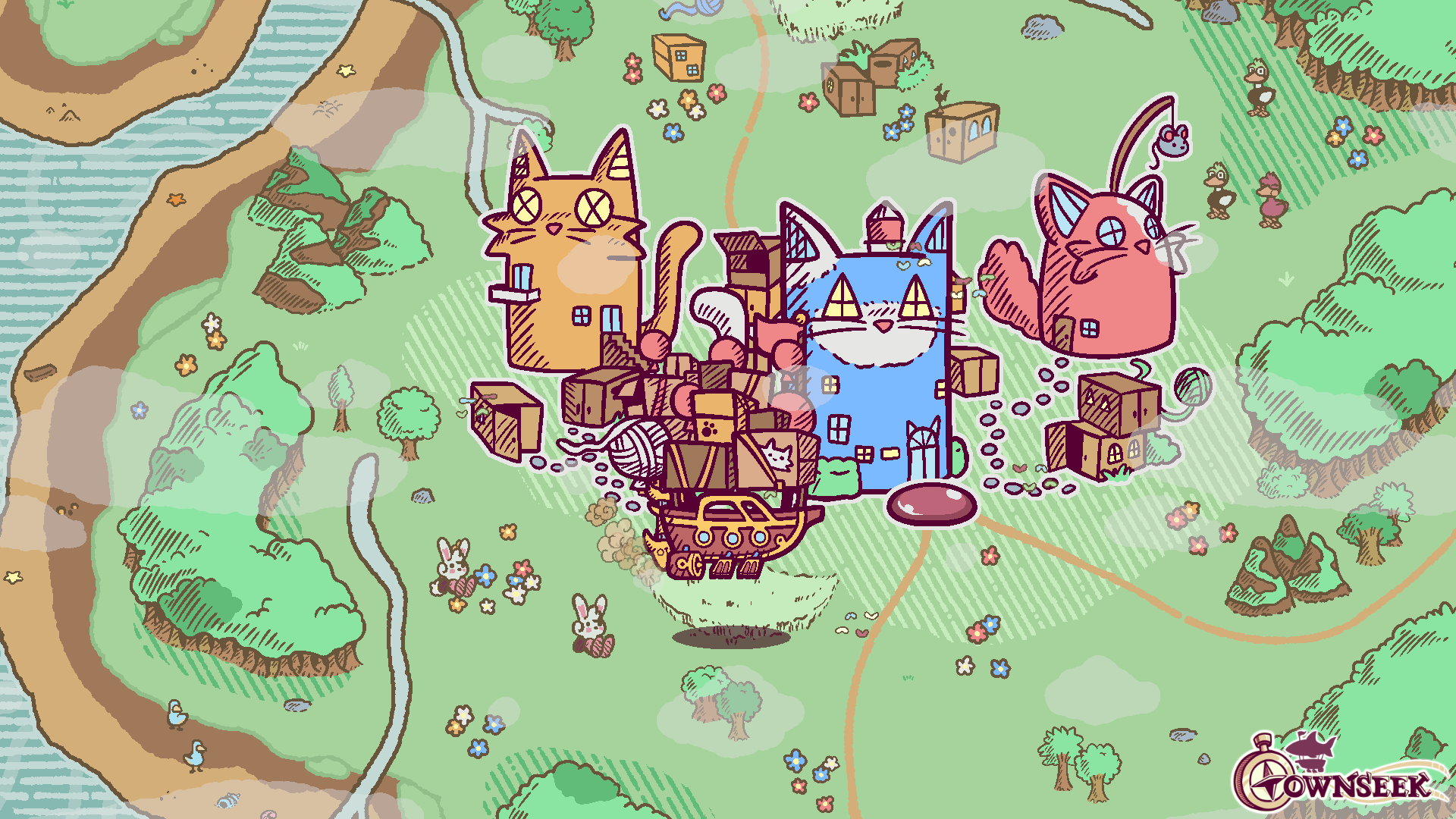 As development on the full version of Townseek continues, our focus has been on updating the content we've already got in-game. Our goal is to keep improving on our existing game base, while starting to add some of the new content we've got planned on top.
Last month, we showed some early previews of our new art direction and some new locations. We showcased a new town, Burrowburg, and one of our new biomes, the Golden Forest. This time around, we're creating brand-new areas, while also improving on the existing content! ✨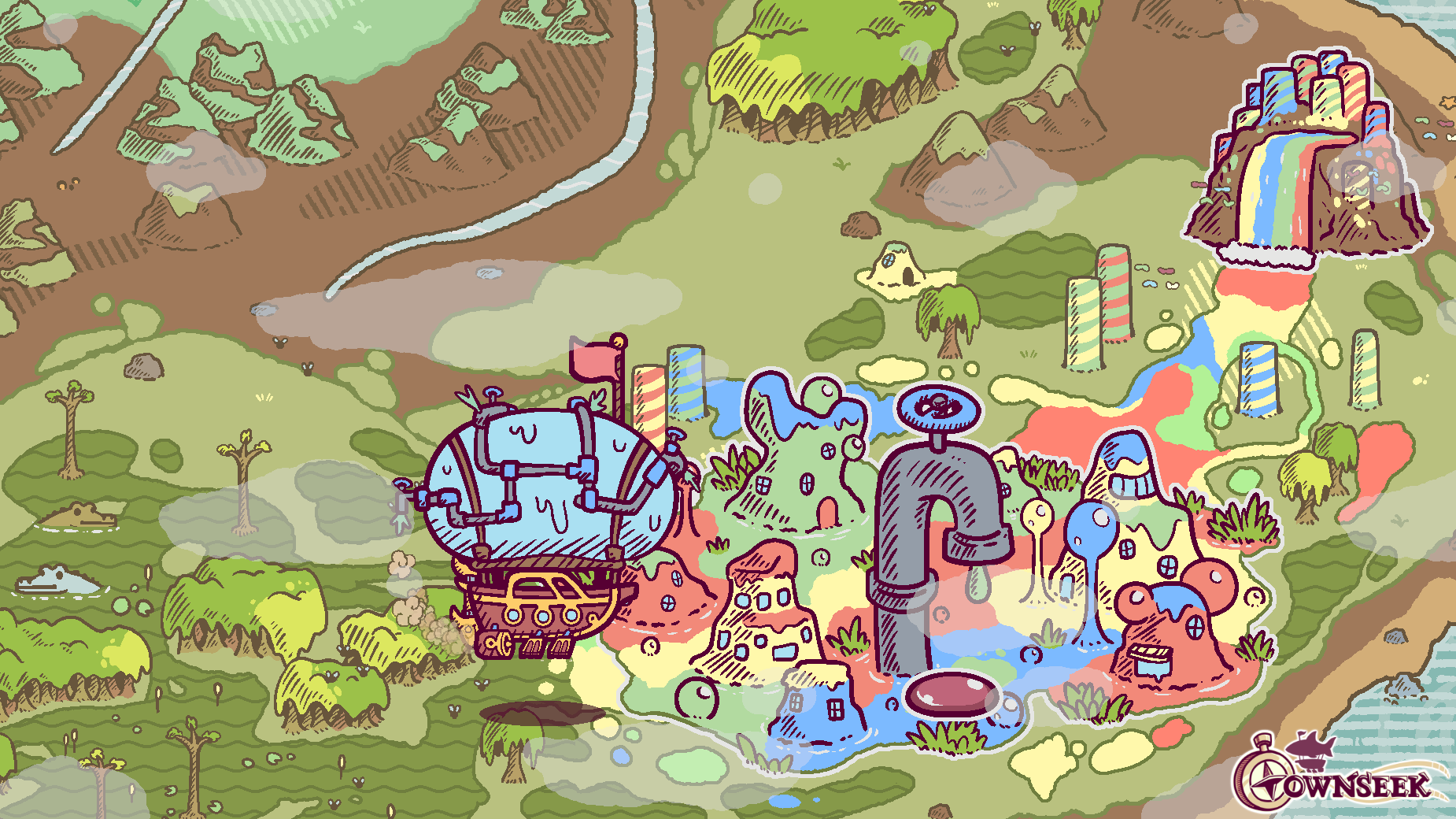 Coming back from the original jam version, the towns of Meowosville, Driplands, and Lawride Town have all been remade with our new art direction in mind! Since we want these towns to feel like a more natural extension of the world this time around, they actually extend beyond their interacting area, populating more of the continents where they reside. The Driplands extend towards the nearby swamp, complete with crocodiles and frogs. Meowosville has a denser forest than Burrowburg and is close to a familiar dog park. Lawride Town is beyond a mountain belt, surrounded by nature and bandits.
Aside from the towns and continents, we're also giving the ocean some additional personality! You can spot sharks, whales, and corals, and even some new landmarks! Given how important the ocean is to the world of Townseek, we felt it was necessary to spice it up too. We want there to be more ocean towns, and for the sea to add even more to the ambience of the game!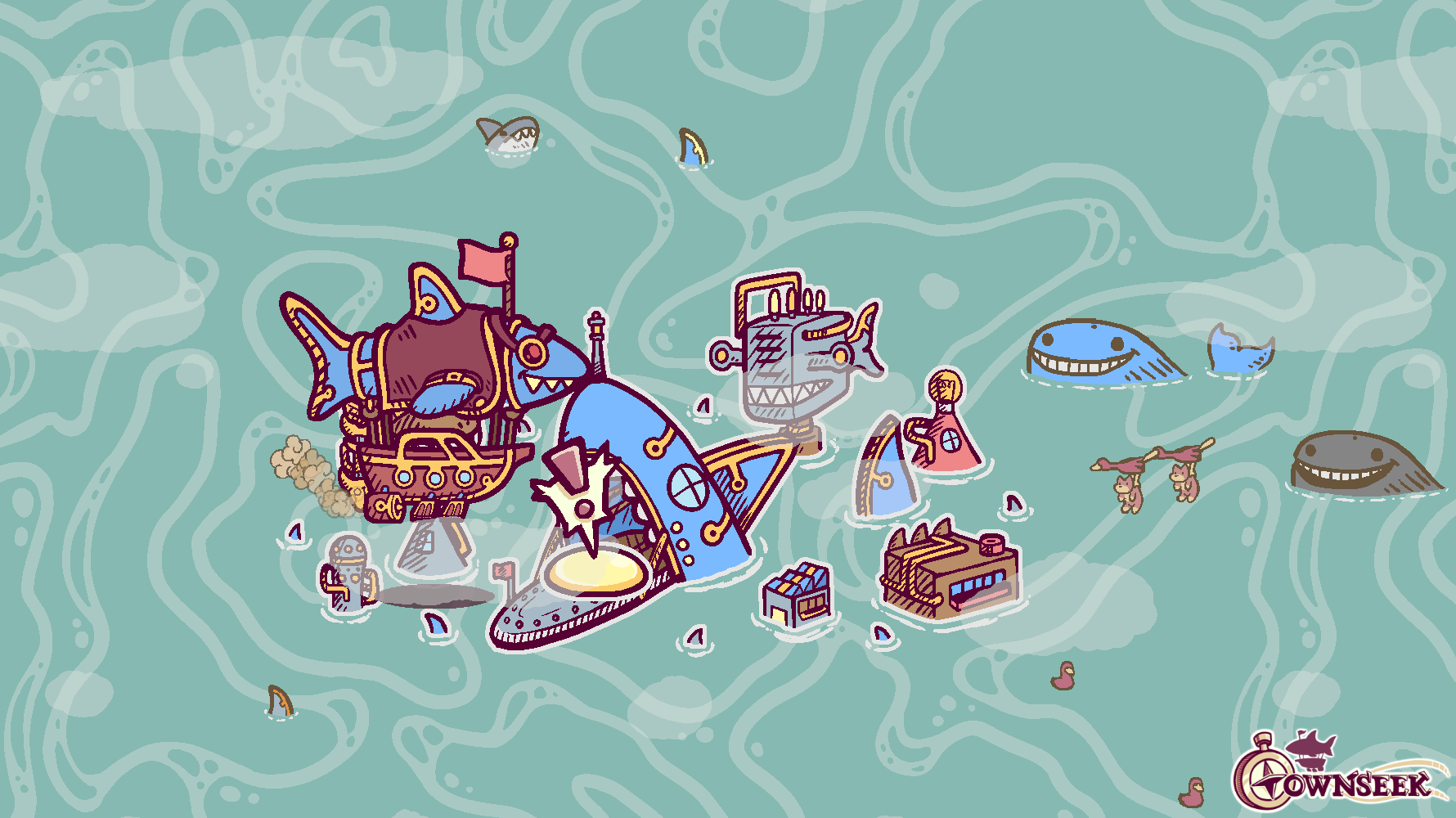 Another one of our goals for the game is to make as most of the sound design reactive and dynamic as possible. In addition to each town having its own set of instruments that plays when the player is in their proximity; we're also adding in unique music tracks to each area of the map, giving each zone their own musical personality! 🎵
We're also doubling-down on the unique ambient sounds and details for the new mini-biomes. In the Mossy Marsh you'll be able to hear the sounds of the frogs and flies while flying above it. Likewise, you can hear a chilly breeze when you're in the snowy-regions and mountain tops. We've also added an extra variety of forest and ocean sounds too!
Finally, but not least, we had the pleasure to sit down with João Correia from Indie X, Portugal's biggest indie game showcase, for a first look at the full version of Townseek! While most of the gameplay so far is based on the jam version of the game, we invite you to watch the recording of the stream! 🎥
During the stream, we talk about some of the gameplay work we've been doing in the background. These include improving our codebase and some of the new systems we have implemented in the background. As we've mentioned in our previous Status Report, our goals for the next months are to start implementing some of the new systems, features and side-activities we've got planned.
Bear in mind that all the placement of locations and how the game currently looks is not final! We're still experimenting with some elements, and the final product might look different in some ways. But for now, we'd say that the direction is right on track! 🦈

You might have noticed that Bunny Splash Casino didn't get its own section this time around in our Voyage Journal. Townseek has been demanding a lot of our attention. Balancing the tasks of its development, business and everything around the game has been fun but also challenging. Considering the smaller scope of Townseek, we're putting our focus on its development and carrying on with it!
While we still want to deliver a great game with Bunny Splash Casino, at this time, we can't assure monthly news every time. As such, whenever we feel we made decent progress on the game, we'll let you know! For now, our attention is mostly focused on Townseek. We hope that you understand, but we hope that you still look forward to both titles just as much! 🙏
Even with our focus on Townseek though, there still are other news that are happening in our studio and community! Let's give them a look!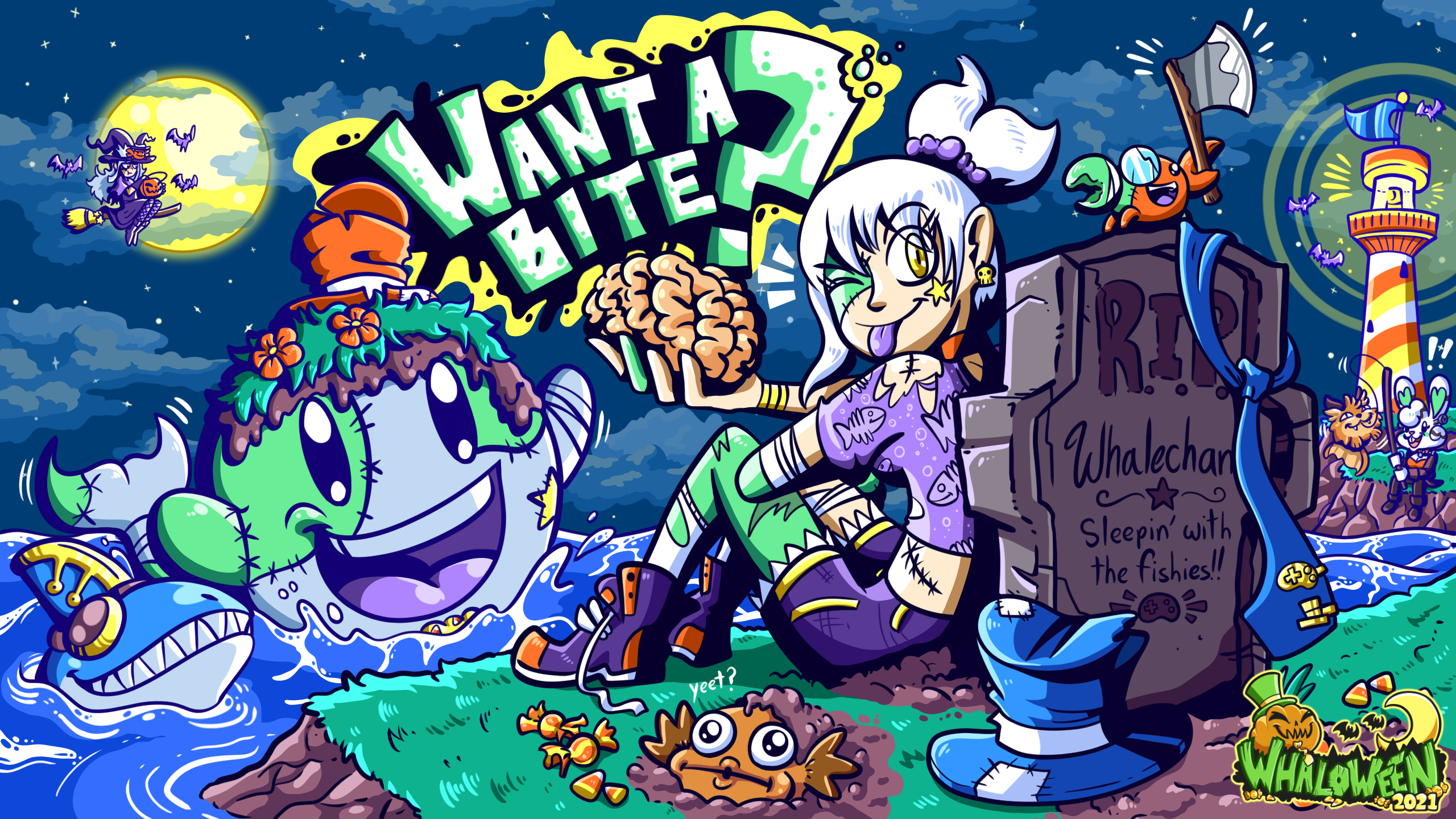 The Whaloween event from our server ended recently, and the Whaloween Team Vote results are in! Team Mermaid won this year by a landslide, triumphing over the Clowns and Scarecrows! Thanks to everyone that participated and look forward to a mermaid-themed piece of artwork next year!
Invited by the folks at Global Game Jam, we had the opportunity to write about our experience with creating Townseek during the game jam! We wrote about the kind of magic that only happens during jams; how being unable to travel during the pandemic pushed us to create the game; and our overall Global Game Jam experience!
As we've closed down Whaloween, our team took e a week off after putting a lot of time into the Indie X build. Jorge took the opportunity to travel to the north of the country; while Moski took time to catch up with some of his Whales of Culture media!
Beyond Indie X, our team has also been busy at other events this month, including Nordic Game and the Indie Game Business Sessions. While they are more business-oriented, we're looking for future opportunities for our games and brand. They're just as any bit important as the former!
Look forward to more about this year's Whalidays! Timing might be a bit tricky since holiday plans always pop at the last second. But if things line up, expect some jolly goodness!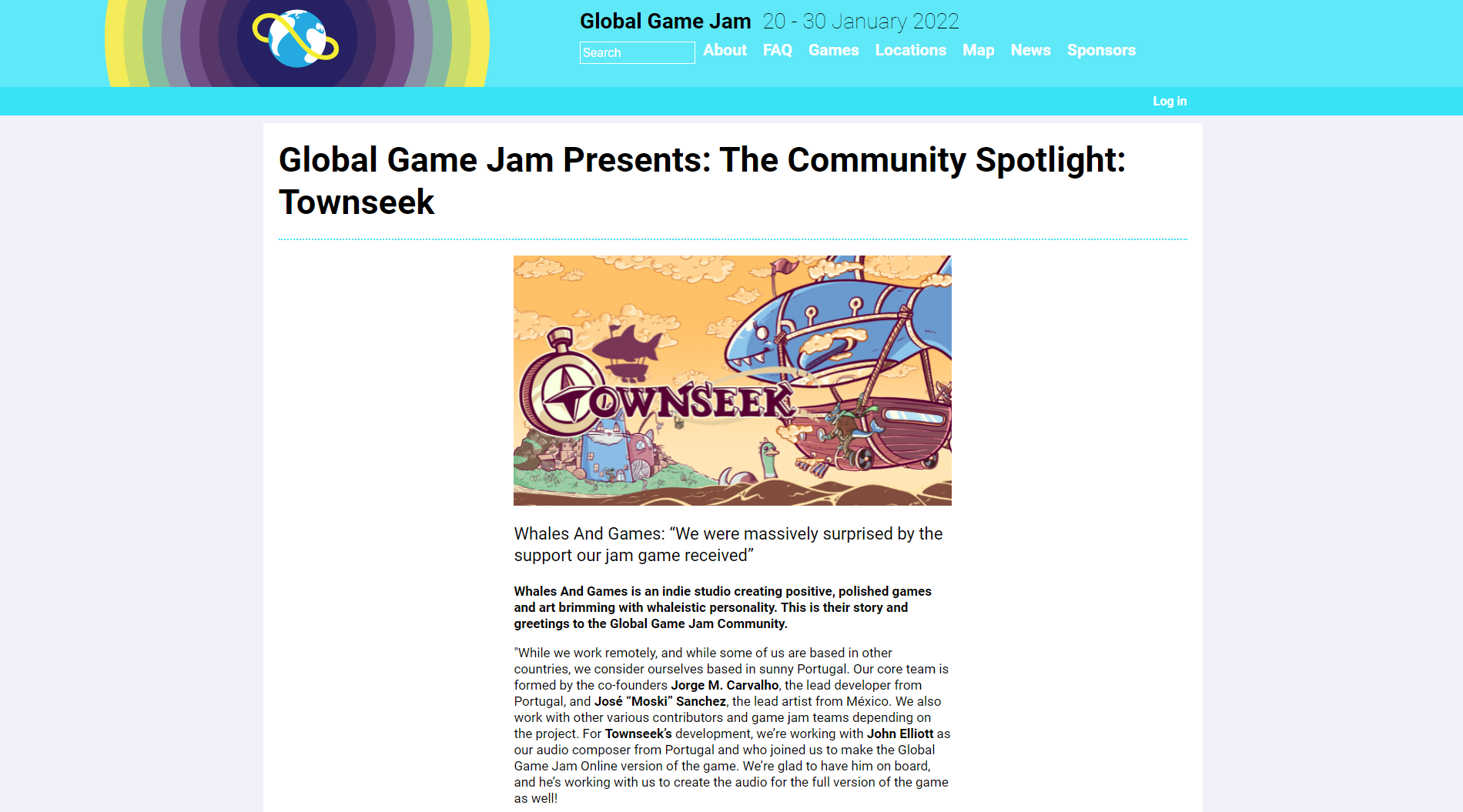 While we were very busy over the course of this month, we've still had the opportunity to catch-up with new media and games! It wouldn't be a proper status report without some Whales of Culture recommendations! 📱
From adorable pick-able creatures to farming micromanagement, here's what our team recommends for this time around!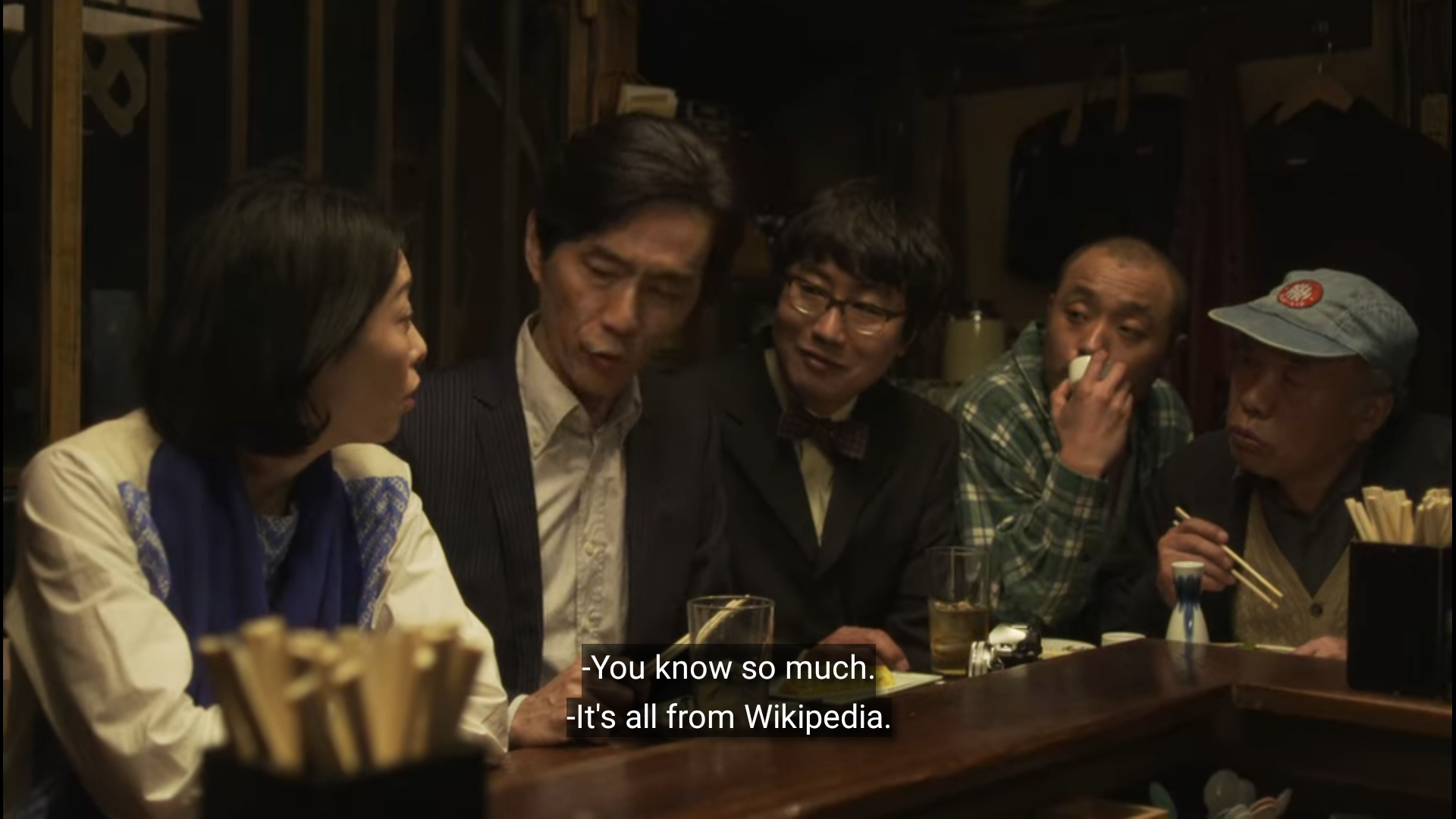 Jorge
I'm surprised that more people aren't talking about it. But for me, Pikmin Bloom has become my new augmented game of choice. Developed by Niantic, the game takes their learnings from Pokémon GO and creates a more focused and casual experience. While GO is the bigger game with more things to do; Pikmin Bloom allows you to focus on walking and on planting flowers over the map as you go. It also gives you the chance to catch-up on what you missed if you didn't want to or have the time to stop during your walk.
On the media side of things, I've been watching Midnight Dinner over the past few months. Midnight Dinner is a fantastically wholesome and heart-warming series portraying a small Shinjuku dinner run by Master, which is open from midnight to seven. Each episode covers a story of one of the dinner's patrons and their personal life experiences. If you're a newcomer, Midnight Dinner covers the three first seasons of the show. Meanwhile, Midnight Dinner: Tokyo Stories cover the subsequent two seasons. Not confusing at all, Netflix!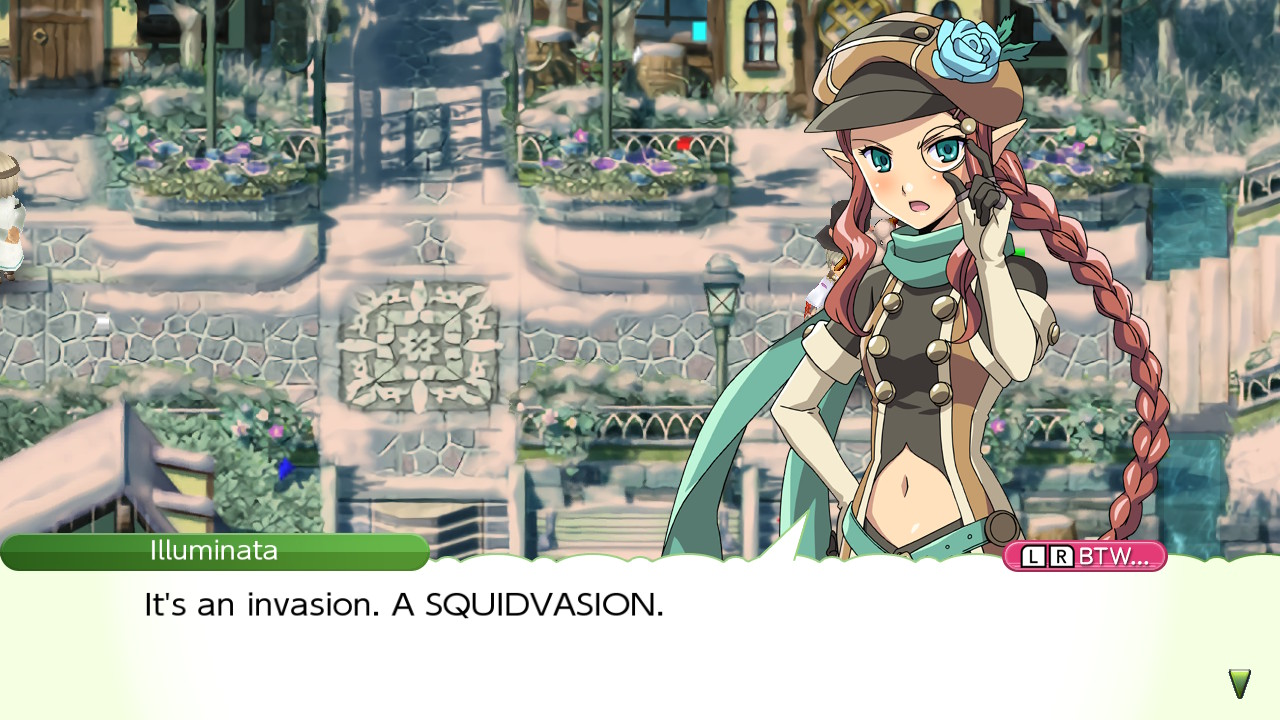 Moski
Rune Factory 4 Special is a thrill! The series is well known for its fantasy setting, farming micro-management, combat and crafting. But this time around, the setting and plot took the lead. After a while, the game starts to focus on the existential fear of losing your friends and being alone; which makes forging relationships and overcoming hardships very satisfying. It's a grind-fest though, so expect to spend several hours of grinding just to get the plot to advance!
I also watched Shang-Chi and the Legend of the Ten Rings and it's a Marvel film through and through. The movie takes its characters through a fun tribute to old-time kung-fu films, coated with technology and magic. The villain is one of their most sympathetic ones to date; the combat choreography is second to none; and while its contribution to the MCU might be minimal, I can't wait for a sequel!
---
That's it for this Status Report! Townseek's new zones are looking better than ever! The decision to go with the unlimited colour palette has allowed us to really make each area feel unique! We're certain that the upcoming gameplay is really going to start giving the full version its own identity! 🕹️
While Bunny Splash Casino is taking a bit of a backdrop, we still appreciate the support you've given us on the project! We hope to have more news on it as development on Townseek stabilises!

As December comes, it's time to dust the holiday decorations and get the eggnog as it's getting jolly and chilly! Unless you're from the southern hemisphere, in which case, good luck with summer! Even then, we invite you to come round to our Discord Server to share the spirit! We're also bringing the Whalidays spirit to Twitter and Instagram too, so make sure to follow us there as well!
We'll be sure to wrap up the year like a tidy shiny present. See you soon closer to the end of the year! Cheers! 🐳