What a weekend this was! We've been wanting to make a new post showcasing our project ever since we started, but every day we were so into what we were doing that there wasn't any time left to actually make said post!
But now that the jam is over, and we finally got our breath back, we wanted to show you our project which we worked during the past three days. When we first set out to make it, we we're a little worried the theme wouldn't translate that well, but gladly, we believe that we managed to get the theme into the project pretty well.
Without further ado, we would like to present you Colossorama 36!

As a gladiator, you will die in combat, so you might as well take some people with you. Slay, chop and stab until your name is remembered in the Pantheon of Gladiators! The more heads you chop, the more pride and honor you deserve!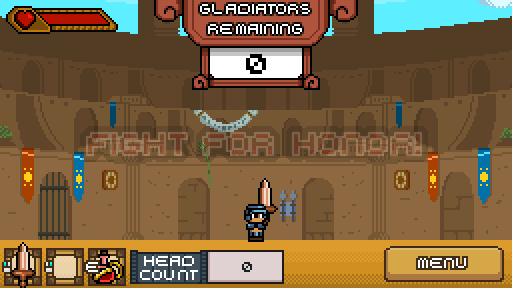 Gameplay is simple. You have to slay fellow enemy gladiators by using an arsenal of weapons and tech. These have mostly different stats and effects, which can determine the outcome of each wave.
Although you only start with a weapon and an item, at the end of every wave you are prompted to pick between three Pantheon Techs, and it doesn't matter if the three options are worse than your current weapons, you must choose one!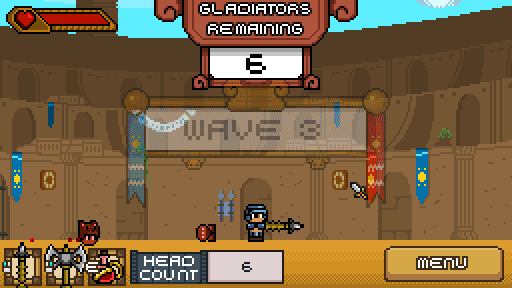 The game and gladiator run ends whenever you run out of health. And when you're done, we made it so you can even brag about it on Twitter!
Give Colossorama 36 a try! You can even play it in your browser! We are looking for any possible feedback so we can get a more proper idea about how to improve the gameplay and deliver a better game next time. We will be playing and leaving feedback on other games as well, since that's the true spirit of any Ludum Dare. Gotta make those Feedback Friends, eh?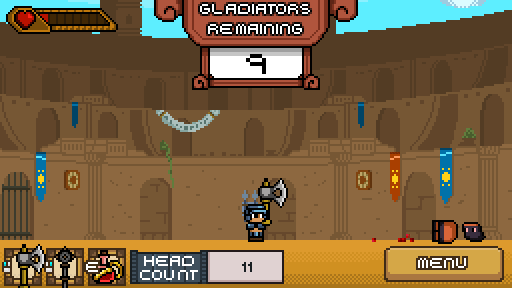 We are also planning on making a Post Mortem, but that will probably happen towards the end of the week. Of course, we'll be making it public and post about it! Any knowledge is good knowledge for others!
Now, now, go on. Keep smashing skulls and rolling heads. Remember, gladiator blood is not going to spill itself.