Content Warning:
Cosplay Café contains content that is not appropriate for all ages and is not suggested for viewing at work. While the game contains no explicit imagery, it still contains writing that could be considered explicit and suggestive imagery.

---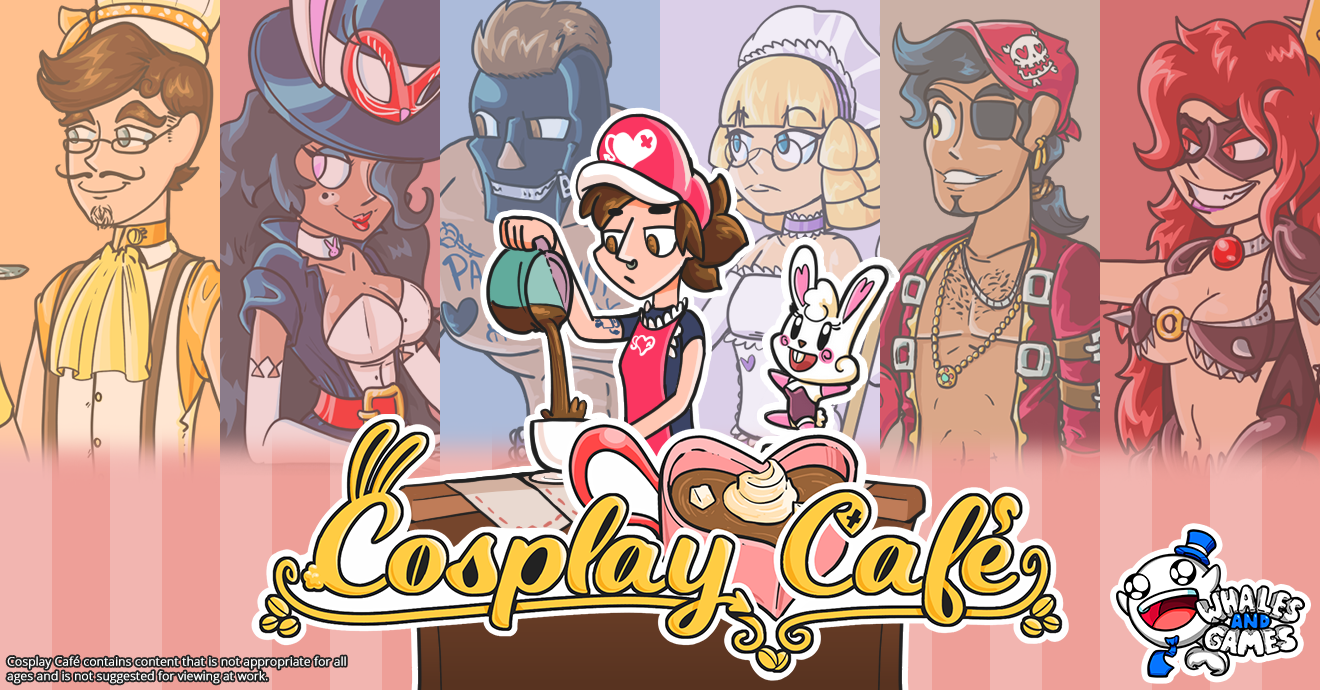 Come and relax with a whipped and steamy coffee! In a city where adult entertainment is the new best thing, the Whipped and Steamy Café is the best fun for all cosplayers with a wild and adventurous side! No shirts, no shoes, no shame and only the best service!
But this café needs an extra pair of hands to stay steamy. Fortunately, our brand new hire Caffie just got the job! With a stoic demeanor and an utter lack of interest on her duties, she'll have to manage the plans and decorations of the everyday, and meet up with the clientele. And, who knows? Maybe even make some unlikely friends…
---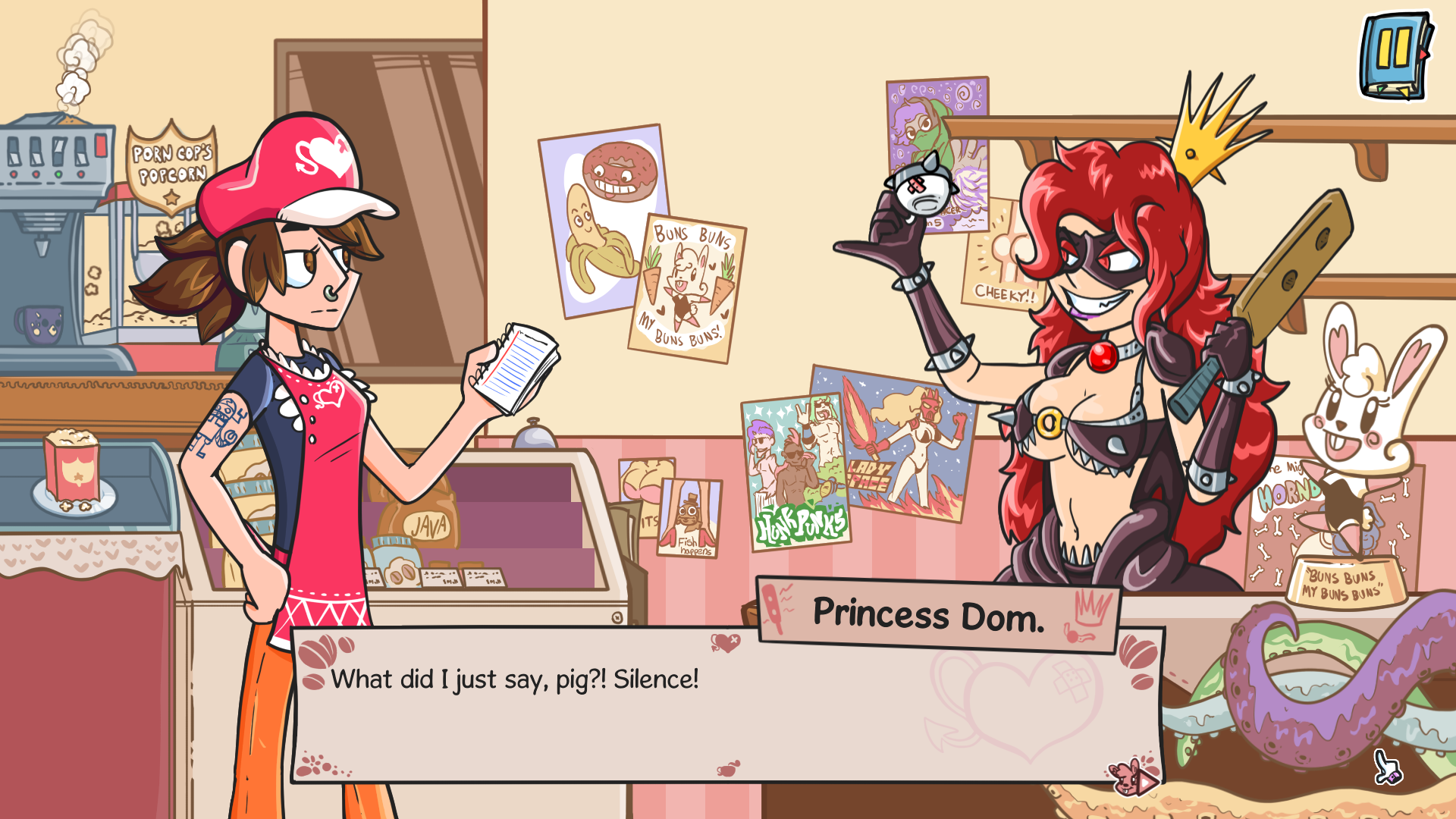 Happy Valentines Day! Our team at Whales And Games is honored to reveal Cosplay Café, our mostly-suggestive out-of-our-minds management and dating-sim crossover being developed for this month's Strawberry Jam 3!
Join Caffie, the brand new-hire turned manager at the Whipped and Steamy Café, a cosplay centric café set on a city where adult entertainment has become the main-stream, and you can imagine just how much people are all over that stuff!
Likewise to other Whales And Games games, we follow our design of picking on two genres, simplifying them and introducing them a twist! In Cosplay Café you'll have to go through three different phases as you manage your café to incredulous profits (especially when there's crippling debt right behind you)!
---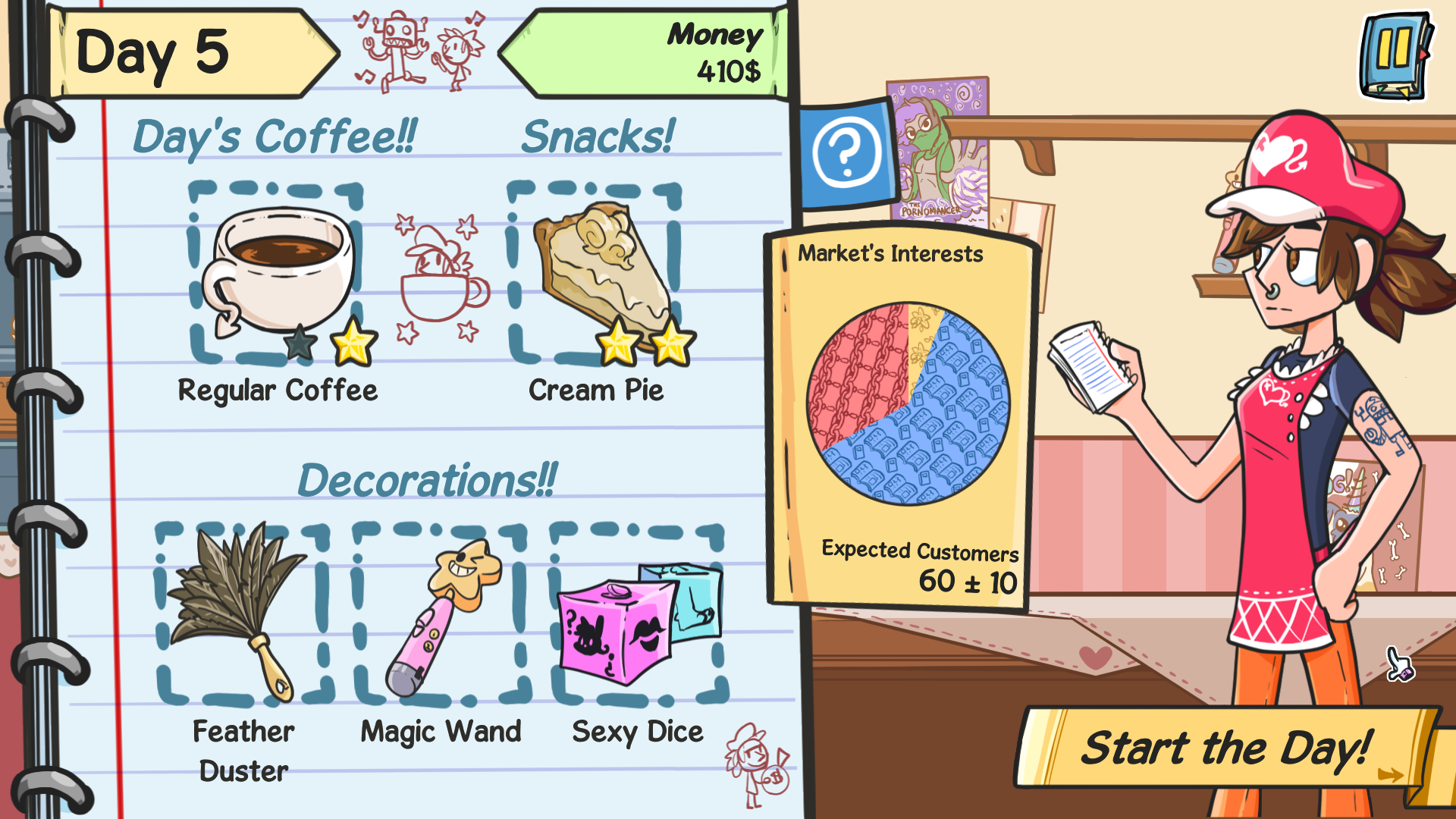 Start the day by Managing your café and picking the coffee, snack and decorations for the day. The choices you make you will cater to different cosplayer groups (including Vanilla, Exotic and Fantasy), increasing their interest to come to the café, as well as how much they'll pay and tip you for your products, which profits you can turn to unlock even more products!
However, stick to the same choices for too long, and you will see your target audience losing interest for visiting the café! It's up to you to assure you keep your café a novel place!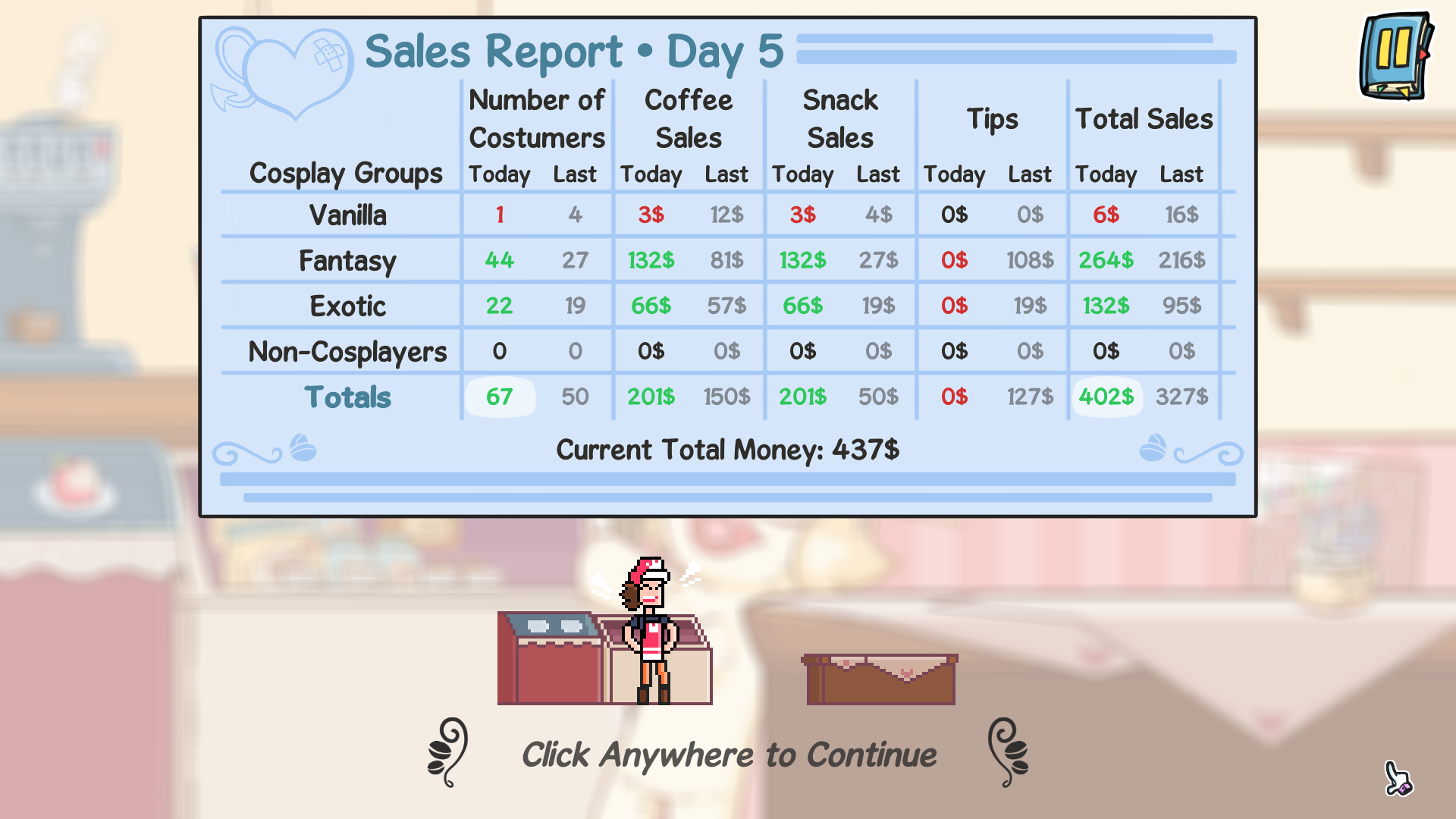 Once you've made your management choices, it's time to put it to the test and see how they translate to Sales! Different cosplayers will visit you and show you just how well you performed with the sales catered to that group!
Check your growth compared to the previous day and see where you've improved/worsened. Take those lessons, and prepare for the next day!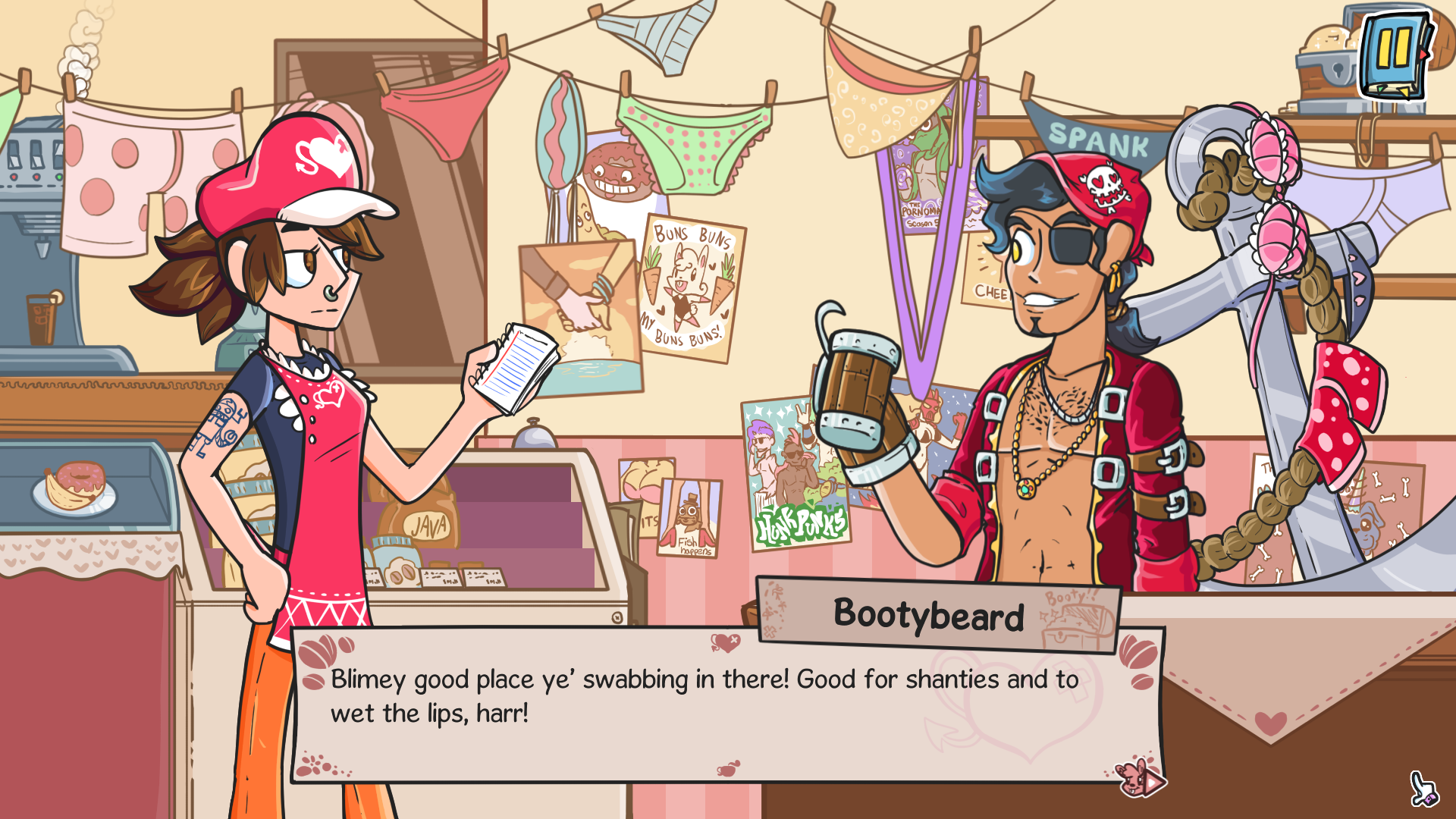 Depending on the visiting chances of the different groups, at the end of each day you'll get the opportunity to meet up with a Special Customer from one of those groups. The characters that appear have different chances of showing up, meaning that, if your café catters more towards the Exotic group, the higher the chances of you meeting a character from them!
Talk with these Special Customers and increase your relationship with them to learn more about their cosplays, their origin stories and about them as people. Max up your relationship with them and you might even get the chance to see more of them, if you know what we mean. 😉

---
We're still mid-way there and there's still a lot of work to be done until we are done with the game and ready to release it for everyone to get their hands on at the end of the month! Expect frequent news of it through our social media channels at Facebook and Twitter, and, of course, we made a special channel over on our Discord server just to talk about this game! We hope to see you there! 🐳
---
Q&A because you probably have a lot of questions?
But Why?
As left-field as it seems, we have actually been wanting to do Cosplay Café for a long while, and Strawberry Jam 3 proved to be the perfect time slot for it. The shock-value nature of the project's setting, mixed in with the character and character development driven aspect of the game made us sure that this is one game we wanted to make.

Ultimately for us, Whales And Games is about memorable experiences, games and characters, rather than being about 'being family friendliness'. Our goal is to make you expect the unexpected from us, and we think this project fills in that nature.
What happens after Strawberry Jam?
Cosplay Café is one project that we have tons of ideas for and which we wish to expand! Depending on how it performs on its release and how much people are interested on it, we will more than willing to continue developing it! If you're already interested on it just from this announcement pitch, let us know! 🤗
That's cool, but what about Colossorama 1.3?
Colossorama's Update is taking a bit more than expected, and we've been working on it since October non-stop. The game is now on its last 10%, with only a few of the final features we want to include missing from being added, but at the same time, we felt like we needed a break from its development. We will resume it immediately after the jam ends, and The Champions Update will release in March.
Whow! Where did this blog come from?
That's one more surprise for today! In addition to Cosplay Café's announcement, we have also decided to release a first draft of the new full website we've had in our minds for a while, so we can finally have a blog where we can talk about bigger posts without having our content spread across multiple sites (like Itch.io, Ludum Dare, etc.)

For now. the homepage is just a port of the old mini-site frontpage, but this website will grow over time to accommodate to new content (like a proper about and games page). We have also imported our previous Ludum Dare website posts, meaning you have more than 24 development insights in case you want to strength up your game development trivia and knowledge!