Happy 4th Anniversary, Whales And Games! 🎊🐳 Pinch us in the cheeks because it's hard to believe that we're already headed into our fifth year! In the world of indie game development, four years feels like a lifetime. We've come a long way during these last years, with our games and as the people behind them.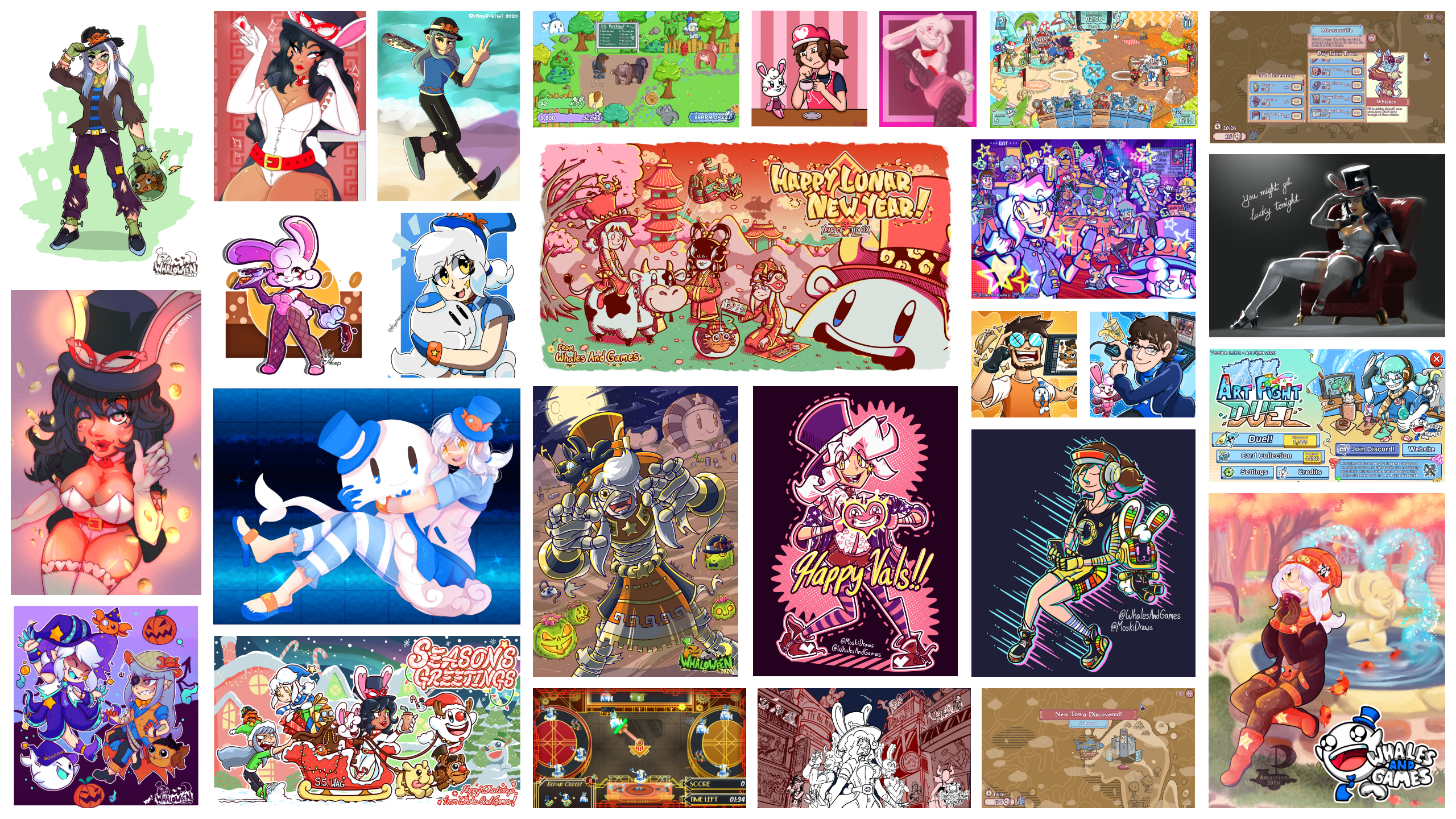 Thank you to everyone that has supported us on the journey so far! From our family and friends to our community. From the people that have played our twelve games to the artists that keep celebrating our wonderful cast of characters!
As we wrote at the beginning of the year, there's a lot we have in the plans for this upcoming year. In this post, we want to go a bit more in-depth into some of those plans! Before that, however, and as tradition calls it, we've got a celebratory artwork featuring our mascots dressed-up for the occasion! We've also had the opportunity to commission both Wearepopcandies and CuckyUncle for some custom anniversary artwork! You can find them both at the footer of this post! 🤗
This year we're going with a red and yellow theme for our anniversary. The world needs more warm colours at times! 💖🐇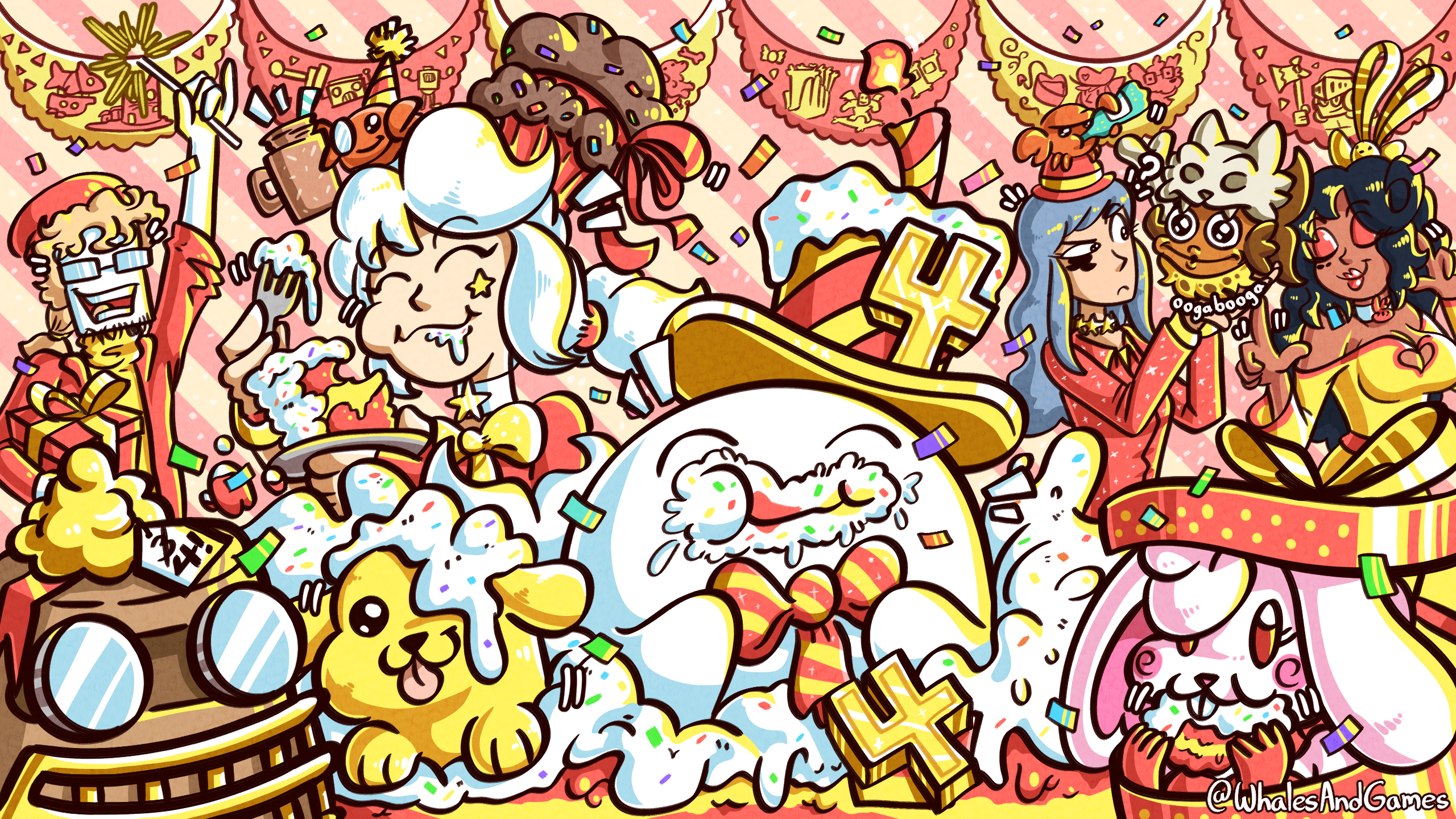 Last year, we mentioned how our third year felt like it had been more about achievements satellite to our games, than about game development itself. With our fourth year, our goal was to begin work on a commercial game. We wanted to do that, while also progressively returning to other game projects on the side as we went along.
Gladly, this past year, we surely worked on games! During our participation at Art Fight, we released Art Fight Duel, bringing together the characters from several digital artists. On Ludum Dare 47, we put adorable doggies into office chairs and created Woofice Chair. In the past months, we also participated in Global Game Jam and developed Townseek, an exploration trading game, which we've continued adding to.
And of course, there's everything else too! Last year, we organized several community server events, we revamped several of our characters including Whalechan redesign, we launched our growing Instagram and LinkedIn pages, and we even hit 1000 followers on Twitter right before this post! 🎉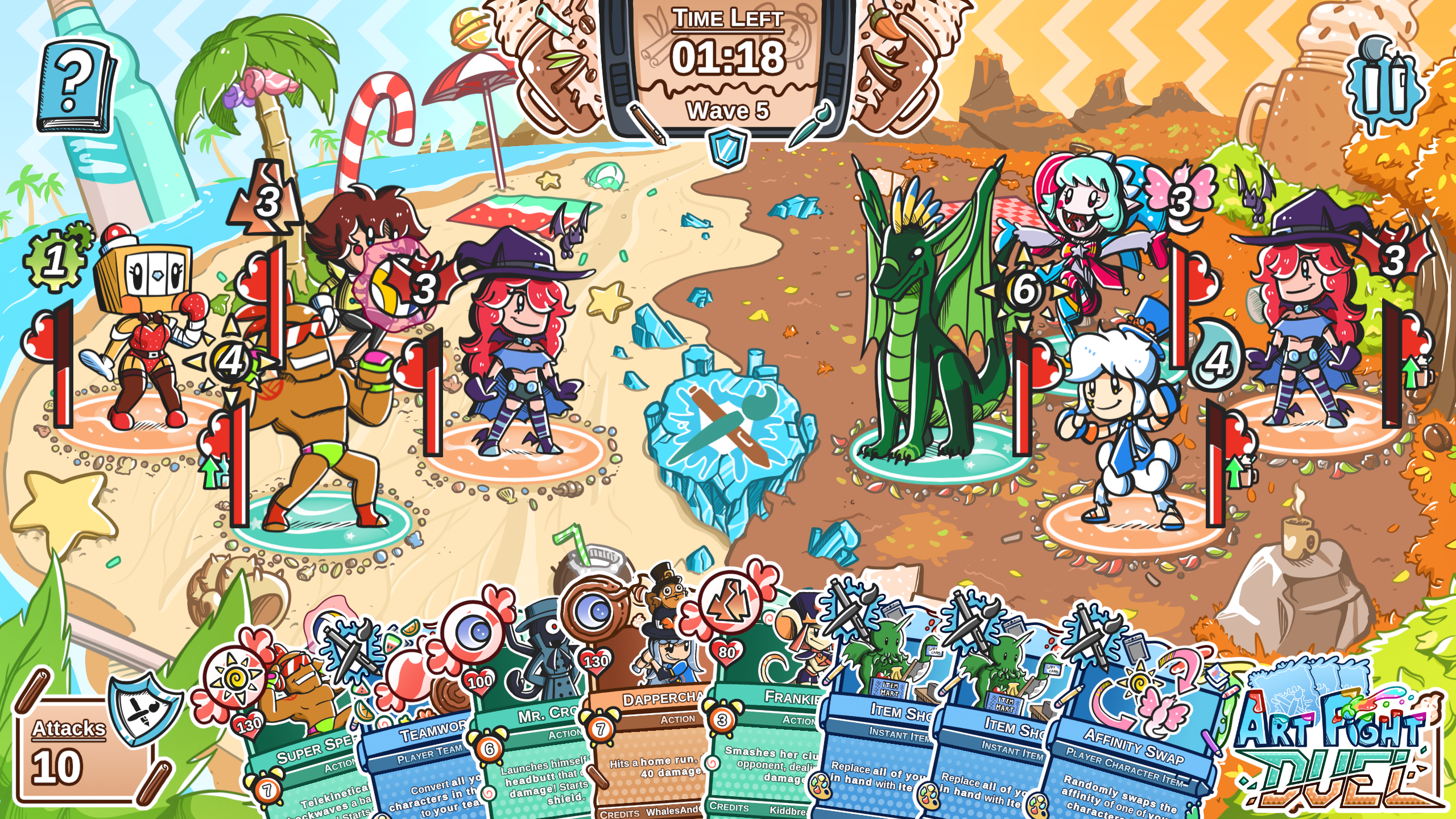 However, what you're likely curious about is Bunny Splash Casino. If you're unacquainted with the game, during Whipped And Steamy's anniversary, we introduced it as our first commercial game. Bunny Splash Casino is a full-blown, adults-only, erotic management simulation game. While being a new game, it follows the footsteps of character development we settled with Whipped And Steamy. 👀
Our first experiences with the game's production were a bit rocky and we shelved it for a while. Back in November, feeling ready, we rebooted development. Since then, we've been working on it at a great pace! Currently, we're working on character designs, creating key artwork and developing the core game!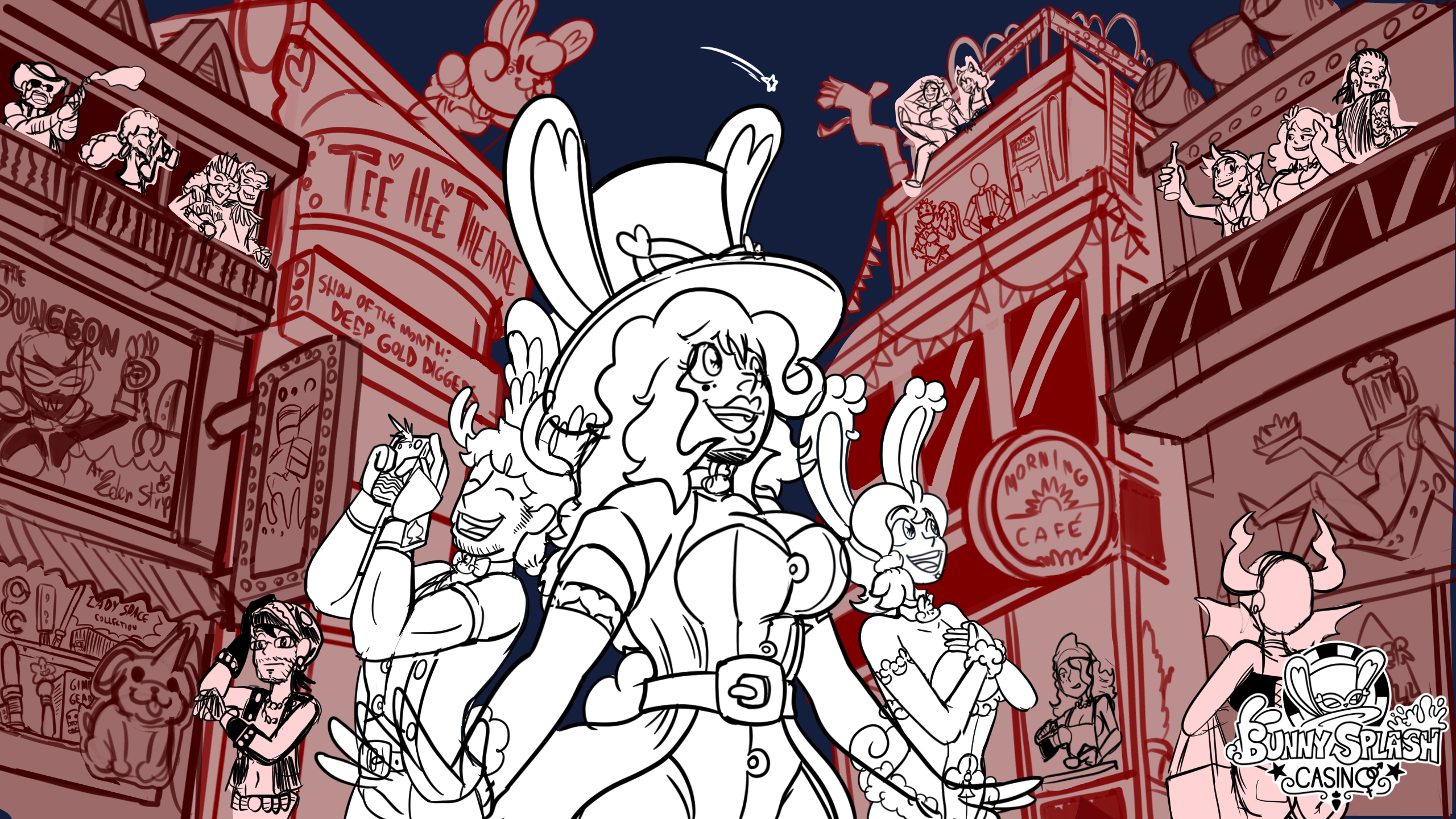 We want to start bringing you news about Bunny Splash Casino regularly in the next few months. We will be doing it through its Twitter account (adults-only, mind you) and through these Voyage Journals! Even with its mature label and its initial development woes, this is a project that we're really proud of.
The setting of the Eden Strip and its inhabitants are diverse and full-of-character! We can't wait to show you the sexy shenanigans they'll be getting into! 😊

Beyond the work that we have been doing for Bunny Splash Casino, we have also established a routine where we get the final part of each work day for side-projects and other ideas we want to do and develop as Whales And Games. This allows us to stay fresh and push new content even while we are working on Bunny Splash Casino.
However, all of the work and potential release dates that we have for these side-gigs are extremely volatile. They're like little treasures we can work on the side of our main project if there's an opportunity. Therefore, we call these Treasure Projects! ✨
As such, let's get into some headlines of these that we've been working on during these past few months and where they are headed: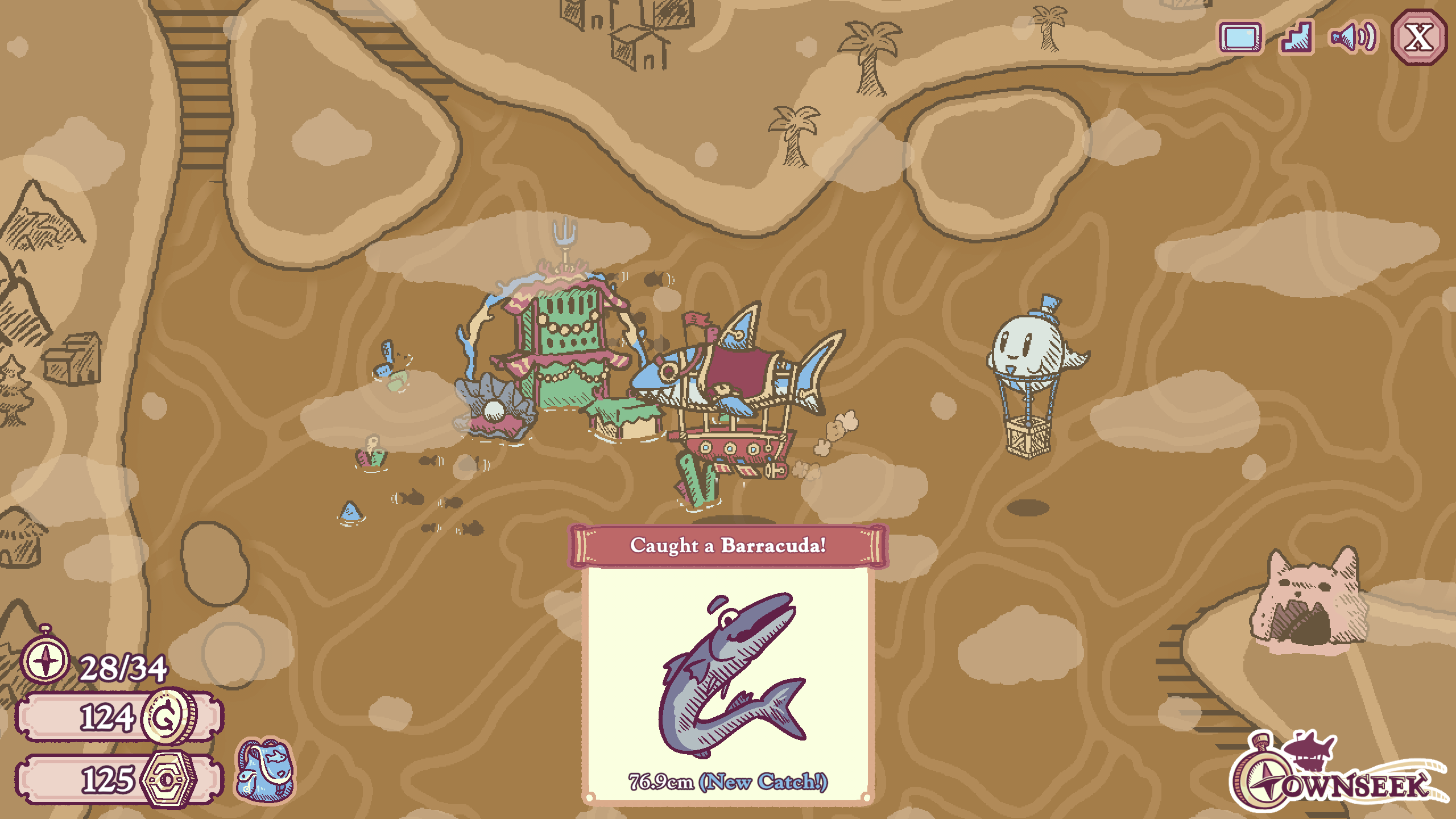 Let's start with the aforementioned Townseek from the previous section. While we were originally going to release it after the Lunar New Year, we've decided to spend some extra time adding Fishing and extra polish to it! We hope to potentially release it sometime after our anniversary. 🎣
For the rest of the Whales And Games backlog, we also have Roboto Repairaton and the ever-infamous Colossorama – The Champions Update. They're still on the plans and we've already made changes to both of them this year, but we're not aiming to release them anytime soon.
Speaking of jam games, we're considering participating in Ludum Dare 48 this month! If we do participate, you can look forward to a new game jam experience between the 23rd April to 26th April!
On our community server, we will be releasing our new Community roles next month! For the creative folks, we'll be granting the brand new Community Creative! And for those of you there developing your own games, we will also have the Community Gamedev role. Stay tuned at our server for upcoming news!
Finally, over the course of the past years, we've experimented with rebranding multiple times, but never carried it through. Sometime in the next months, we really want to give a brand new fresh coat of paint to our logo and presentation, similar to what we have already done with Whalechan, Polite Whale, Dapperchan and our other characters!
One of our goals this year is to continue working on Treasure Projects alongside our work in Bunny Splash Casino. We hope to continue participating in game jams, and continue creating new interesting side-experiences! 🙌

As a side-thing, at the beginning of the year, our team challenged itself to what we dubbed the Whales of Culture challenge. For each book read, movie or series watched and game played, each of us scores points.
While we're doing it for self-gamification, we wanted to bring some of our personal selves into this anniversary report, and tell you some of our favourite media from past months! 👌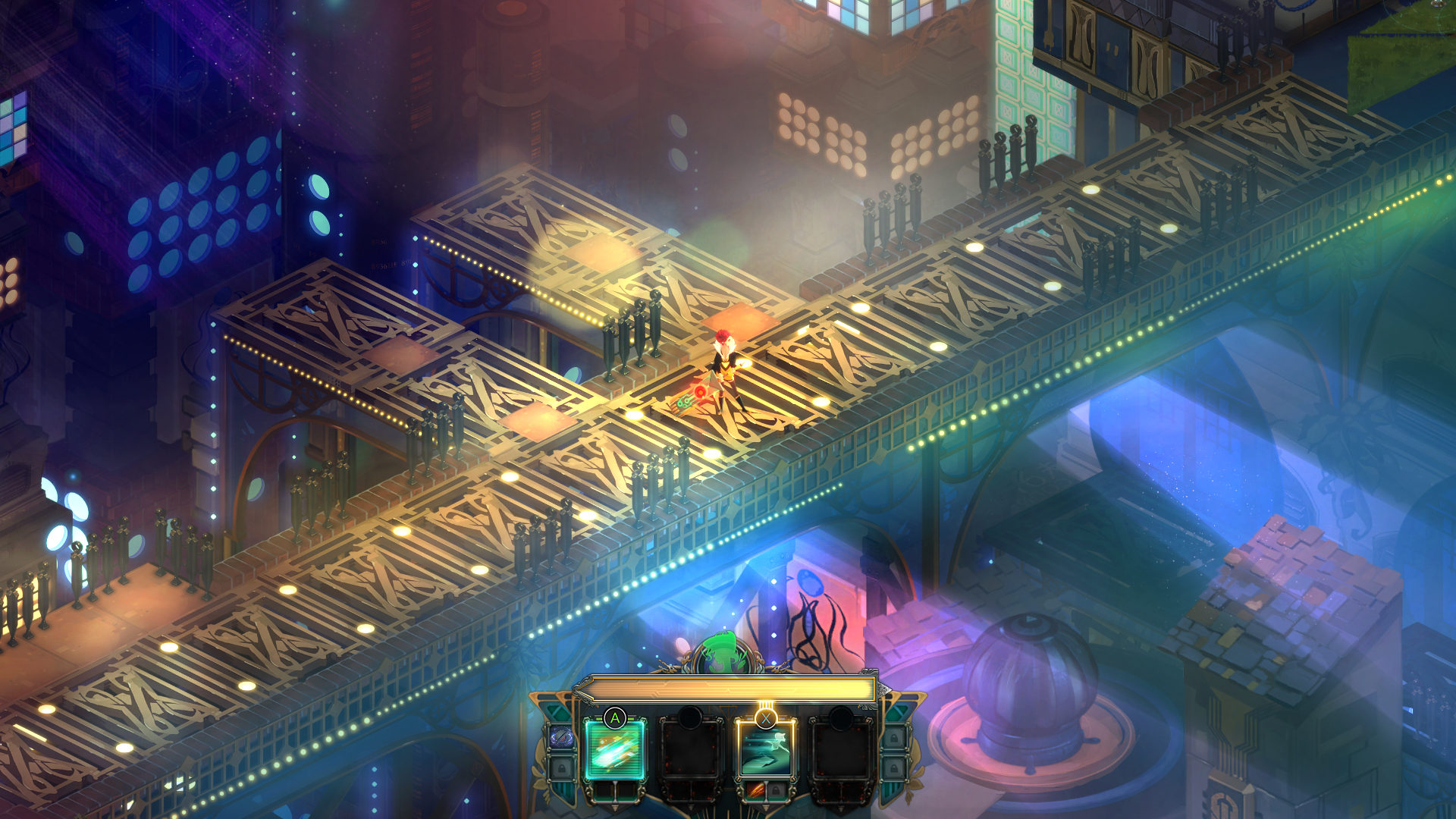 Jorge
While everyone is raving reviews about Hades, I've been playing through Transistor, another Supergiant Games game. I don't think that I've ever jumped into a New Game+ as fast as I did with this game. That's two play throughs back-to-back! It's beyond gorgeous, has a very intricate plot, and the combination of action RPG with strategy elements is genius.
Other than that, I've also been going through The Mandalorian after watching all Star Wars films for the first time since the start of the year. I really like the personality of the Mandalorian and his approach to solving fights, while also being an awkward lone-dad to Grogu. A fantastic piece to the Star Wars universe and very much worth watching!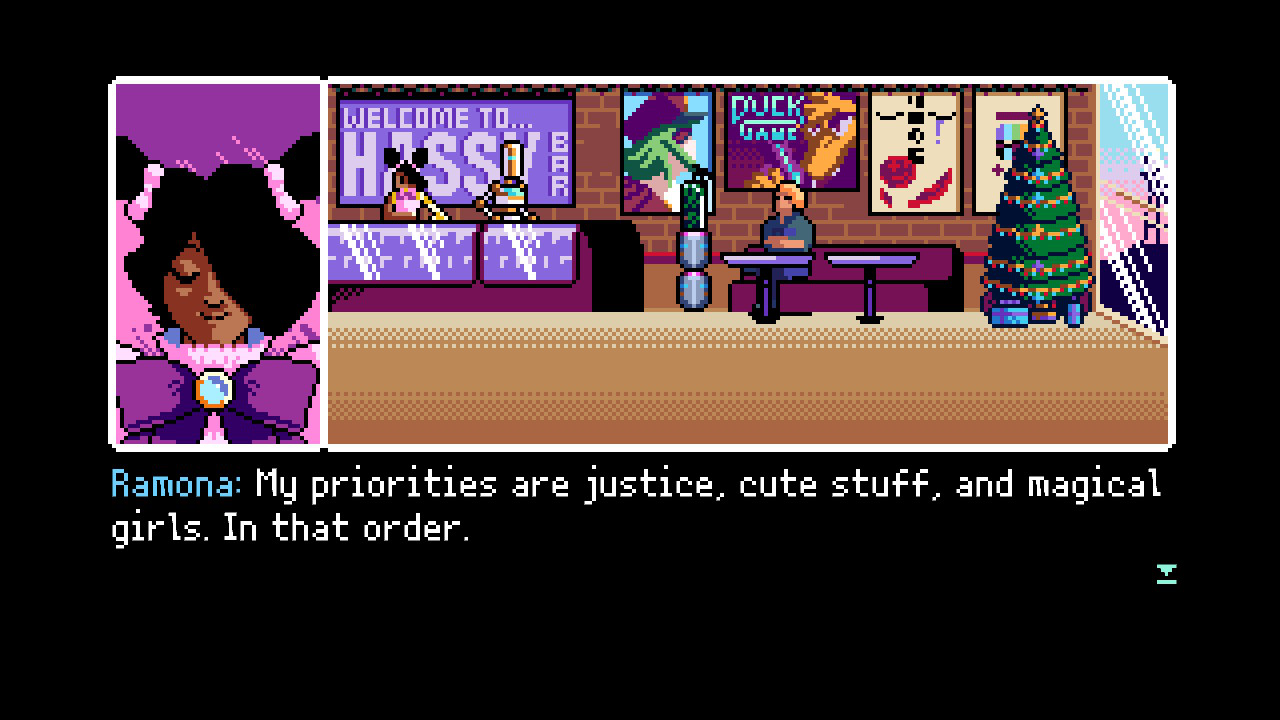 Moski
Earlier in the year, I decided to finally play 2064: Read Only Memories to scratch my itch for a point-and-click adventure. It was a fairly straightforward game that touched sensitive topics in a cyberpunk setting. It's quite well worth checking out if you're a fan of the genre!
Now, let me tell you about Wandavision. The series ended earlier in March, yet I still have a certain jingle stuck in my head. The show's comedy was top-notch, and while the superhero antics marred the experience somewhat towards the end, it still had some of the most creative ideas you can find in Marvel's ever expanding repertoire!
---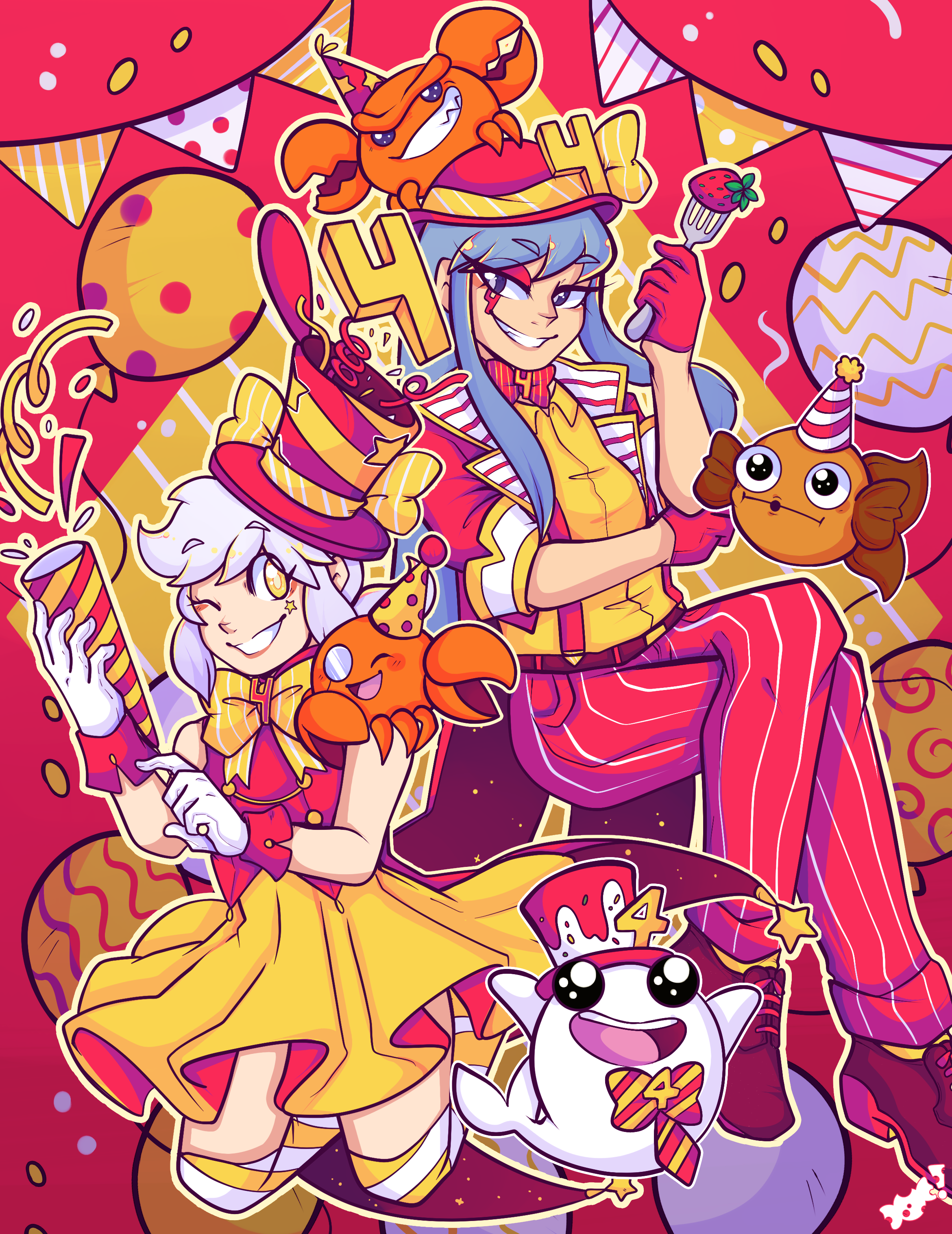 Finally, we're pleased to announce that, starting with this anniversary, we will be making reports on our current doings structured like these at the start of each month! This one is special being our anniversary celebration, but you'll be getting a reef's worth of news every month! Look forward to them! 👏
As development on Bunny Splash Casino continues, we will also be making dedicated extended reports for it on its own website. That way we can go into detail about the progress of R-rated content outside of the PG-13 limits of this website. You'll still have to wait for it though. 😉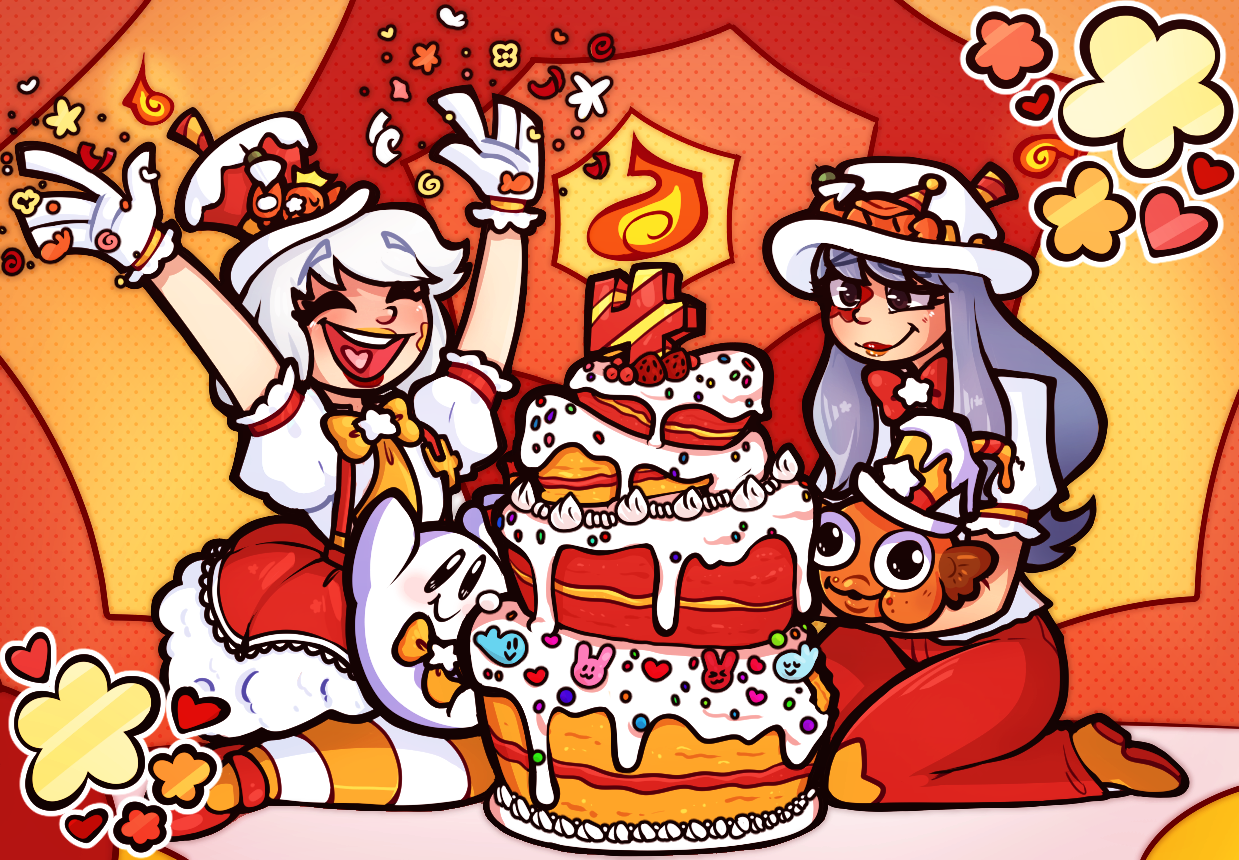 There's a lot that we're looking forward to in our fifth year! It's hard to believe that, by this time next-year, we will be celebrating half-a-decade of Whales And Games. We really look forward to having one amazing report by then too!
Like always, you can always keep tabs on our progress through our Twitter and Instagram! Alternatively, you can also join our Discord community server! We'd love to see you there!
Keep wearing masks and stay safe! Here's to a whale of a time and to this new chapter of Whales And Games! Cheers! 🐳