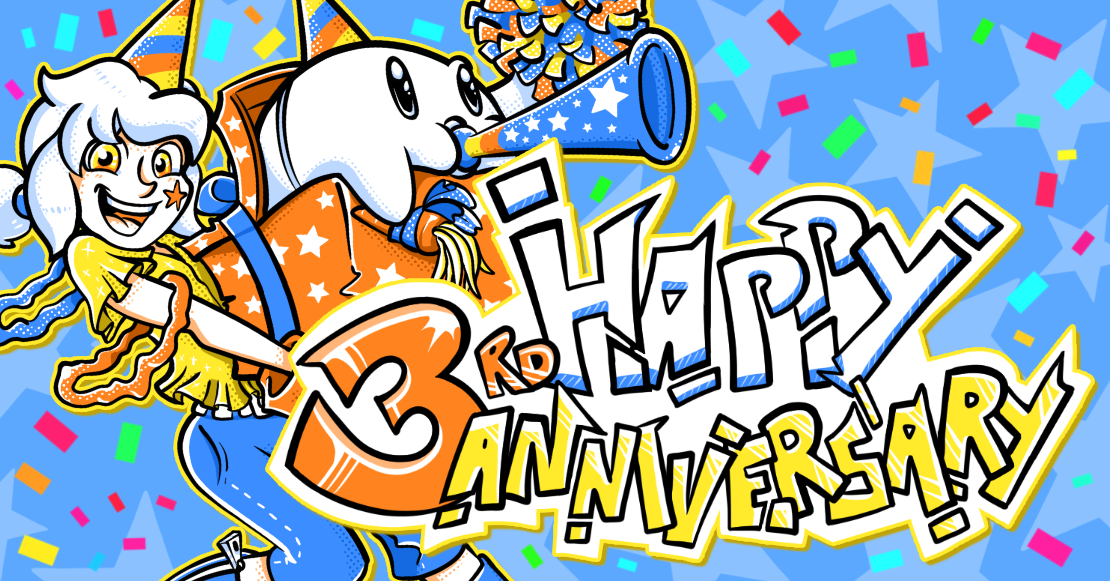 ---

Happy 3rd Anniversary, Whales And Games! It's been three years since we founded our studio and have developed over ten games since! We can't thank every enough for being part of it!
Going into our 4th year, we want to focus again on games. Primarily, Bunny Splash Casino but we'll also be developing other one-off projects for Whales And Games such as Roboto Repairaton! We're also celebrating with a dedicated server event and participating in the GDC Relief Bundle helping developers in need!
---

Happy 3rd Anniversary, Whales And Games! Just a few weeks ago we were celebrating the first anniversary of Whipped And Steamy. Now, mere weeks later, we're commemorating the three-year milestone of our studio's founding! 🥂
It's been one huge adventure ever since we've gotten started with Whales And Games, from the time we got started with game jams and academic projects, to kicking off this new year full-time with the studio. We've had a lot of highlights over these past years releasing ten different games, supporting our ever-growing community and expanding our cast of characters!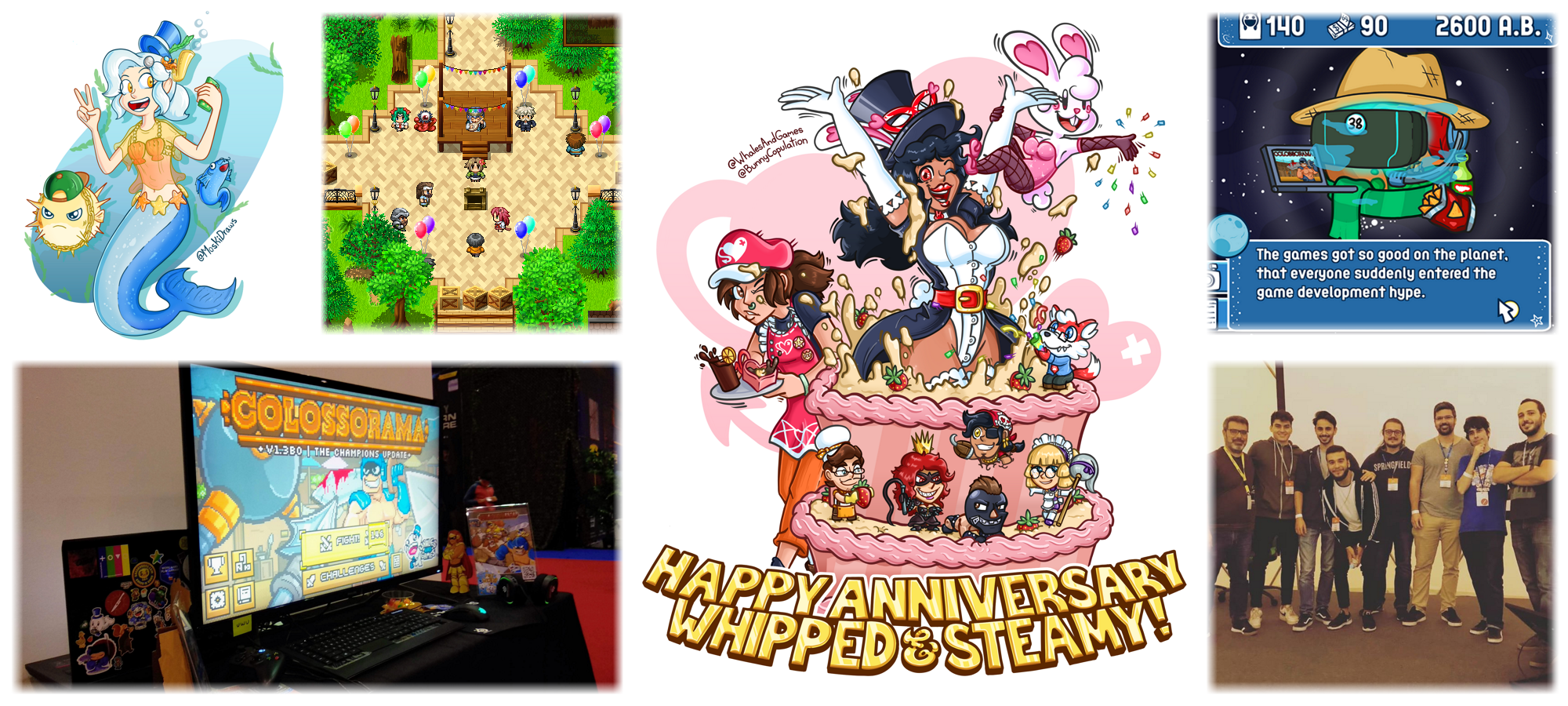 While this year we don't have any surprise announcements like sudden game releases, we still wanted to take the opportunity to celebrate this milestone! And it wouldn't be a celebration of ours if we didn't have some stylized artwork to share! Here's Whalechan with a bunch of wrapped gifts picked just for you for our 3rd Anniversary! 🎁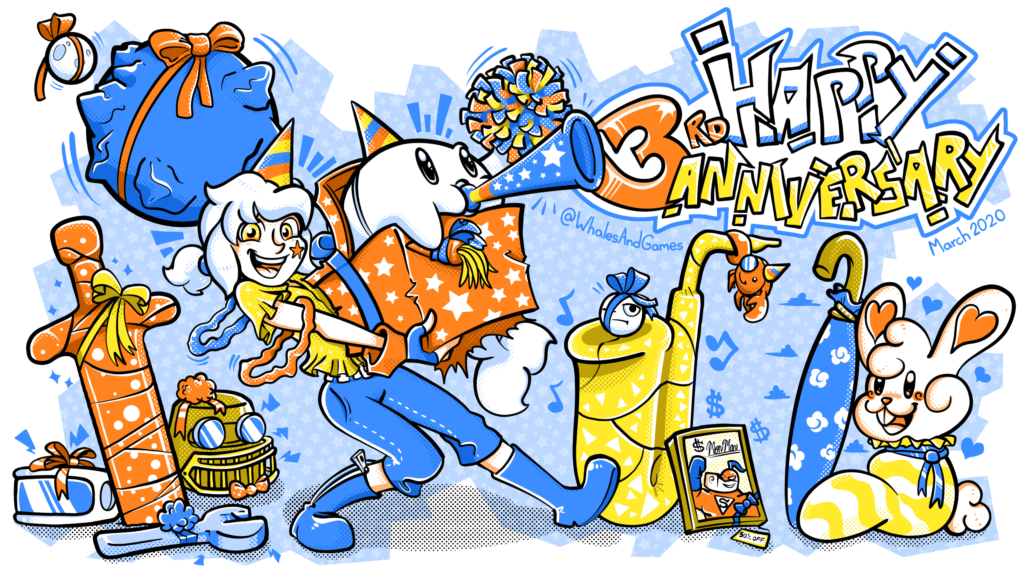 ---

Last year, most of our attention was focused on Whipped And Steamy • Cosplay Café, and its aftermath as well as the elusive Colossorama • The Champions Update. However, as you know, the development of both of these projects didn't go as smoothly as planned. Instead, we felt most of the shine last year was in the footnote details.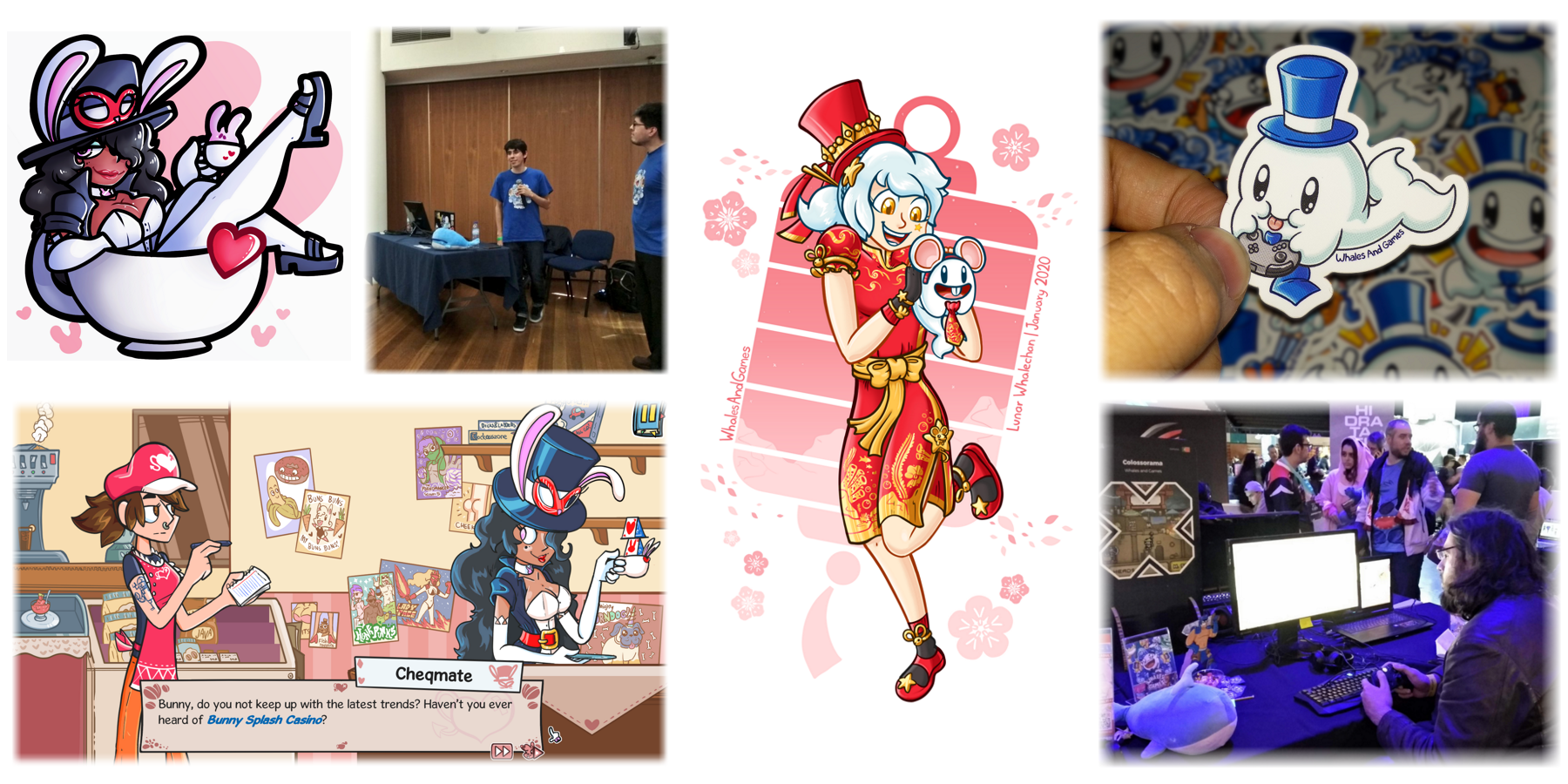 From our server activities, the crazy aftermath of Whipped And Steamy, to being spotlighted in events, to participating in Art Fight, having both of us co-founders meeting up in person for the first time! When we think about those, it looks like certainly had an eventful and thrilling year! For example, we constantly remind ourselves of some art we've received as part of Art Fight! Seeing so many people celebrating our characters fills our hearts with joy up to this very day! 💙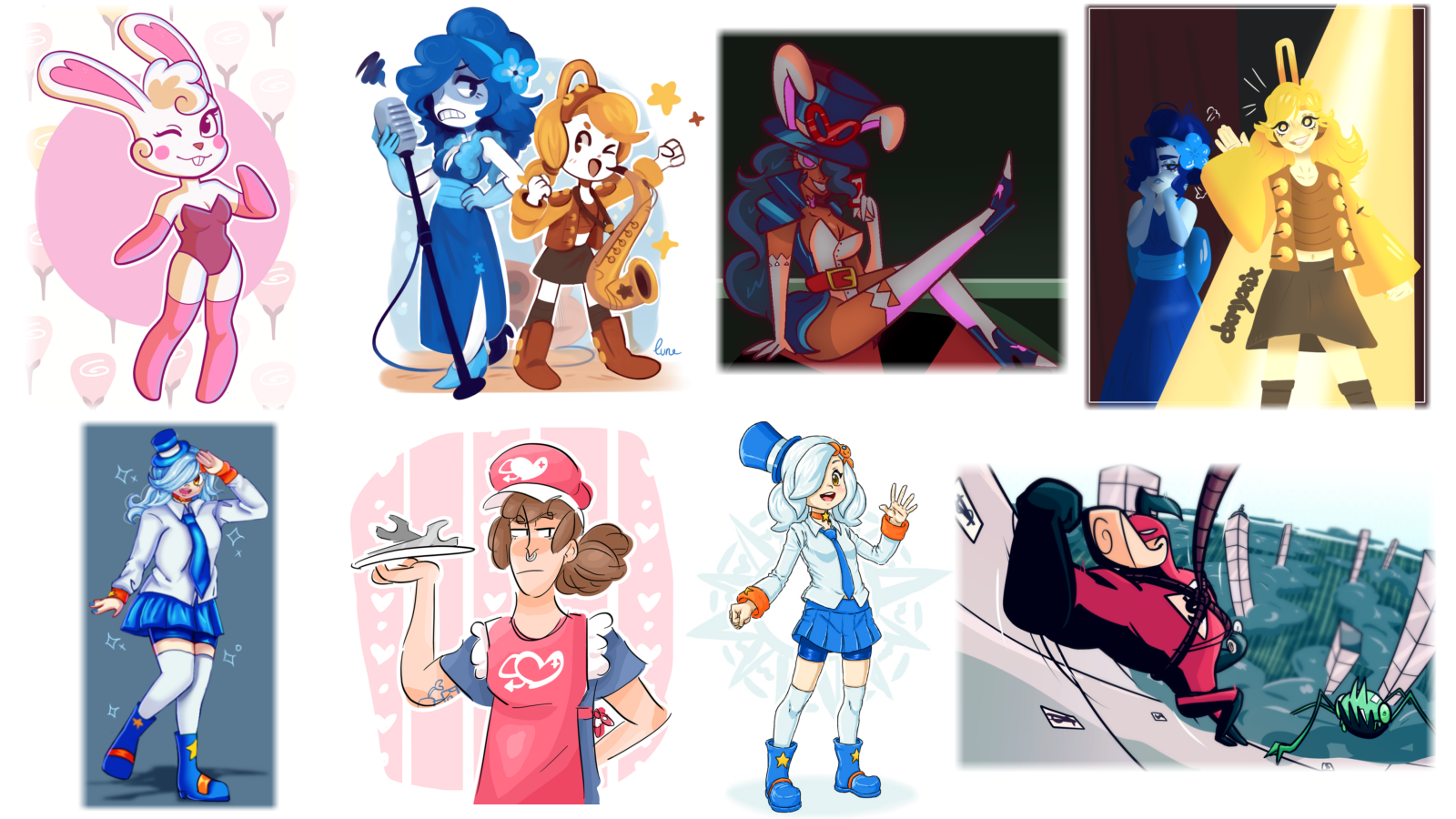 However, we feel the actual 'Games' part of Whales And Games could have gone been better during the past few months, and we feel we could definitely be pushing for more game-related content! This year, we want to make a complete 180-degree turn, and put (almost) all of focus on the games again.
---

If you've caught up with our anniversary post for Whipped And Steamy from earlier this month, we'll now be focusing our attention mostly into Bunny Splash Casino, our new adult-oriented management simulation novel game and its new sub-brand of the Bunny Copulation alongside it!
Welcome to the #BunnySplashCasino, a full-blown, adults-only erotic management simulation novel game where becoming rich is secondary to pleasure in this paradise of splashy lust!

We've only now begun work on it and we'll showcase more of the game as it starts taking shape! ❤️🐇 pic.twitter.com/kfTOOL80w9

— Bunny Copulation 🔞🐇 (@BunnyCopulation) March 18, 2020
We're currently getting started with the proper development of the game, and over the next few weeks we will be closing in concept art, key art, finishing off design decisions and getting started with prototypes!
If you haven't done it yet, follow our new Twitter and Discord for Bunny Copulation as well be sharing progress on it as they start happening!
---

While we will be relaying most of our attention on Bunny Splash Casino, we will still continue supporting Whales And Games and making new character-focused art! ✨
Like we've mentioned in the Bunny Splash Casino announcement post, we're also currently getting some final changes done to the post-jam version of our Global Game Jam game, Roboto Repairaton before we get it released. These changes are practically done and once the game gets out there, it will mark our 11th Game!
In case you haven't seen some footage of Roboto Repairaton from our social media yet, Roboto Repairaton is both a single-player and couch co-op robot assembly game! There's a barely functional factory that can mend and fix all kinds of robots, but putting them all into repair assembly is easier said than done! Grab robot pieces across conveyor belts and assemble robots together, but watch out for factory malfunctions! 🤖
Roboto Repairaton will be the first of the game jam games we'd like to get underway this year, and we hope to get even more done as the year progresses! However, if there's anything that experience has told us from this past year, is to stop promising bogus-dates until we're absolutely sure. You'll have to keep an eye out for those!
---

Like all of our major celebrations, we are also running a small Discord server event alongside all of this! Participating on it will grant you the Anniversary Guest 🎉 role!
Head over to the #commands channel in the server and leave a nice celebratory message using the !celebrate command to claim it! We have all the instructions over at the server!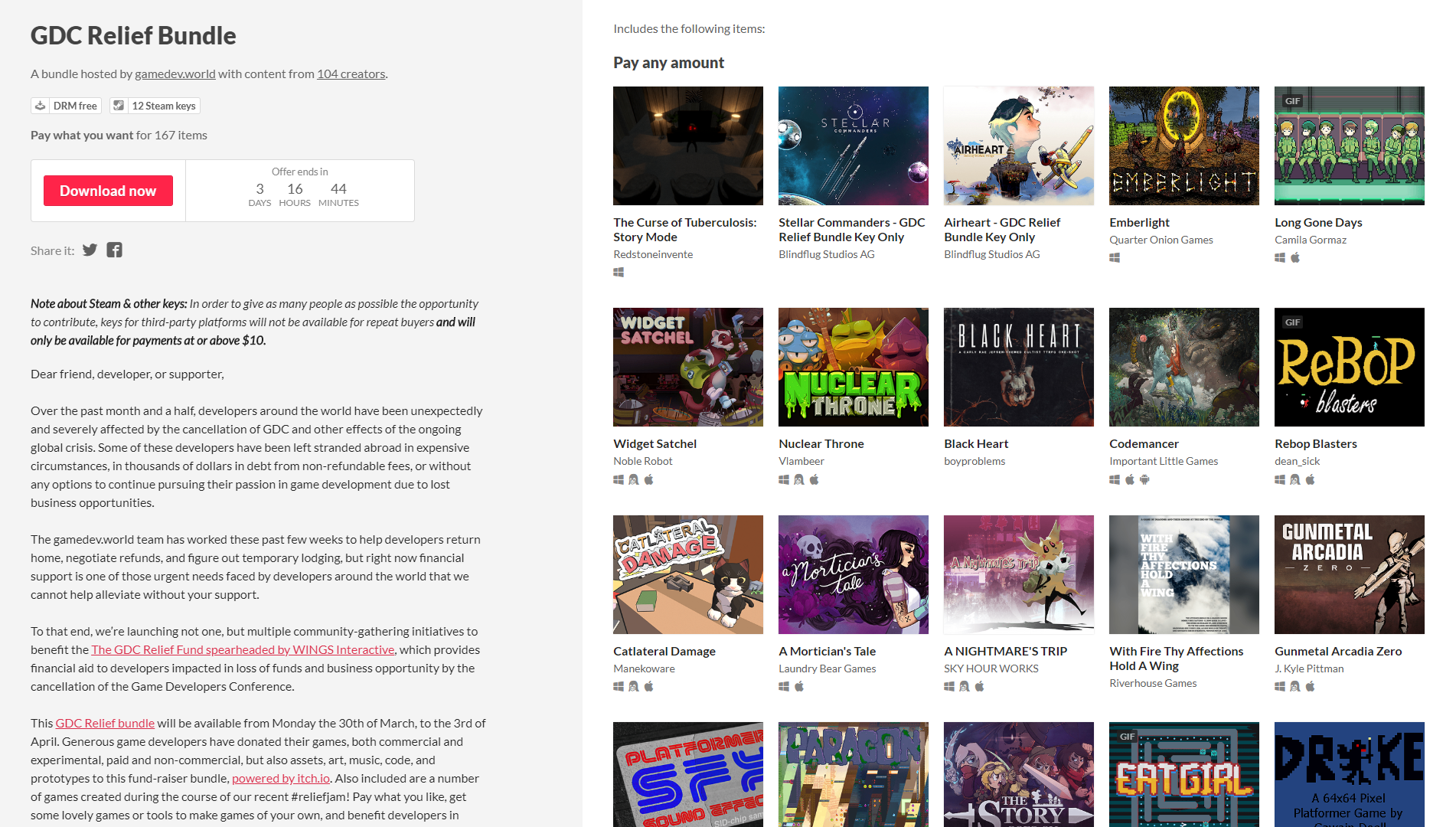 We also have some of our games as part of Game Dev World's GDC Relief Bundle over on itch! Like many other developers, our opportunity to attend the Game Developers Conference in San Francisco was postponed because of COVID-19 pandemic concerns. While it didn't affect us as much, a lot of disempowered developers were financially hit hard with travel and visa cancellations. Thus, we wanted to help contribute to ease their woes.
While you could already play them for free, the bundle features our Whipped And Steamy • Cosplay Café, Jazzy Beats, Onigami and Super Sellout, alongside a bag of 163 other goodies including games, assets and music! Bundle donations are purely for charity and will go directly to developers in need to help cushion the impact that the sudden changes across the world have caused!
If you have some extra pocket money around that you've saved for having stayed at home, we'd be thankful in the name of all of the game developer community if you could dedicate some of it to the cause! 🙏
---

We have a great year on the horizon, and we want to make sure we start the year on the right note and aim to continue helping the world! Over the next few weeks we will be getting development in Bunny Splash Casino and sealing-off Roboto Repairaton for shipping, and we're looking forward to a year full of pleasant surprises!
Thank you once again for a happy 3rd anniversary and year year, and we hope that you stick along for another one discovering a sea of fun! As always, you can keep up with our Discord community, Twitter or Facebook page for more!
Finally, remember to wash your hands and stay safe! Cheers! 🐳