As another Ludum Dare comes by, another game comes out! I'm pretty sure our sleep patterns got absolutely ruined as we went along during this weekend. But hey, that's part of the experience.
Now, the judging phase follows, and this jam is the first on in which we will be taking part in the judging process since there was none last time. We're curious to see how our game is rated and received, as well as its performance over time.
But before we talk more about that, allow us to once again, present you our project during these past days – Hyper Holomayhem 37!

Get your jetpack and your gun, as you're in for a thrill! Enter the Hyperdeck, a room that keeps constantly changing as you keep powering it up with gears. An interesting interpretation of the One Room theme, or a cheap attempt at avoiding it? We'll let it to your judgement.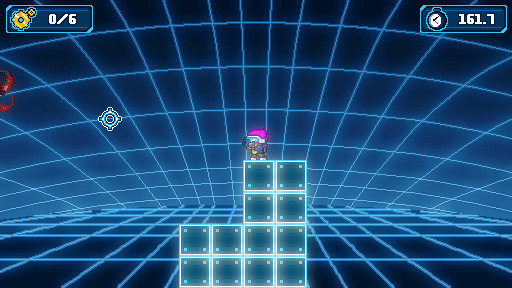 These gears are spread across the room and every time you bring them back to the room's core, the layout will change. Beware though! Enemies will also chase you around, and sometimes you will have to break blocks in order to reach several of the gears.
Gameplay is based around how long can you last in the Hyperdeck. How many gears will you be able bring back to the core? How many blocks will you destroy? The different ways you go around exploring the room can have different outcomes. Power-ups can aid you traverse the different floating platforms faster and shooting enemies before they explode near you will gain you some extra seconds.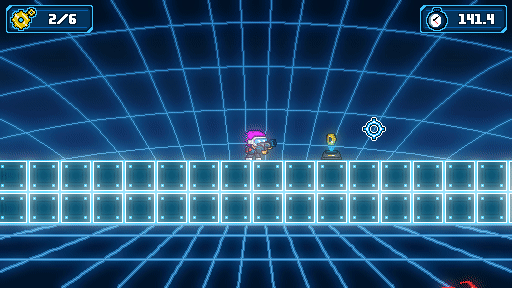 Once you run out of time, the Hyperdeck turns off, and your run is over. There's not really much of a difficulty curve at this point, but we hope you enjoy your minutes, regardless!
Give Hyper Holomayhem 37 a try! Like last time, we have a WebGL version playable in the browser! We're looking for as much feedback as possible, especially since we want to work on a post-jam version sometime in the coming weeks. We definitely have several ideas of what we want to implement next since there were several concepts that had to be cut off during the jam.
As we mentioned in the beginning, we're really curious about the whole judging process and how it will go. Of course, that is not only for us, as we also look forward for playing as many of the Ludum Dare games as possible!
Similar to last time, expect the post-mortem of the project in the following days. There's definitely several situations compared to last time that we've improved on, and others that we could have managed in other, more efficient ways, and we want to share those with you guys as well.