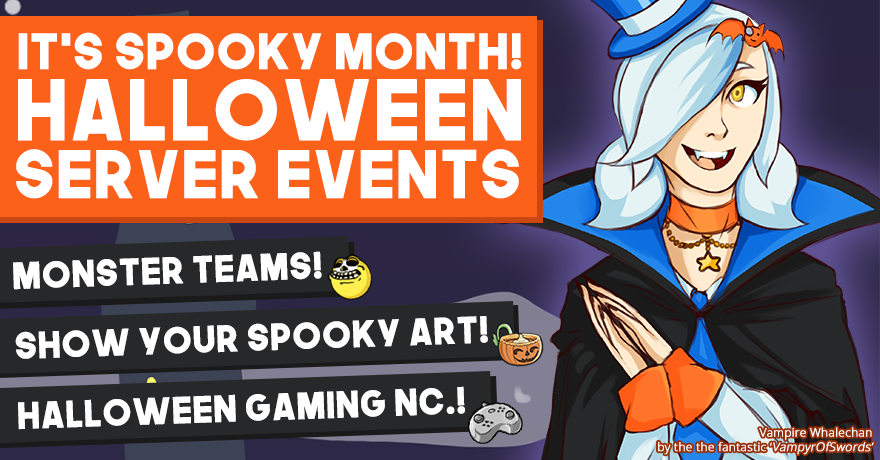 Boo! 👻 Were you spooked? Well, you should have, because we've made our Discord and Social Media all festively scary! That's right, instead of cleaning away the cobwebs, we placed them around all over the place, just in time for this Halloween! And of course, we have to once again feature the incredible banner art from last year from VampyrOfSwords!
Festivities are a bit busy with our upcoming talk, Moski's trip, making stickers and the upcoming (at this point that's our actual Halloween monster) Colossorama – The Champion Update but we still wanted to do something special to vary things a little this season on our Discord Server! Here's what we came up with!

Hope you're ready to become the monster under your bed because you'll have to pick between becoming a Skeleton ☠️, a Vampire 🦇 or a Witch ✨! The team with the most members by November 4th will result in a special Whalechan-design themed after that team's monster, to be posted at a later date!
You can join a team by heading to #commands-cemetery on our Discord and typing !skeletons, !vampires or !witches to join each respective team! You can only be in one team at one time, but you can switch to another team by using that team's command! You can also leave the competition entirely by using !leaveteam but that would be a bummer. 😱

We want to see your spooky art! No, really, any spooky art that you have around at all! From monster girls that you've drawn, to special Halloween commissions that you've been making! We want to see what you have been up too, and we would love for you to share it with us on the Server over at #creative-candy channel! In fact, there's already been some spooky art shared there! 🍭
Also make sure to tweet it over to us , or send us a link to a tweet of some of the Halloween stuff you've made so we can share your stuff in all of its glory! ✨ We'll be making a art-thread later on just for Halloween art, but you can tweet it at us at any moment!

It's time to bring it back from the dead one of old server events for a one-off! Join us on November 1st (Friday) at 9:30 PM UTC for a night of spooky-scary glorious multiplayer video-game fun through our special Halloween Gaming Nights Club! Don't know what that time-zone corresponds to? Check this link out!
We're taking suggestions for games to play so we can announce them in advance for everyone to get ready at hand! Make sure to drop your spookiest suggestions down on the #gaming-ghouls channel!