Hey you. Yes you. I see you browsing the Ludum Dare front page looking for treasure. We've got goods in the form of fun facts of our sponsored-fueled avarice marathon of a game, Super Sellout.
Stick around, for this ought to be interesting, and insight about how a team of five can somehow crunch a game in 72-hours while barely clinging to anything that loosely resembles a spec of sanity. Here we go!

Chin-Scratching Inspirations
After our long back-and-forth brainstorming session we settled on a superhero theme. As such, we wanted a protagonist that looked heroic but somewhat goofy in line of our previous characters. Our inspirations, for an early concept, included Crimson Chin from Fairly Odd Parents and Captain Qwark from Ratchet & Clank.

We didn't truly like the cyan colored suit for the protagonist, so we kinda took Crimson Chin as an inspiration, making him red and black. However, we also gave it a logo of a white triangle on the chest. Since someone jokingly said he looked like a YouTube inspired hero, we ended up calling him Monetization Man, the hero who "demonetizes crime".

Grandmas? On trees? On my rooftop? More likely than you think!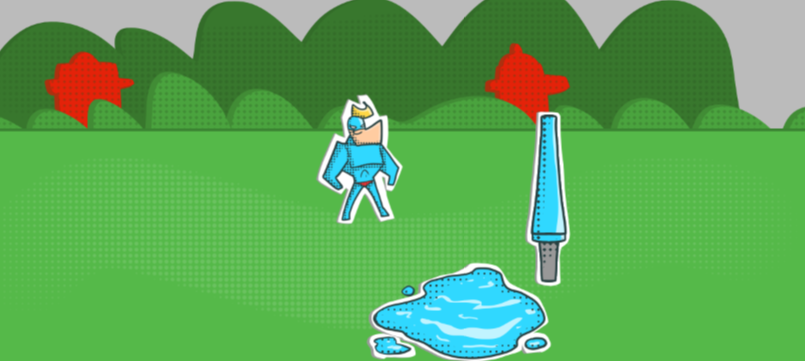 Early in development, Moski made grass assets for walking around, fire hydrants and an old lady stuck on a tree. However, since the programmers thought a runner-type game would benefit from jumping, the park got replaced for rooftops, inspired by another piece of trivia in this post. That's how we got stuck with grandmas stuck on trees stuck on rooftops.
At that point, we threw common sense out of the window (like we normally do as a team) and added dogs, a bunny-suited bunny-girl and a lot of ice cream, beyond the added-in cosmetics that Monetization Man gets when different sponsors are equipped.
Incredibly Paper Inspired
While we were discussing the superhero thematics and were starting to turn the game into a runner, one piece of oddware that was brought up as an inspiration was The Incredibles (yes, the animated picture) video game adaptation for the Gameboy Advance.
While the theming and actions you can perform in that game are vastly different from the ones you can perform in Super Sellout, the game did provide some inspiration as to how to tackle the gameplay perspective and ultimately, how we should design and implement the different rooftops.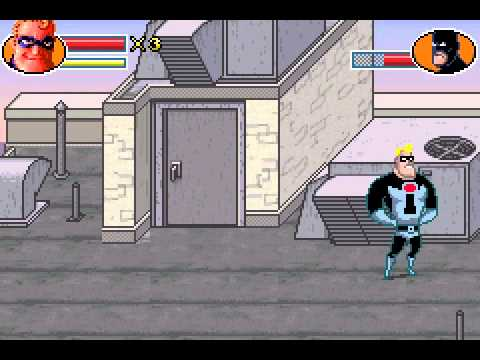 And of course, two looks at the game's style, remove half of the halftone we put on top of everything and you can also see some direct inspirations for the comic-book art style not only from comic books themselves but also from the likes of Paper Mario, with the characters outline with the white outlines and soft shading.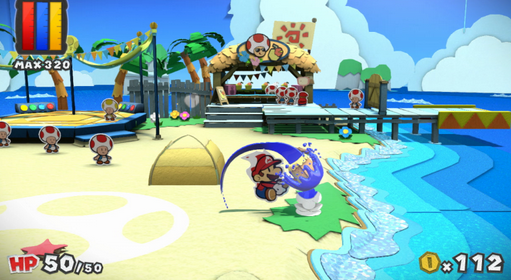 Overbearing Whales And Games References and Internal Jokes
If we were able to give teams human traits, then our team at Whales And Games would be guilty of not having any self-awareness at all. In similar fashion to our previous projects, we cramped our game full of internal jokes and references. Of course, we don't think anyone will really be able to name them all, but we keep putting those jokes in for self-amusement. Guess we're the true super sellouts in the end, eh? ?
As an example, Dapperfish is a recurrent character in our games and conversations. You can see a muggler with a Dapperfish mask, and he even appears in his own panel in the main menu. You can even click on him there for a goofy surprise. ?

Of course, the self-referential fun doesn't end there either as there's plenty of other situations where we took the opportunity and cramped even more self-love into it!
On the main menu, beyond Dapperfish in his own tile, there's also Whalechan, one of our main mascots, in the credits panel.
All of the billboards you can find when you activate the Whales And Games modifier, are as expected, mostly Whales And Games references, including three of them to previous Ludum Dare projects, Colossorama (namely how the 1.3 update has been in development for a while), Petty Puny Planet and Jazzy Beats.
Other billboards also have other miscellaneous references, with Maid Dragon parodies and Egg.
While you might think that Rob Boss is simply a direct reference to Bob Ross, they have actually appeared in Colossorama, as a playable character. We decided to throw in a reference to the character in Super Sellout as we thought it'd make for an interesting sponsor.
And last but not least, there's also a sticker in reference of Wool Pit which despite not being a Whales And Games project, was Moski's saving grace from whatever happened during Ludum Dare 42.

A Design as Crazy as a Goat
When the "Sacrifice" theme was announced, each member of the team brainstormed ideas for what to make the game about. And we brainstormed a lot. One of the most popular ideas among us was to make the game about a dating game show, where contestants would get sacrificed if they were not selected for a date.
While that idea never came to be, one of the things that remained as a left over was having a sick goat with a sick goatee as the host, which we later wanted to repurpose to serve as a sort of tutorial for the players in Super Sellout and even interrupt the player based on some sponsors.
Unfortunately, wiring out text-systems into the game were quickly ruled as being too out of scope for the time we had in the jam, and instead we kept the goat as one of the rescuers as a callback to our original idea. Mayhaps the day will still come where he will actually get to be the host.


And that's your fun time fun facts trivia of today for Super Sellout! We always have a stupid amount of fun working on our games despite the occasional hiccup that happens here and there. In fact, we actually left our development text and voice channels for the game completely open for public-reading over at our at our team's Discord server!. We'd love to see you (and your games) there!
If you haven't tried Super Sellout yet, we'd love for you to give it a try and tell us what you think!. We're still going around and playing as many as we can, and would love to check yours out! Make sure to share it with us, and we'll get to them first opportunity! Cheers! ?