April's out, and it's time to make May shine! 🥳 Our anniversary month went great! As far as we can tell, ever since the foundation of our studio, we don't recall having as good of a month as this past month has been! It certainly feels like we've just had the perfect kick-off into another amazing year!
If you've missed our announcement from last month's anniversary blog post, going forward, we will be writing monthly status reports like these! They will be dedicated to going in-depth about our current plans and doings.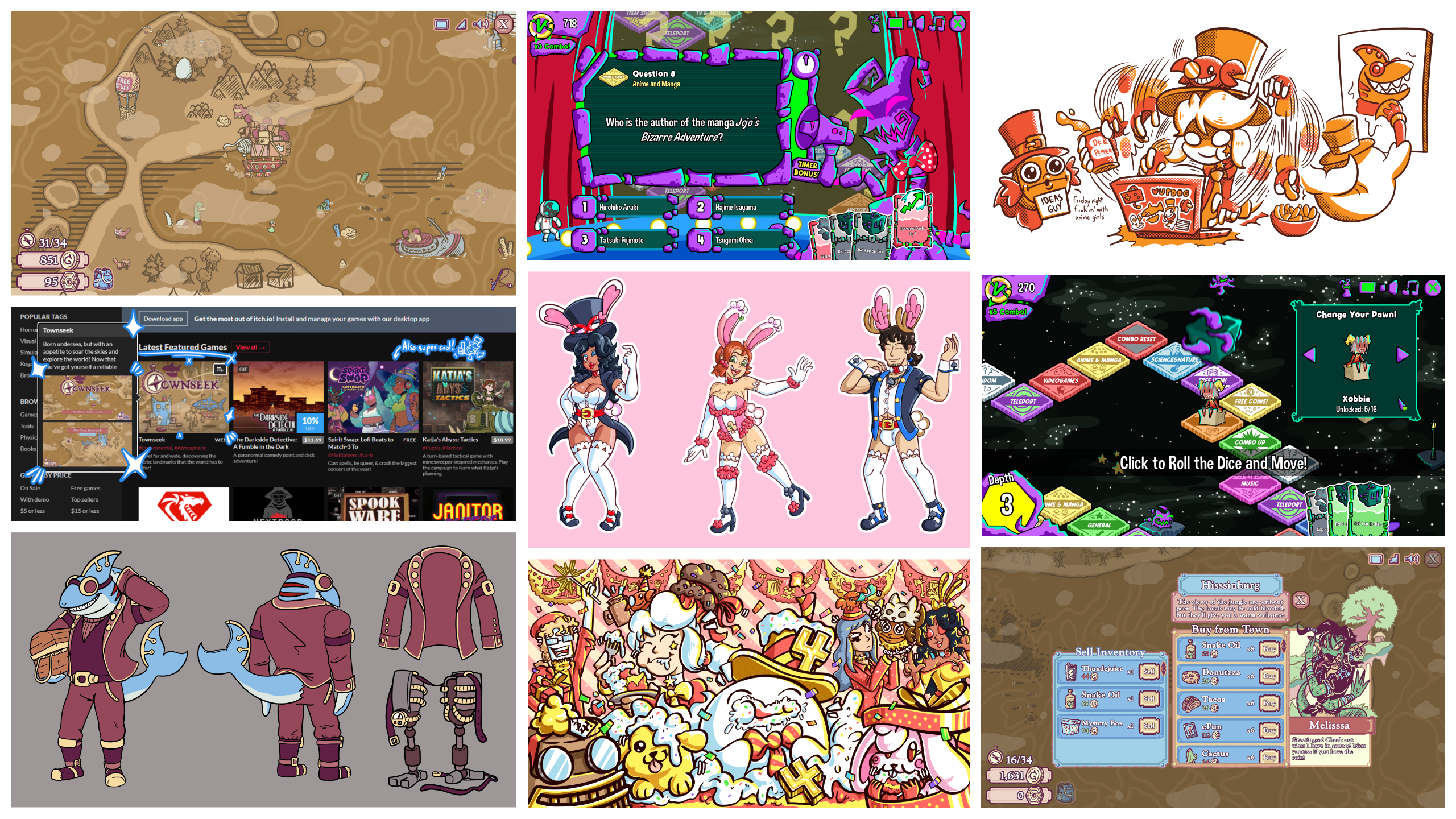 We have a lot of news to cover this month! Starting with Bunny Splash Casino progress, we've just finished the concept artwork for our trio of main characters. Additionally, we've released two completely new jam games as Treasure Projects. And finally, we cap it off with our new Whales Of Culture recommendations from this month! There's a lot to get into so let's dive into it! 🐳

Progress with Bunny Splash Casino, our adults-only management simulation game, continues underway! We've been working on the game's core prototype these past weeks, and we've recently finished making some new experiments with the art direction that we want to give to our characters!
While we will still have to further test how this style will adapt to the in-game sprites and backgrounds; it's really motivating to see these characters coming together in such a polished fashion.
As such, we would like to take the opportunity to introduce you to the first three characters from the game! This will be the trio of characters that will accompany you right from the start of the game! Here's your first look at them! 🐇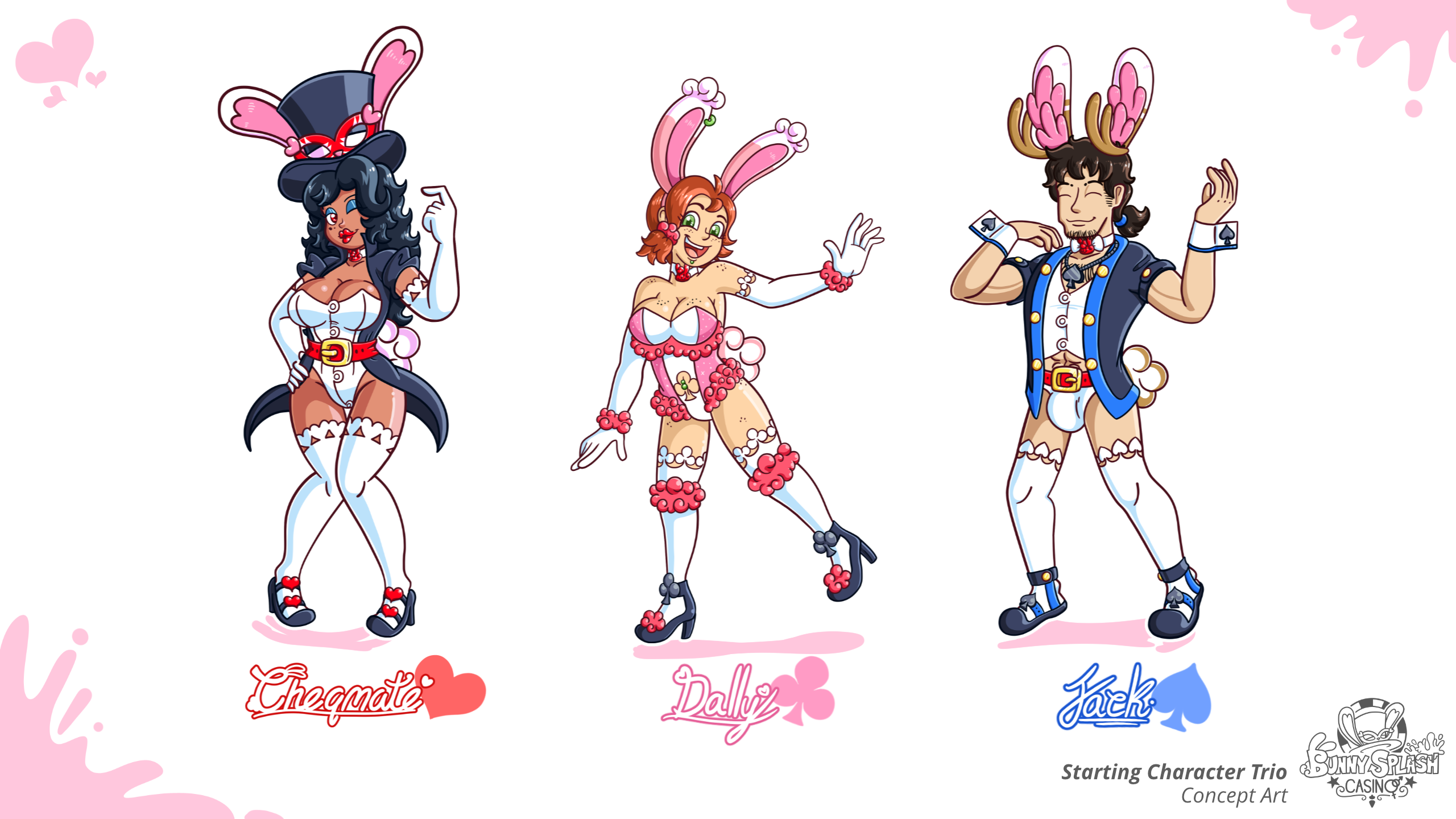 From left to right these are Cheqmate, Dally and Jack!
Cheqmate, who you have been introduced to through previous posts, is the main character of Bunny Splash Casino! She's your narrative point-of-view for the game and a playful and assertive former real-estate agent turned casino-owner by luck. She's best-friends to Dally and Jack, which she invited on-board for the mission of getting the casino going! Her clothes are themed after the suit of hearts.
Dally is a quirky upbeat and party-animal woman. She immediately jumped aboard the casino idea when she was first asked to join. Formerly a retail worker, she's full of energy and easy-going. She enjoys getting tipsy and will bring a whole lot of fun to the casino and its customers. Her clothes are themed after the suit of clubs.
Jack is an overly theatrical hunk of a man. While he originally wanted to be an adult film actor, life played its cards. Instead, he had to get through small acting gigs and one-time jobs in the Eden Strip. Despite his somewhat prince-charming looks, he's known to exaggerate and overreact. Just like the other two, his clothes are themed after the suit of spades.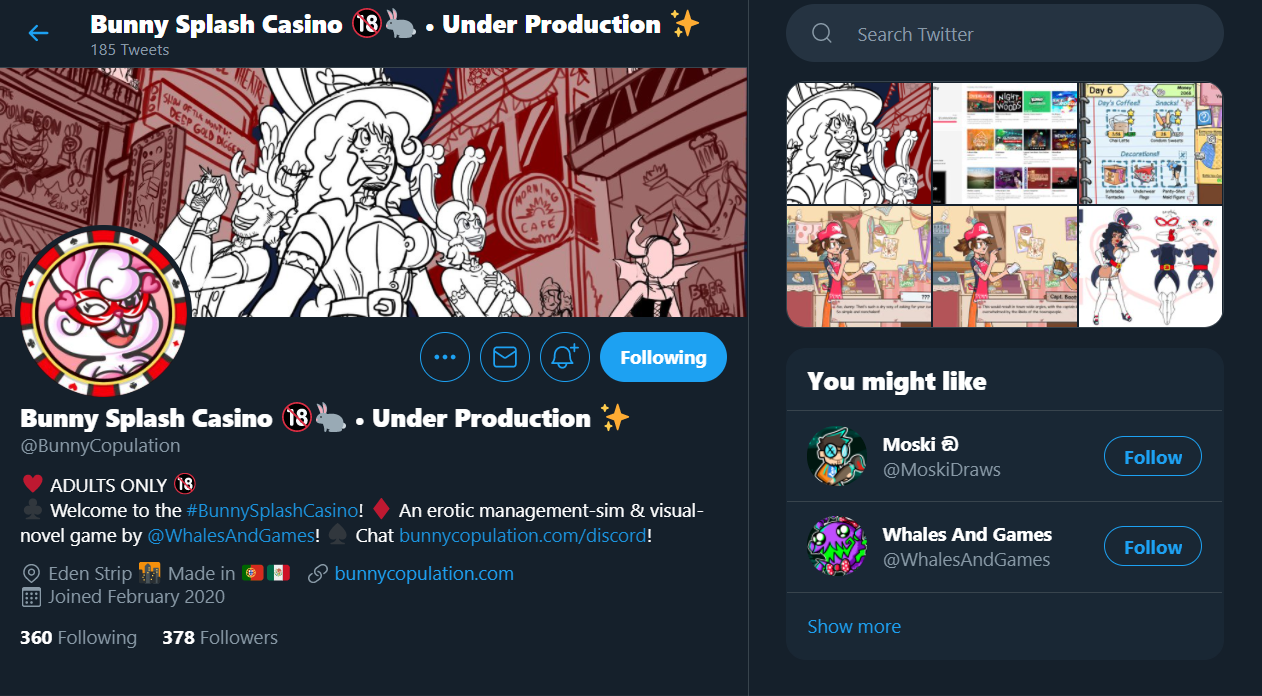 This month, we plan to start using our social channels for Bunny Splash Casino to post news about it again! We look forward to posting work-in-progress regularly; and allow you to have a closer look at it as it starts taking shape! If you're interested, you can follow Bunny Splash Casino's Twitter and Discord pages, as long as you're an adult of age of course! 😉
Other than that, we will also continue working on the game's prototype and start getting a full game loop going! While our plans might always change, we hope to introduce you to the first full-look at the world in the next report! Look forward to it! 👀

In addition to the work we've done with Bunny Splash Casino, this month showcased exactly what we look to achieve with our Treasure Projects! This month was punctuated with the releases of both Townseek from our Global Game Jam post-jam and Vast Trivia Of The Void from Ludum Dare 48! That was two games back-to-back! 👏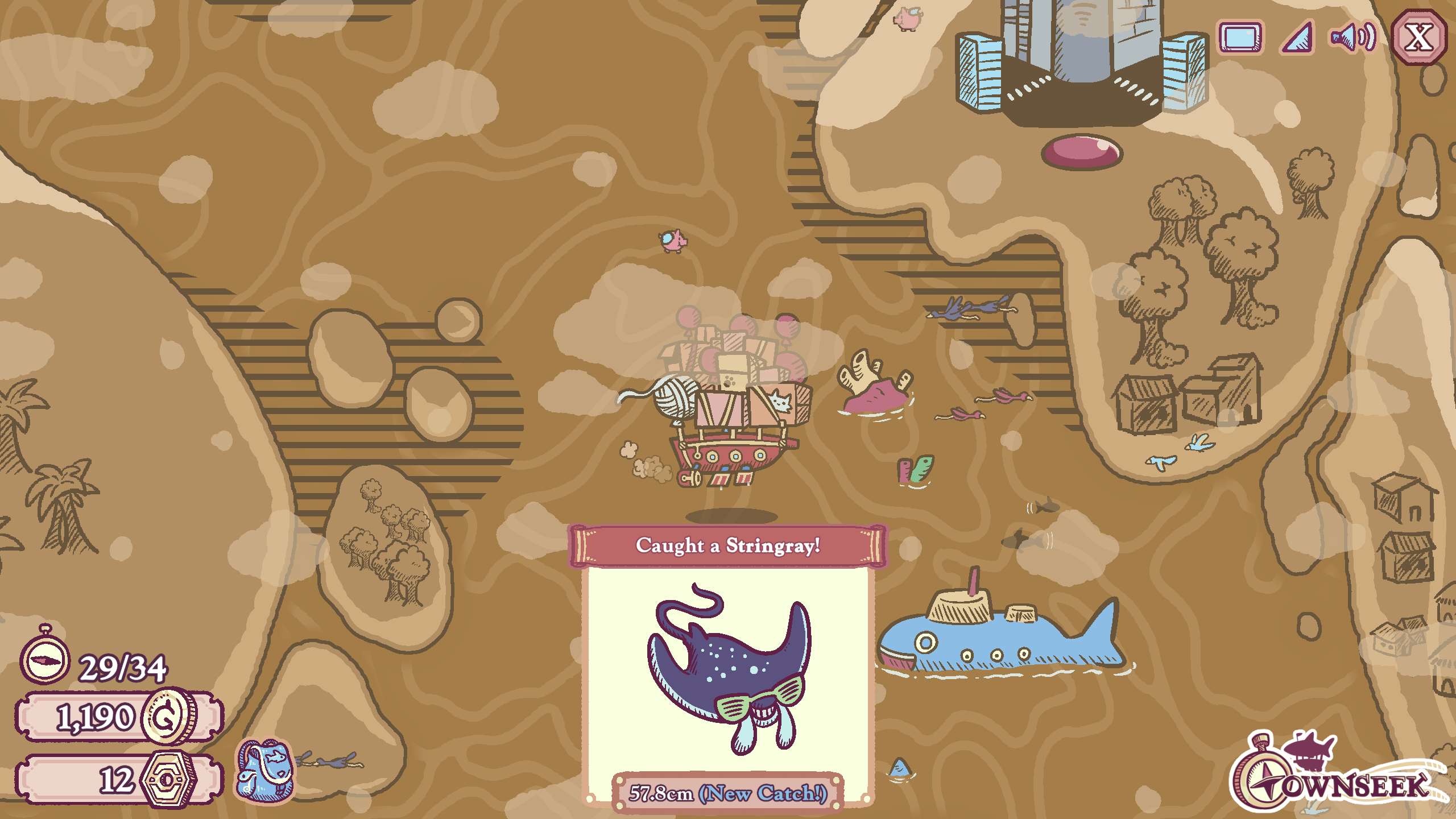 Beyond the incredibly fun time that it was putting both of these games together, the reception that both games have been getting has completely caught-us off guard! Townseek got featured on Itch.io and it quickly rose to our 4th most played game in just two weeks. Likewise, Vast Trivia Of The Void is already up to 90-reviews in Ludum Dare 48! Wowie!
While it certainly is an amazing feeling to get two games with this much of a fantastic reception in a single month, as you might expect, it's also very tiresome. While we're very proud of both of the games that we've put out in such a short notice, we won't be doing any game jams during this upcoming month. Instead, we'd like to prioritize working on Bunny Splash Casino for this month.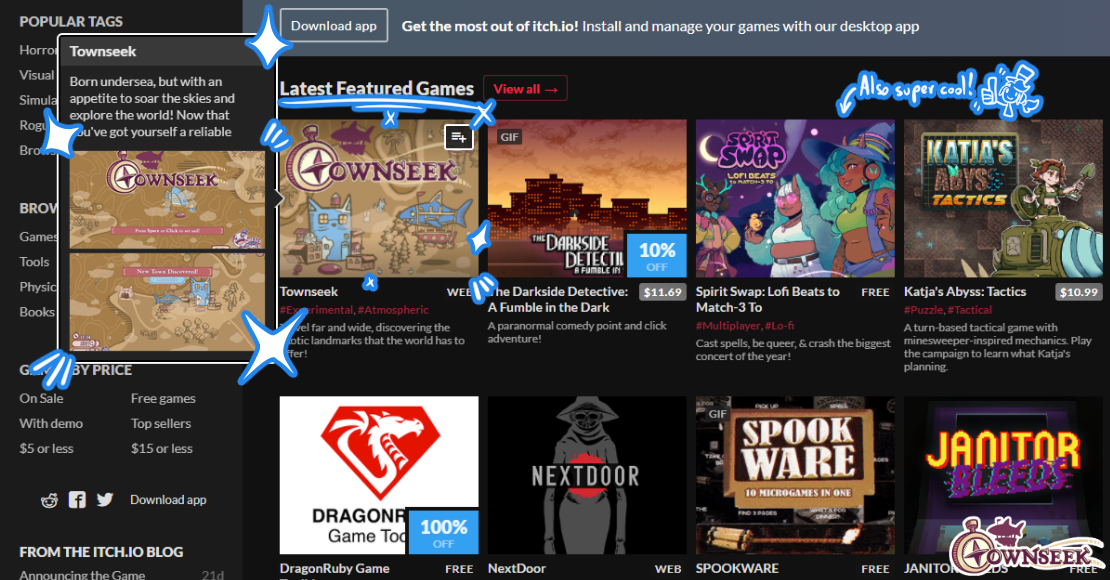 As such, the Treasure Projects we've got planned are in shorter quantity. Remember that all of the work and potential release dates that we have for these side-projects are extremely volatile!
Closing off the work that we've done with this Ludum Dare 48, you can look forward to our results and post-mortem on Vast Trivia Of The Void sometime in the coming weeks! Post-mortems detail our jam experience, our decision process and the lessons learned. Depending on how it goes, we might even do one for Townseek too!
While we'll be skipping doing jams in May, we're aiming to participate in Game Maker's Toolkit Jam at the beginning of June! We've been looking forward to joining ever since they started, as we're huge fans of Mark's channel and videos. We're glad to say we'll be finally giving it a shot this year!
Last month we mentioned we wanted to introduce Community Roles to our Discord. Our goal is to motivate people to share more of their own content on our server! While we were not able to do it last month, we hope to retake that task again this month. We might even include some more server-tweaks alongside it!
While we update our Instagram regularly, we've always wanted to have a proper Art hub to gallery together the event and one-off artworks we make with our characters. This month, we'd like to create a proper art page here on the website!
If you understand the portuguese language, you can look forward to an interview we've got coming up this month with Pixel Glitch! Likewise, we will also be doing a a podcast with Café Mais Geek! We'll be talking a bit about our fourth anniversary, things we've got planned for Bunny Splash Casino and beyond, and other casual questions!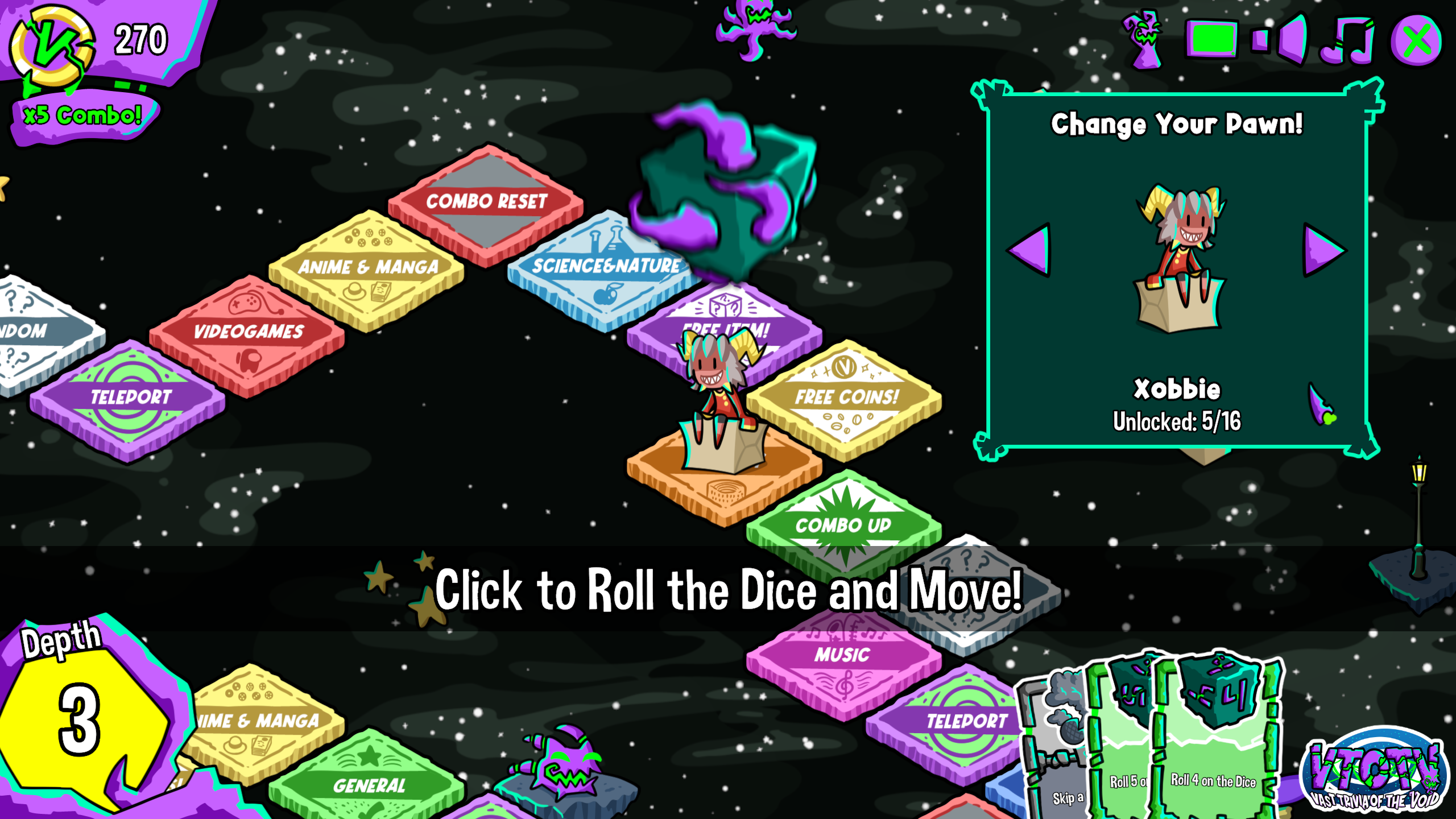 Overall, we will be keeping it chill this month with additional projects. That will allow us to work on even neater stuff with Bunny Splash Casino and to take care of smaller pending tasks! 🗄️

Finally, we've got our Whales of Culture recommendations from both of us for this month!
While it certainly was harder to consume as much content with our busy schedule these past weeks, we've still got some recommendations for you! From sentai heroes to incompetent dads, here's what we've got this month! 🍿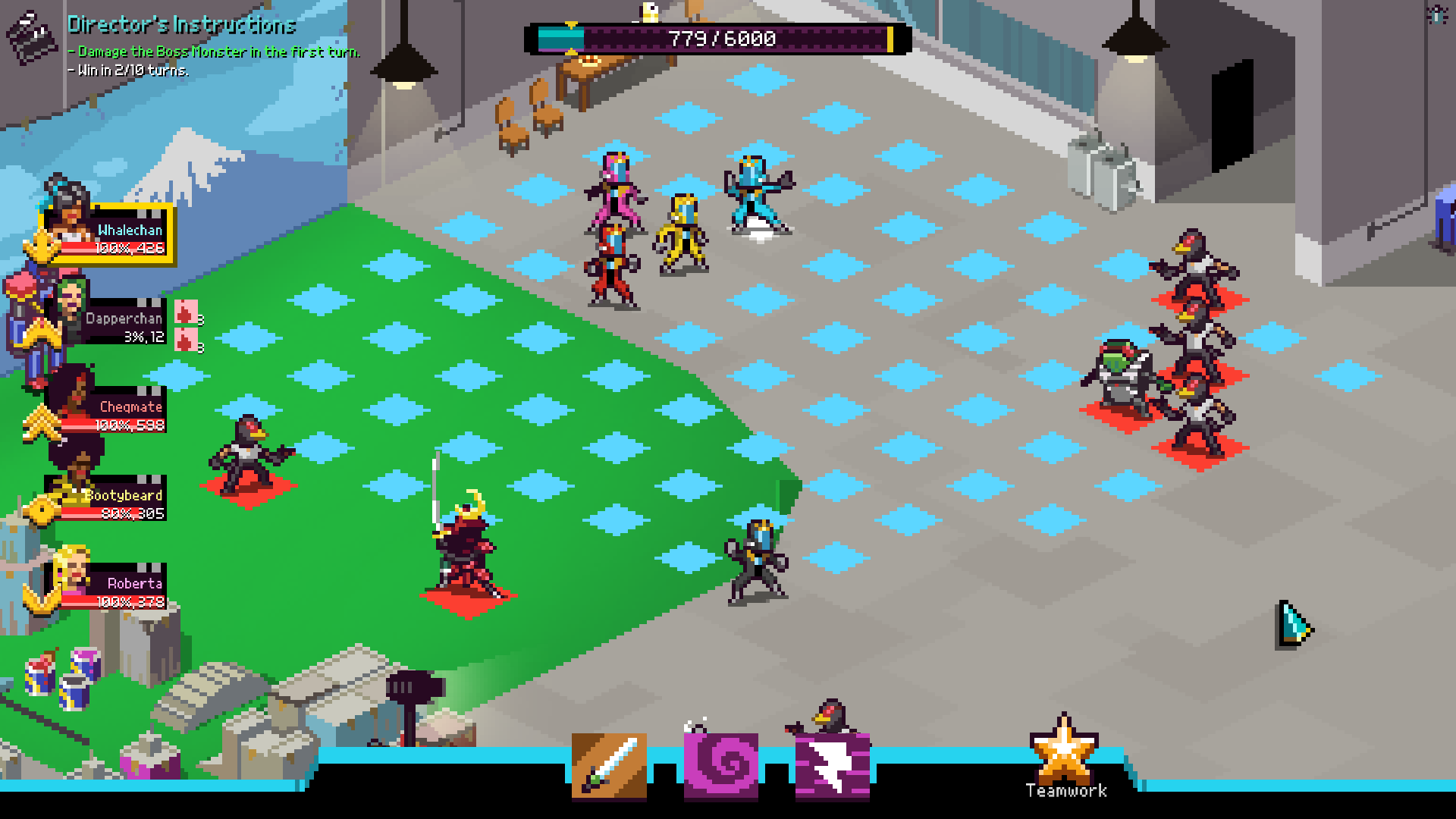 Jorge
This month I played through the super-fun adventure that is Chroma Squad! Made by the same developers that brought us Knights of Pen And Paper, the best way to describe the game is as an indie Power Rangers pixel-art strategical RPG! While it starts with a down-to-earth story about making an indie TV series and upgrading a humble studio, things escalate into absurd bliss. It goes over the top with robot kaiju fights, wacky villains and a really engaging story. It also helped that I named all the characters as Whaleverse characters, which only contributed more to the fun!
I didn't really watch a lot of stuff this month, though I did have the opportunity to watch BNA: Brand New Animal. For folks that know Studio Trigger's work, this is another one season wonder. The plot revolves around a city where exiled human-animal hybrids go to live in the face of human discrimination. While I certainly wish there were more episodes to it, BNA does have its good amount of slice-of-life moments, an interesting developing mystery about Michiru (the human protagonist that suddenly became a beastman) and fantastic Studio Trigger animation work!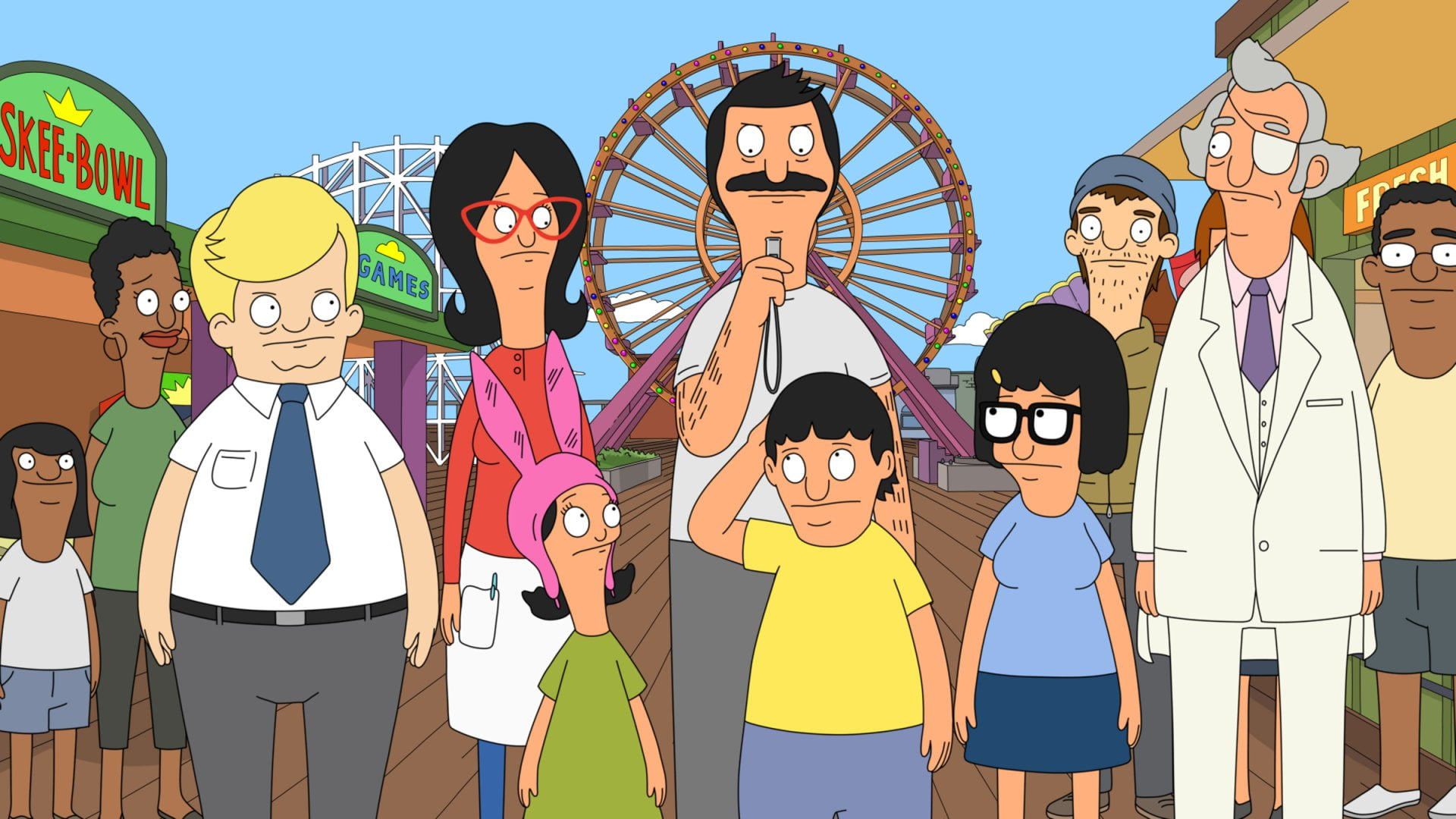 Moski
I played Horace earlier this month. It has a great story with some funny nods to gaming history. It also has great gameplay (though very difficult at times). The pacing is a bit odd at times, but the bittersweet story of a robot that would do anything for his family and to play some more videogames will make you eager to find out what happens next, over and over. While there are better and more "mainstream" platformers out there, I can't deny that this game has a lot of heart.
Also, I would like to recommend watching Bob's Burgers. So many TV animated series are about incompetent dads or dysfunctional families. Yet, Bob's Burgers thrives by giving the audience a lovable, wholesome family of relatable misfits, who would go to great lengths to support each other. The sitcom situations they encounter on each episode are hilarious. Things tend to go into unexpected developments, and usually wrap up with heart-warming lessons about family or accepting oneself.
---

And that rounds up this month's worth of news! May will certainly be a calmer month compared to how hectic April was. However, we also need to have some chiller months so we can focus on our commercial games too!
We're really stoked to continue working on Bunny Splash Casino and more that we've got scheduled ahead! In case we don't see you in any other blog post we do this month, then we will catch you up ahead in next month's report! 👋
If you enjoyed what you've read and the games we do, we would love it if you could join our Discord community server! If you're less keen on talking, you can always keep tabs on our progress through our Twitter or Instagram! Either option giving us a follow helps us to grow as well! 💛
As the pandemic starts loosening up, we hope that you're able to start engaging in some community activities again. Even then, remember to stay safe, healthy, and take care of yourself! See you next time! Cheers! 🐳