The imagination of plenty of artists is unleashed once more for another duel! With the brand new Cybersteam expansion and 24 new characters, duel for your favourite Art Fight 2021 team in Art Fight Duel! ⚔️
Updated from last year, Art Fight Duel is our auto-battler card game made as an homage to Art Fight. If you're unacquainted, Art Fight is an online yearly event open to artists of all skills and levels that splits them into two teams to draw characters from each other.
And, just like we did last year, we added characters from artists from both of this year's teams, Team Cyberpunk and Team Steampunk, so they could duke-it out!
While we were unsure if we'd be able to give Art Fight Duel a proper expansion this year due to our overloaded schedule, we did our best to give it a sizable update! The reactions we got last year from artists that got featured in the game was incredible, and we wanted to give more people the chance to experience that same sensation. 🙌
With this new expansion to the game (version 1.2.2), we've made several tweaks and new additions to the game! The list of changes is massive, but to mention some of the highlights:
Revised Gameplay! Rather than having you strategize the position of each character in the field, characters will now automatically attack opponents they're strong against! Thus, the duels are faster, more streamlined, and makes it less important to remember weaknesses and positions. It's a double-edged sword though, since your opponent will also prioritize causing the most damage! The opponent's units also gain more shields as the game continues, so there is no longer a game limit. How far can you go now?
New Character Effects! Alongside the 24 new characters, some of the new and old contestants alike have received new unique attack properties. Some can heal up all of your characters, others let you draw cards when placed, some can freeze opponents, and more! New Items! Get copies of multiple cards, be an imposter among an opponent's character to bring them into your hand, synergize with your team, heal your characters with trade-offs, and many more effects that keep the duel interesting!
Steampunk VS Cyberpunk! There's a new arena, new teams, and a whole new character layout for both duels! You can also toggle to play with only the cards from Sugarspice and Cybersteam from the menu, in case you want to play with only this year's new additions!
Revised and Original Audio! Due to non-matching schedules with our contributing composers, we were unable to have a unique soundtrack last year. Thanks to John Elliott, composer of Townseek, we took care of it! There's a new main music theme, and the sound effects are now crunchier and more satisfying than ever!
And many tweaks! Improved title screen and card collection, better attack timings, more readable cards, cleaned-up sugarspice background and more!
Following from last year, the game is available on desktop, web and mobile over on itch.io! We've also updated the character and item sprites page with the new sprites from this year! 💪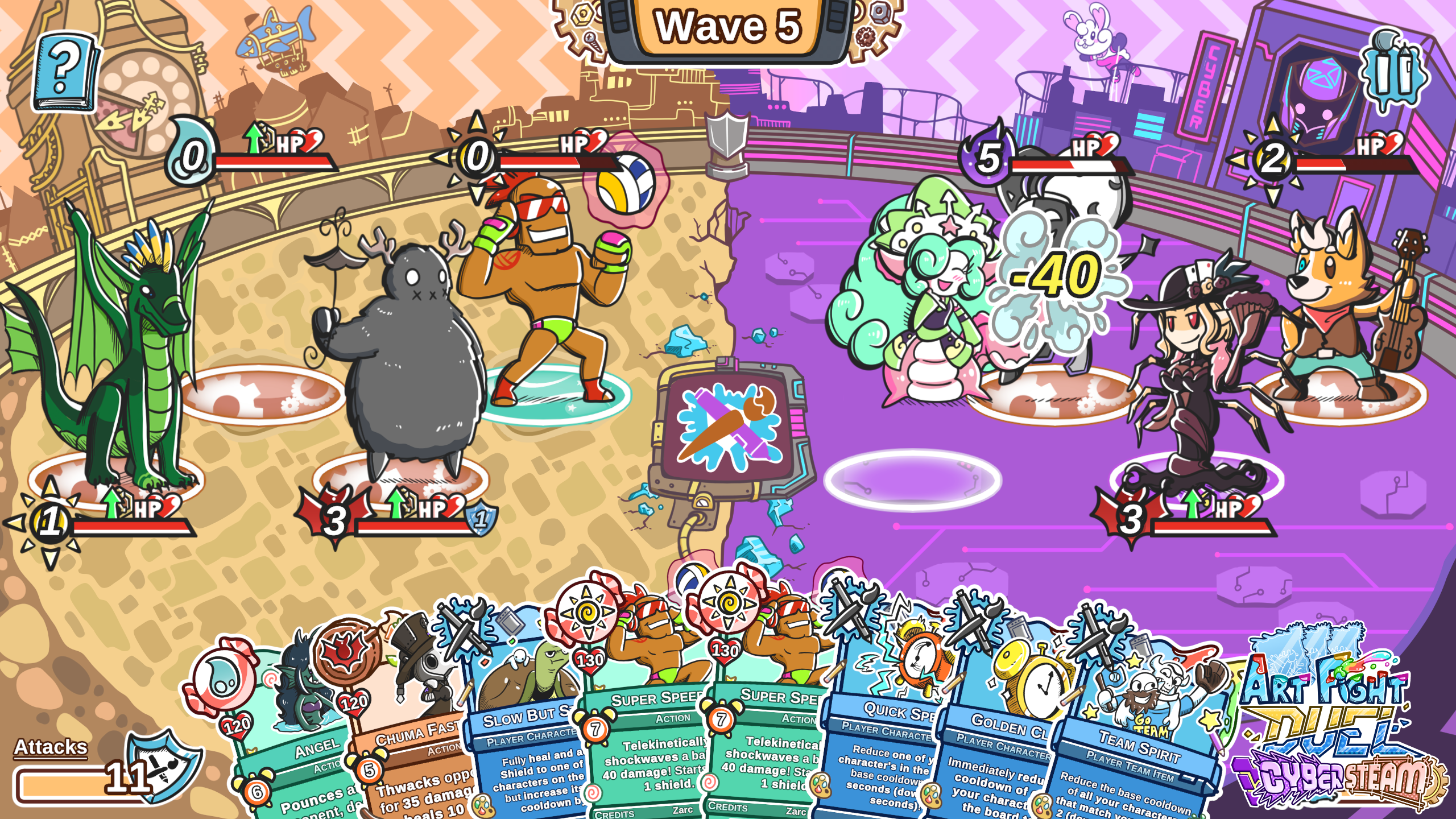 It was really fun to participate in Art Fight again! And we're happy we had the chance to work with this game this year again and create this Cybersteam expansion! We're not sure if we'll get the chance again next year, but who knows! We'll figure it out during 2022!
For the next few weeks, we'll be leaving the #art-fight-duel channel in our Discord open if you'd like to share characters you've come across! You can always reach us over on Twitter as well!
With Art Fight Duel Cybersteam finished, we'll be settling down for our first official studio vacations through the rest of August and up to early September! After much deserved rest, we hope to come back into kick-ass development with Bunny Splash Casino and more! There's much we've got in the plans! 👀
We'll catch you up ahead then! Cheers! 🐳
---