Summer is approaching fast here in the northern hemisphere now that it's June! As the weather begins to warm up, so has our work! And the highlights have been popping up even faster than the last two months! ☀️
That means it's time for another well-rounded monthly status report! We'll cover the headlines from this past month of May and what we've got headed for June! If you've missed our past month's report for May, you can catch up with it here!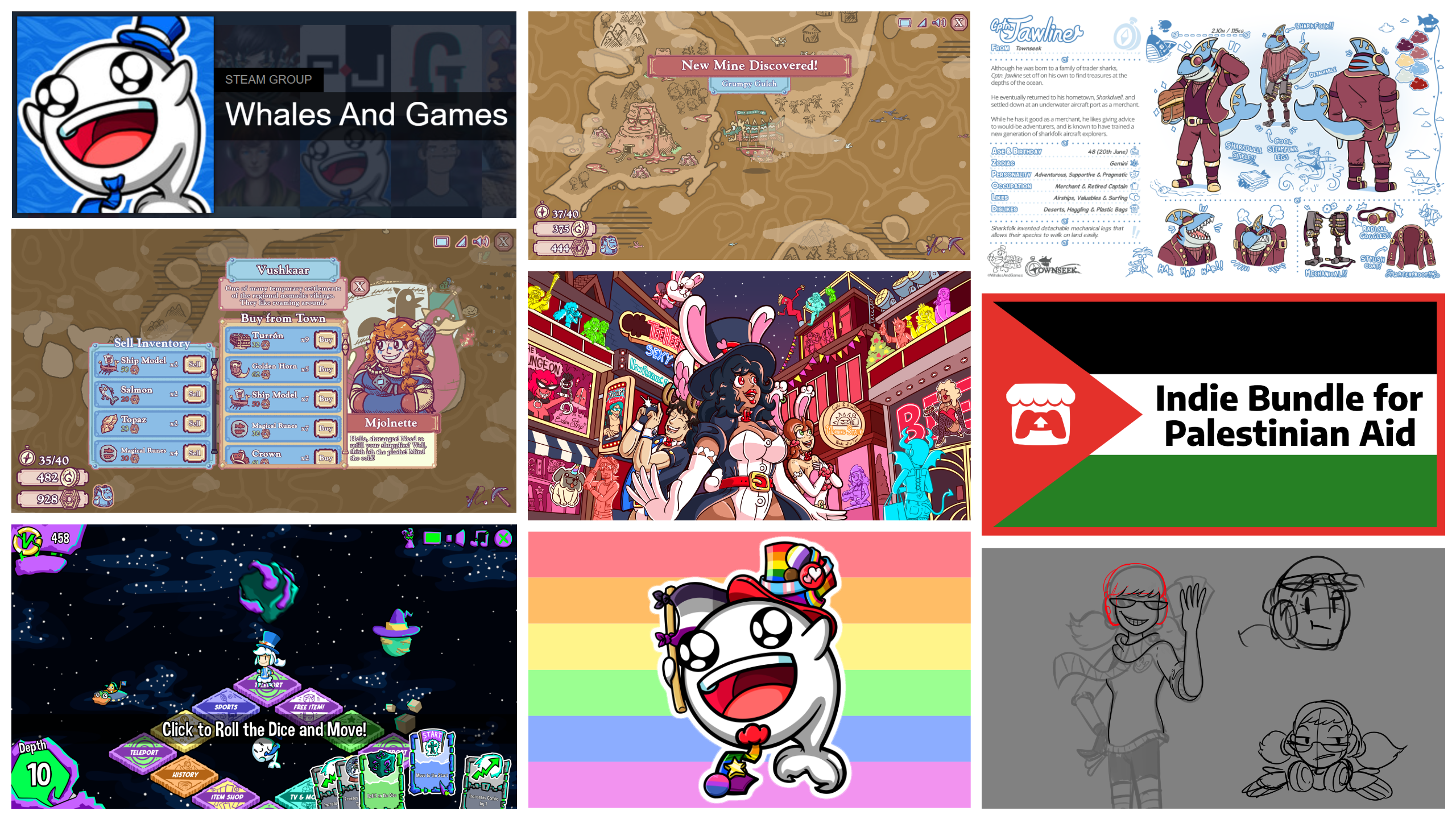 This month, we want to give you a first look at Bunny Splash Casino's main setting, The Eden Strip, and the attention we're putting into the game's world building. Alongside it, we've also been working on our Treasure Projects! We've been expanding Townseek with Minerals and Artifacts and were participating in GMTK Game Jam this week. And as usual, to finish it off, we've got our Whales of Culture recommendations! Seems like quite a handful, doesn't it? Well then, let's dive in! 🐳

As we mentioned last month, this time around on our Voyage Journal, we wanted to take the opportunity to introduce you to the main setting of Bunny Splash Casino, our adults-only management simulation game. Welcome to The Eden Strip! 🌆
The Eden Strip, as you might guess from its name and the game we are making, is our game's red-light district. The zone is brimming with adult nightlife and businesses. From strip and nightclubs, massage parlours, to toy shops and a constant presence of adult-only media. Overall, we've aimed to have a casual, no-taboo setting to the game.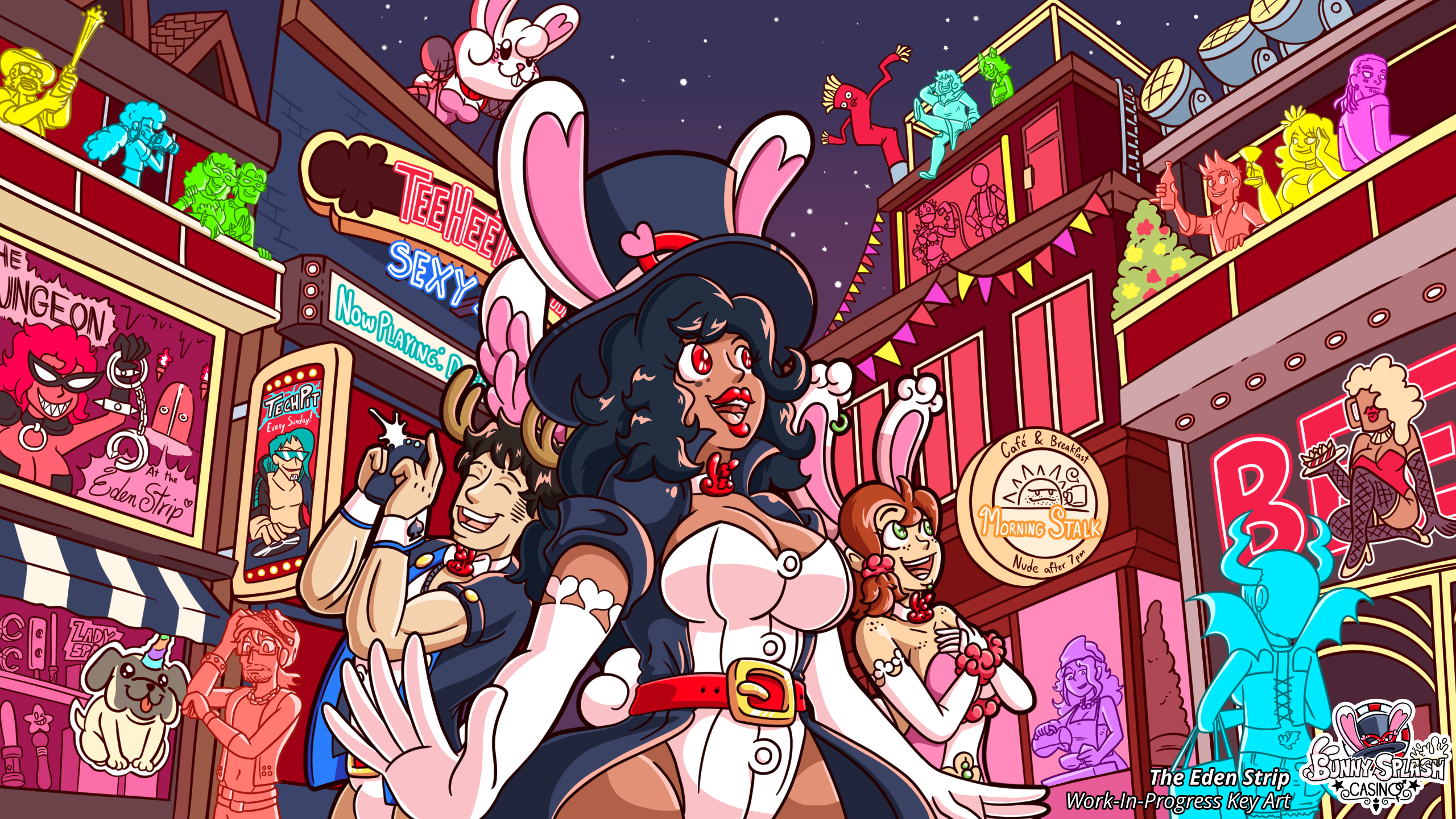 While the game will mostly take place inside the titular casino, we wanted to spruce-up it's outdoors just as much. We want the casino and your actions as a player to feel part of a much larger setting! Some of our plans include having some visual novel scenes take place in different areas of the strip, and even partnering with other businesses for bonuses and perks!
Behind the scenes, we took heavy inspiration from De Wallen in Amsterdam, spiced in with key details from Las Vegas and Kabukicho in Tokyo to design our red-light district. Since these were locations at least one of us visited at some point, we felt they'd be good to base our setting on. We also took inspiration from other games, such as the Yakuza series.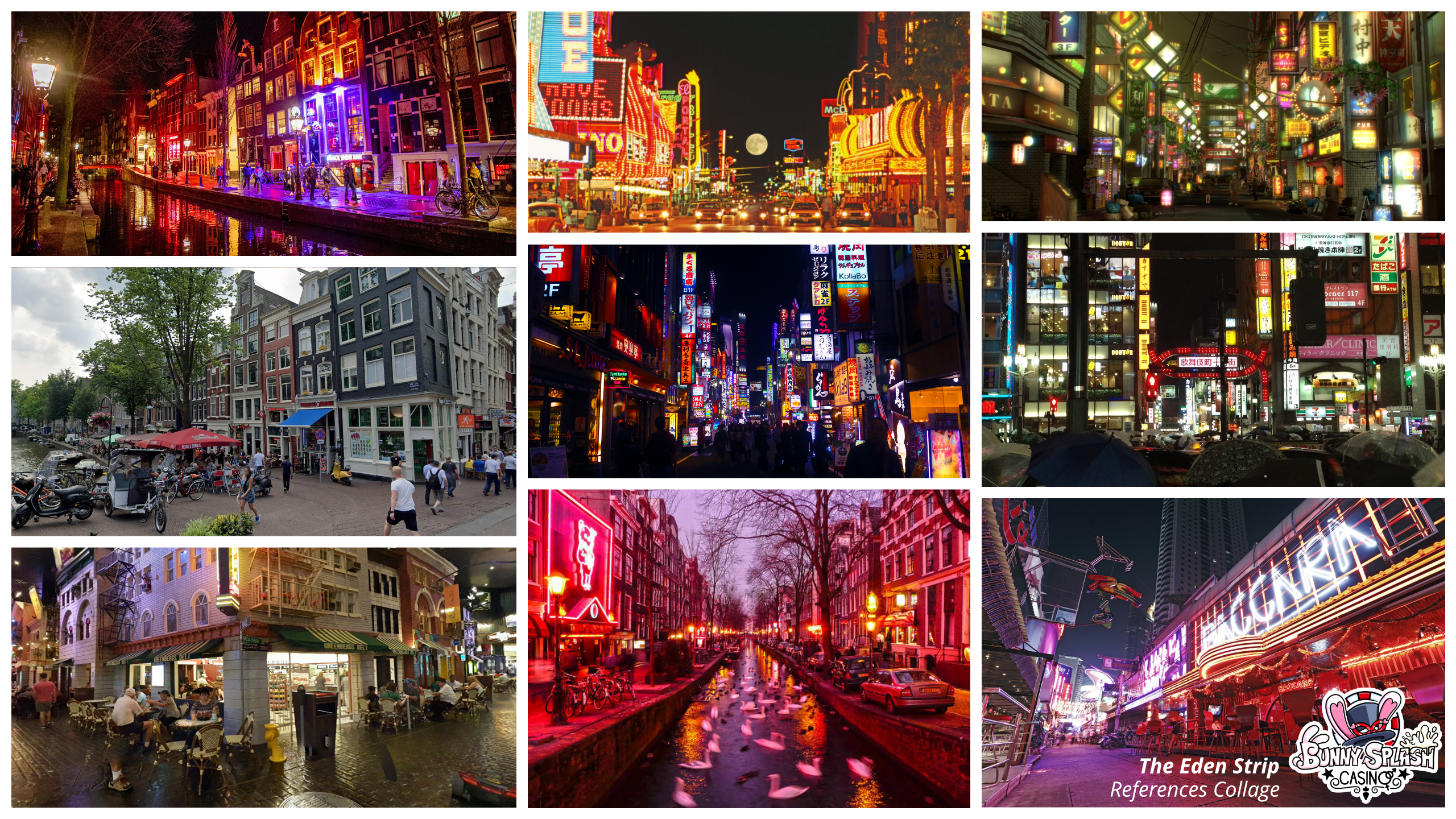 We hope you look forward to it! Speaking of looking forward to things, with this Status Report we're also bringing activity back to Bunny Splash Casino's Twitter and Discord! We've been teasing it for a while now, but felt now would be the perfect time to do it. We hope that you give us a follow there!
In a more development-wise update, Bunny Splash Casino has been progressing at a slower pace than we wanted for this first-half of the year. However, a lot of the time-consuming tasks are out of the way now. We hope that we can use this second-half to recover speed on development though, admittedly, at this point we're still taking the project at our own pace. 🐇
In addition to Bunny Splash Casino, there's also many other major milestones for Whales And Games that happened in the background this month. However, we can't talk about them just yet! Some of these milestones are things that you folks who play our games have been asking for a great while, and we're glad to finally be working towards them. We look forward to surprising you with them soon! 👀

As we've noted on our previous report's Treasure Projects, our trading and exploration game Townseek has got fantastic reception! With all the feedback and comments requesting us to add more to this world, we couldn't stay arms crossed and began working on a new expansion to the game! 👏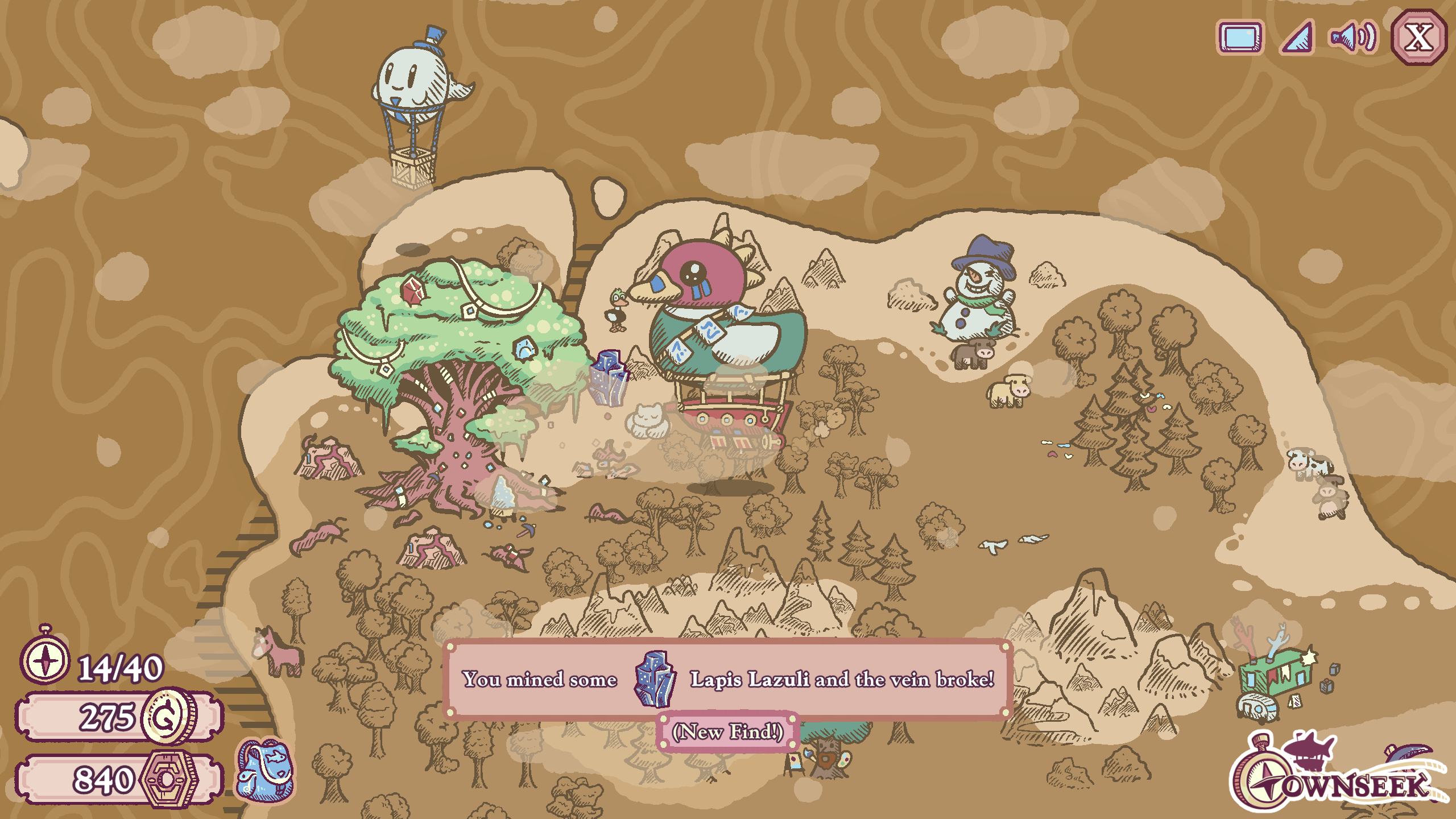 With most of the work for this expansion already done, we're pleased to announce that we're working on The Star-Seeker Update for Townseek!
This update will allow you to buy a pickaxe. With it, you can seek the new mines spread around the map and collect all sorts of materials and artifacts! New minable shooting stars will also fall on the map, giving you stardust to power your ship's turbo! And of course, there's a new town, several new items, and a slew of quality-of-life changes! ⛏️
At this time we still don't have any planned release window for this update. We've got a whole slew of assorted things to work on our end and at this time! And of course, we have to keep pushing Bunny Splash Casino!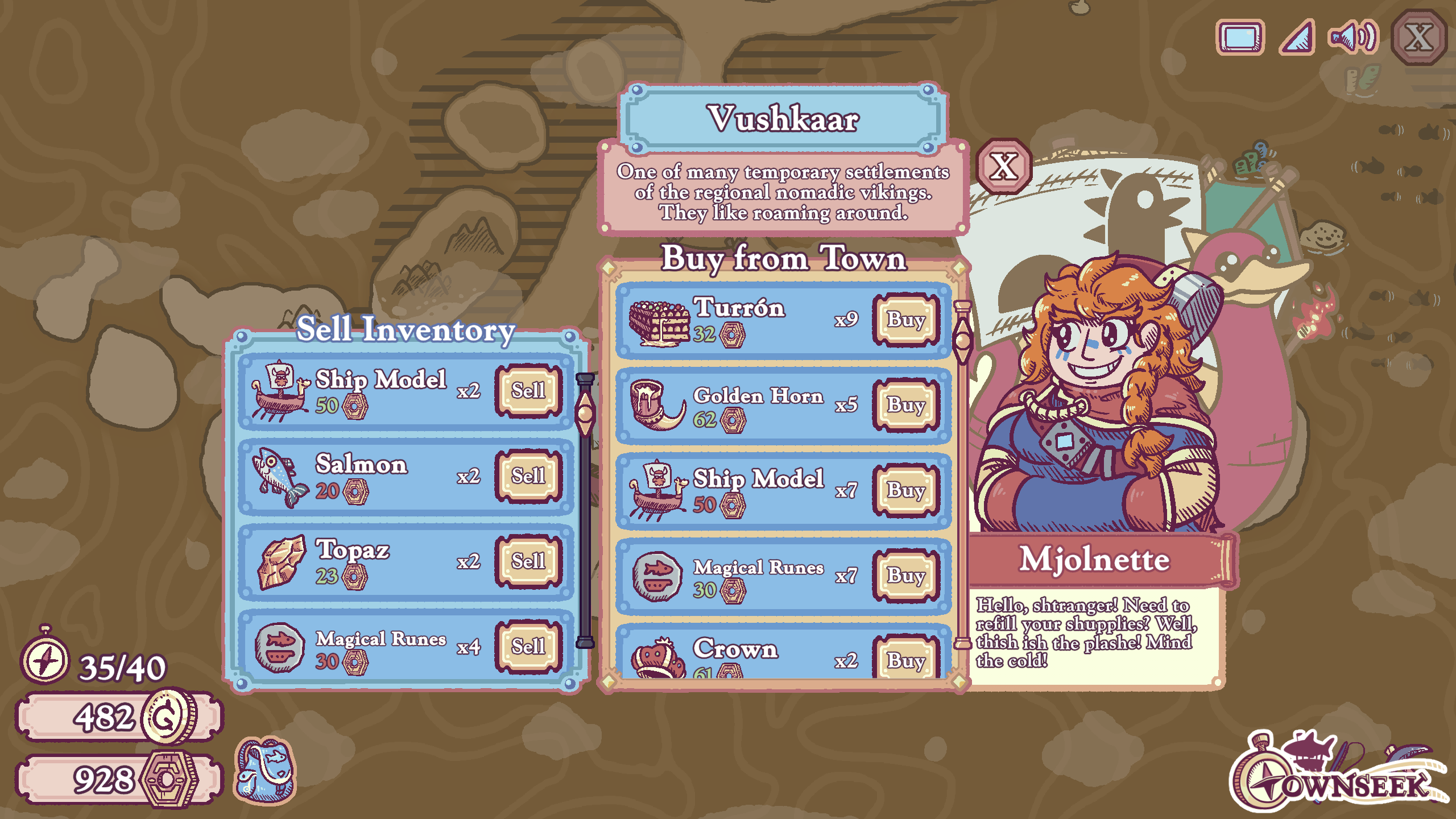 While you wait for the update, here are the headlines for this month's Treasure Projects! Remember that all of the work and potential release dates that we have for these side-projects are extremely volatile!
Since we're here and to close-off this month's Treasure Projects with all the Townseek hype, allow us to show you the new character sheet for Cptn. Jawline!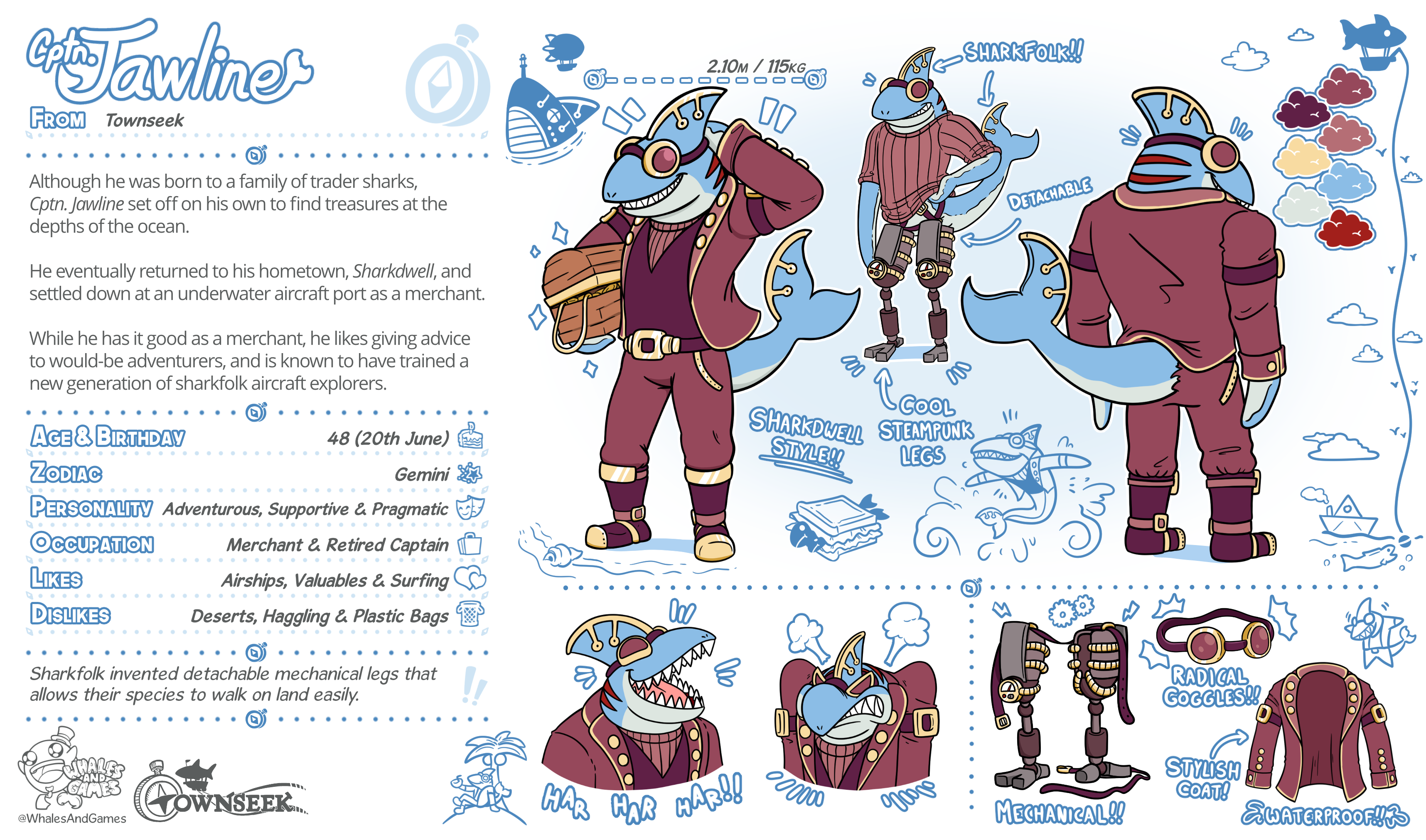 This month's Whales of Culture recommendations from both of us are quite special!
While we've enjoyed playing some games this month, the recommendations this time around are all things to watch or listen! Somehow we've made our resident Mexican get hooked-up with an European music festival. Let's see what's on the mixer this time! 🎙️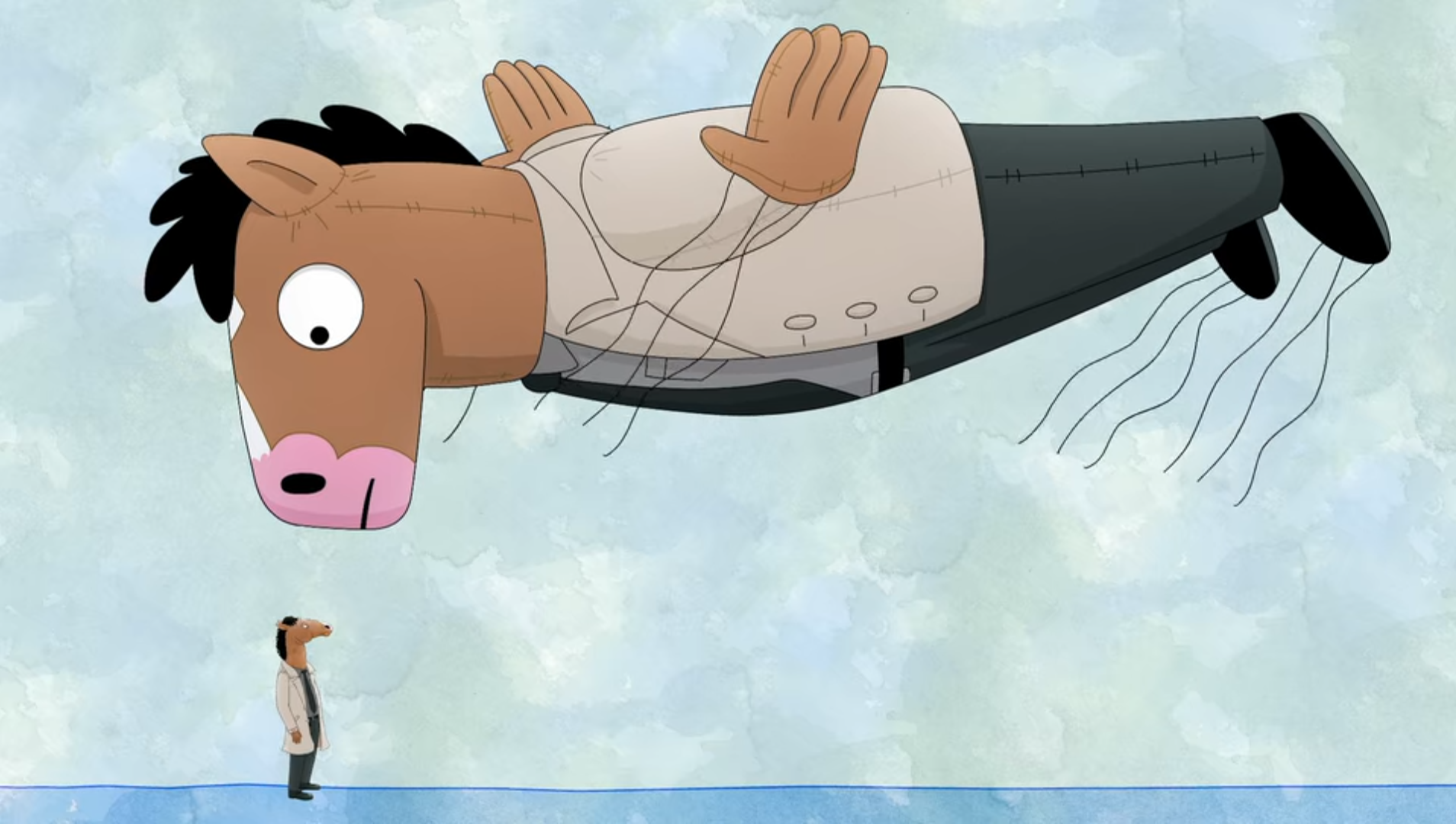 Jorge
Two weeks after I've finished watching the show, I'm still thinking about BoJack Horseman. What originally felt like just another adult comedy animated show, but with anthropomorphic animals, quickly gave way to one of the most unique, gripling and emotional TV shows that I know of. Over its six seasons, beyond its unique humour, the series covers topics of mental health; the ability of one to change; and the accountability of one's actions. There's really no way to fit all of what it made me feel into a single paragraph. Please, watch it.
I also want to feature The Mitchells Vs. The Machines, another fantastic animation work by the same studio that brought us Spider-Man: Into The Spiderverse. Not only does the movie combine pretty much every animation technique imaginable, it also brings together a lovable story featuring a wonderful misfit family. I think anyone in a creative area can relate in some way to Katie, and all of the tech-related jabs really hit well nowadays.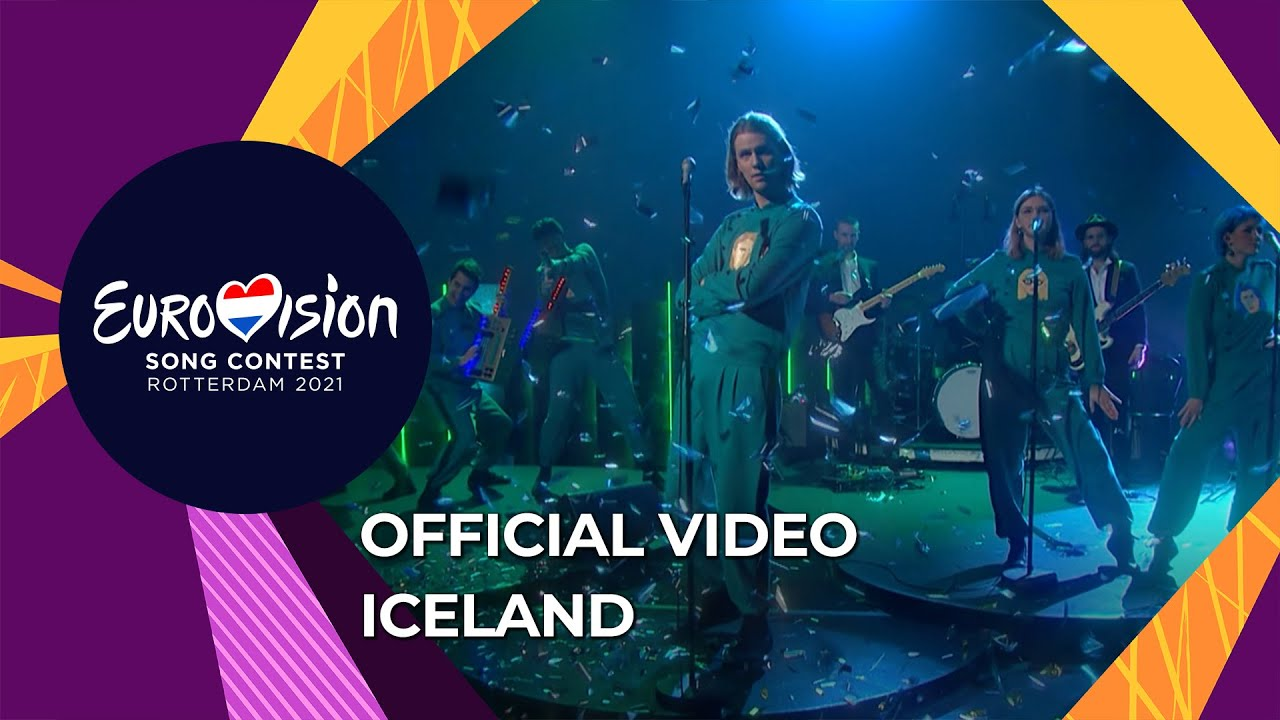 Moski
Guess who also watched The Mitchells Vs. The Machines? If you're reading this blogpost, I'll guarantee that you'll love it. Born and raised to want to do something with art in a medium that didn't exist when my parents were born, I related to the film's themes about closing the generational culture gap through understanding and acceptance. A hilarious, emotional, action-packed ride that you shouldn't miss.
For something less traditional, I'd like to talk about Eurovision 2021. Being Mexican and what not, it's natural I've never seen these yearly shows before, so I was stunned with what I witnessed. A lot of music there was very catchy, but more importantly, I felt that it was a strong display of union, with people from all across Europe, singing many genres and even in their native language at times. If I may quote The Greatest Showman, "a celebration of humanity".
---

With the world of Bunny Splash Casino coming together, GMTK Jam, our back-end changes, and the upcoming Art Fight, it seems there's a lot on the horizon for our summer! Don't worry! We'll make sure to make sure to have a nice break at some point and enjoy the summer breeze! 🙌

As we start rolling out Community Roles, it'd be fantastic if you'd join us on our Discord community server! We'd love to know your thoughts on The Eden Strip and what we've got coming! Alternatively, you can always be up-to-date with our progress over at our Twitter or Instagram!
We hope you look forward to what we've got coming! We're halfway through the year, and there's still a whole 'nother half of surprises coming up! Cheers! 🐳