🧧 Happy Lunar New Year! 🐅 We're pouncing with energy for this brand-new Year of the Tiger! May prosperity and good-vibes follow you wherever you bounce to! ✨
It's a huge pleasure to once again celebrate these eastern festivities this year as well! So far, we've had the Year of the Rat, the Year of the Ox, and now we have a third-time to celebrate this festivity with the fresh and promising Year of the Tiger!
And our characters are very eager to be a part of the lunar new year festivities too! They seem to be having a roaring time with a fellow tiger they've befriended thanks to their costumes! 🐯
Likewise to our tradition of past years, we've got a small activity over at our Discord Server! If you're a part of the server, you can head-out to the #chinese-zodiacs channel to find out which of the 12-year-cycle zodiacs is associated with your birth year!
Over on that channel, you can react with your zodiac's respective emoji, which will add it as a role icon to your name until the 16th of February! You also get to keep the Lunar Celebrators role; in case you haven't gotten it from previous years yet! 🏮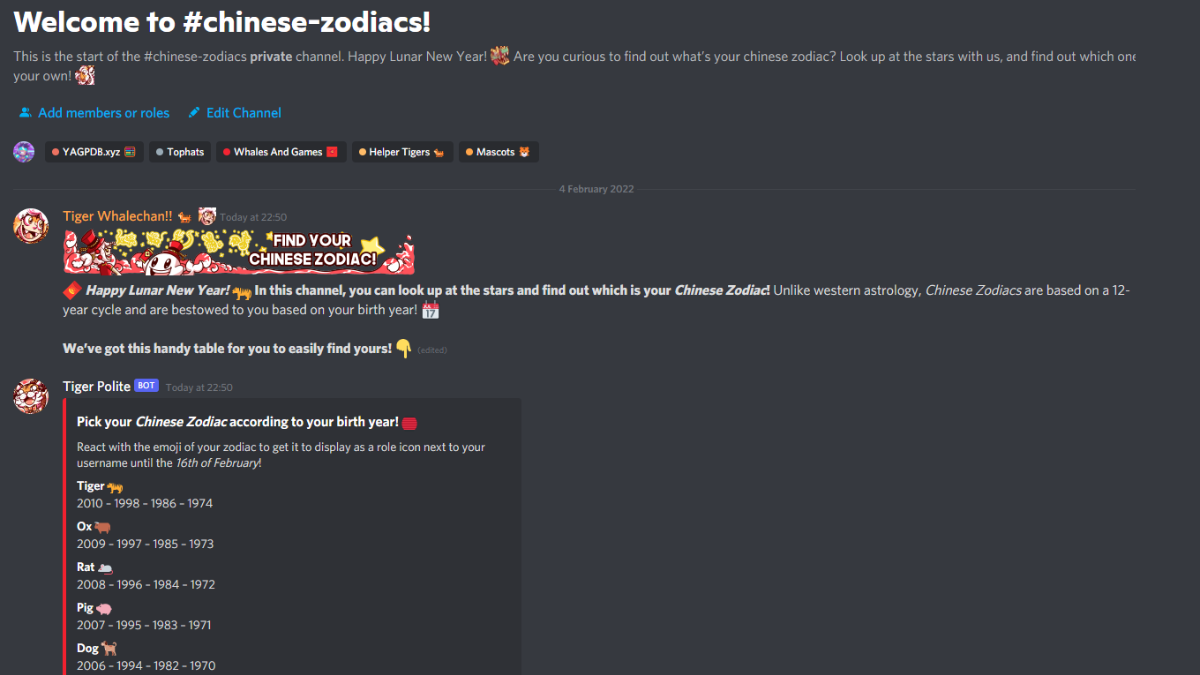 While we haven't had the opportunity to say Happy New Year until now, it's because this year is already being a promising one! There's very exciting things happening around us at Whales And Games!
Work continues full-steam ahead in Townseek, of which we'll have a Status Update on soon; we've got an Honourable Mention at the latest Digital Big Indie Pitch; we'll be heading to London this month to continue our searches for a publisher for the game; and of course, there's a ton more we'd like to build towards this year! ✨
We hope you're as eager as all of us for what's coming ahead! Here's to a great year for everyone! Cheers! 🐳