This first week of judging has been incredible! We've received an overwhelming amount of feedback and support for our game, Jazzy Beats, that has already surpassed the reception we got with our previous game, Petty Puny Planet during Ludum Dare 38's judging phase. From the bottom of our heart, we don't have a way to thank you enough for it. We've been trying our best to respond to the feedback we've got so far, but know we can still do much more! ?
It is our belief as a team that the 72 hours we spend creating a game during Ludum Dare is only the beginning of the game's lifecycle, and everything that follows from documenting the game's development, to getting the game onto the screens of more players is when the true challenge really comes into play.
As such, part of our goals with this Ludum Dare was that we'd try to branch out our game into more and different platforms beyond those which we've always published our game on (such as itch). With that said, we've released the web version of our game, Jazzy Beats, over on Newgrounds as of yesterday!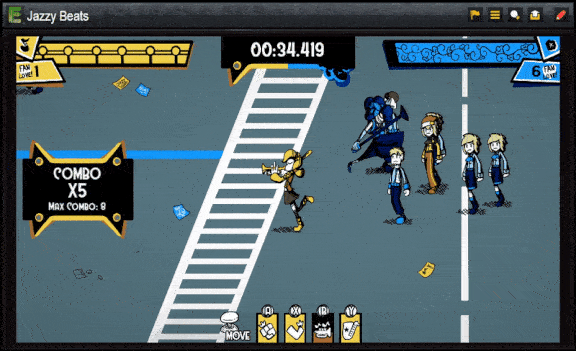 Many of you probably know Newgrounds from the early days of the internet, being one of the most popular flash games portal back in the late 2000. However, even after all these years, the site kept growing, and has since started accepting HTML5 and WebGL, keeping Newgrounds as a trustworthy portal even on our current days. Their support when we had Colossorama, one of our past Ludum Dare games, ripped from us and published in their site without our consent in the past was phenomenal, removing it straight ahead, and when we were finally ready to republish the game there ourselves, they immediately accepted us open-armed. ?
And once again, with the release of, Jazzy Beats, they've have featured us on the site's front-page! Those guys are some sweet honey-buns. ?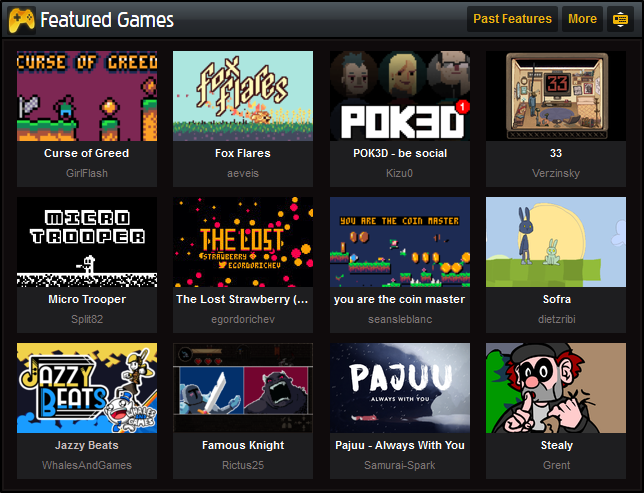 If you're interested in the game, give a look over at our game page! Although Newgrounds only hosts the web versions of the games, we also have links for the game available on all major operating systems over at the game's page!
During the upcoming days and weeks we hope to release the game on even more gaming portals we never took the chance to try to publish our games on. We believe it's going to be a great learning experience to understand what it takes to have our game on multiple sites at once.
Once more, in behalf of our team, we once more thank you for all the reception we have gotten this far, and during the next days, we hope to publish more insights into the development of our game. If you're looking for some chit-chat, we also have a Discord available, where we all talk everything from game development to overall gaming! Thank you once more! ??