Happy 5th Anniversary, Whales And Games! 🎆🍰 We started with student projects and followed creating a dozen game jam hits in-between. Now we're working on our first major release with Townseek! Looking back at it, we've been at work for quite a while now, haven't we? These last five years have been an adventure! And if these last few months are any indication, then the next five will be an even more amazing journey! 🐳
Other than our recent surprise release of Townseek's Early Demo, you might have realised that we've been missing in action lately. In fact, this anniversary post itself is three months late! Still, as they say, better late than never!⏱️
Things have been really busy for us! Since the start of the year, we've been a lot more involved with Whales And Games! We've been participating in events around the world again. We have sought publishing opportunities and deals for Townseek. We've joining physical collections with the Super Rare Mixtape Vol. 2. That, and much more! And if we look back even before the start of the calendar year, a lot happened during Whales And Games' 5th year! ✨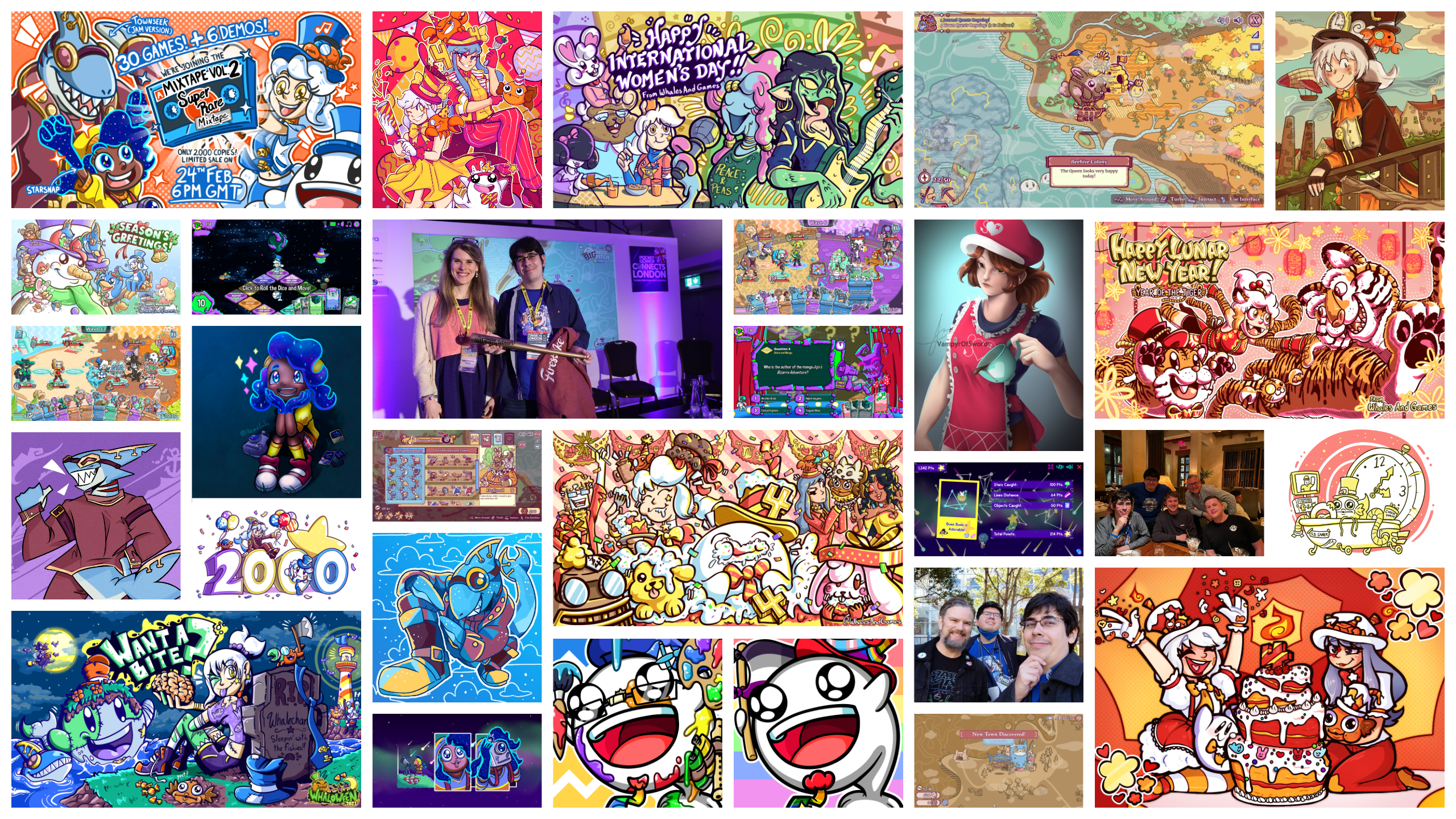 And there's more to celebrate, as we're kicking off our 6th year with a massive milestone! We're becoming an official limited liability company here in Portugal! 🇵🇹 It's been in our plans to formalise our studio at some point in the future… But it all came together much earlier than we expected! While this won't change things much more different on the front, it will change the way we operate on the back! It will allow us to dedicate more time to Townseek and our upcoming projects. It also opens many new opportunities to us! Beyond funding, it also allows us to put together many more projects and opportunities that we hope to unveil in the future! 😊
Thank you to everyone! We're incredibly grateful to have our families' unwavering support along this journey! We extend our thanks to our friends that have helped us build our community. Many thanks to all of the players that have played the multitude of games we've released. And, of course, thank you to everyone who has helped simply by wishlisting Townseek on Steam! We wouldn't have made it this far without your never-ending support! 🤗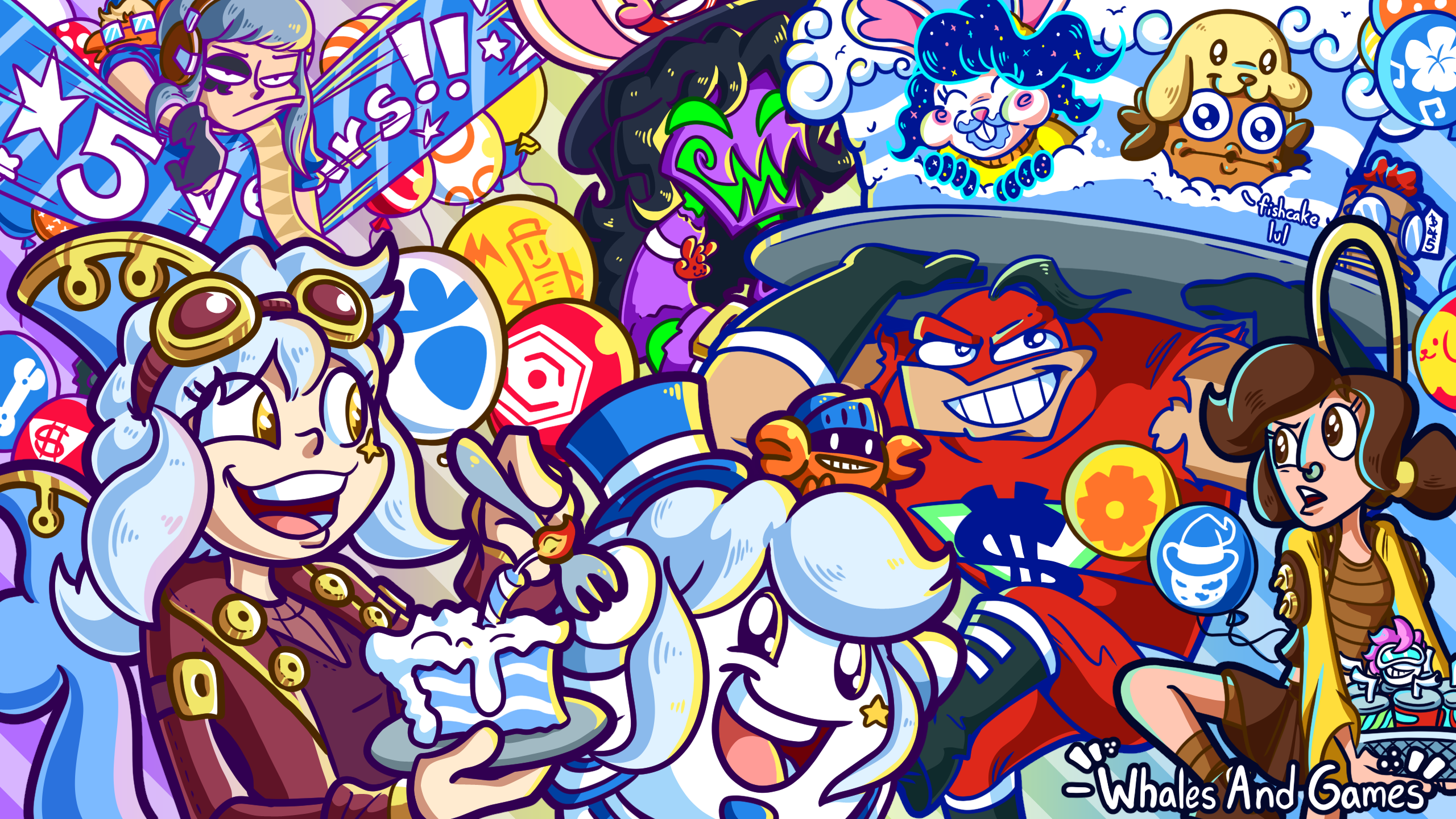 This being our yearly celebratory post, we have a brand new dedicated anniversary artwork!
This year, we're swapping everyone's costumes! Every character is cosplaying as someone else! Whalechan is dressed as Captain Jawline, and Polite Whale is dressed as Whalechan in return! Can you recognise who the other characters are dressed up as? Let us know your guesses! 👀

Let's get right into the big topic of the season with some Townseek news! As announced last month, we are currently running an Early Demo for Townseek through Steam up until the 30th of July! The original date was earlier on the 28th of June, but we have extended it to go alongside these celebrations! If you haven't tried the early demo yet, this week is your best chance to do so! ✨
Releasing this demo was a sudden decision for us. However, with the recent Dreamhack Beyond and Wholesome Direct Steam events, we felt this was the best opportunity for us to gather some feedback at this time. We also wanted to test out the initial impressions of player's of the game! We're really happy about the feedback that we've received so far! There are several tweaks and changes we already want to make in the game according to feedback we've received.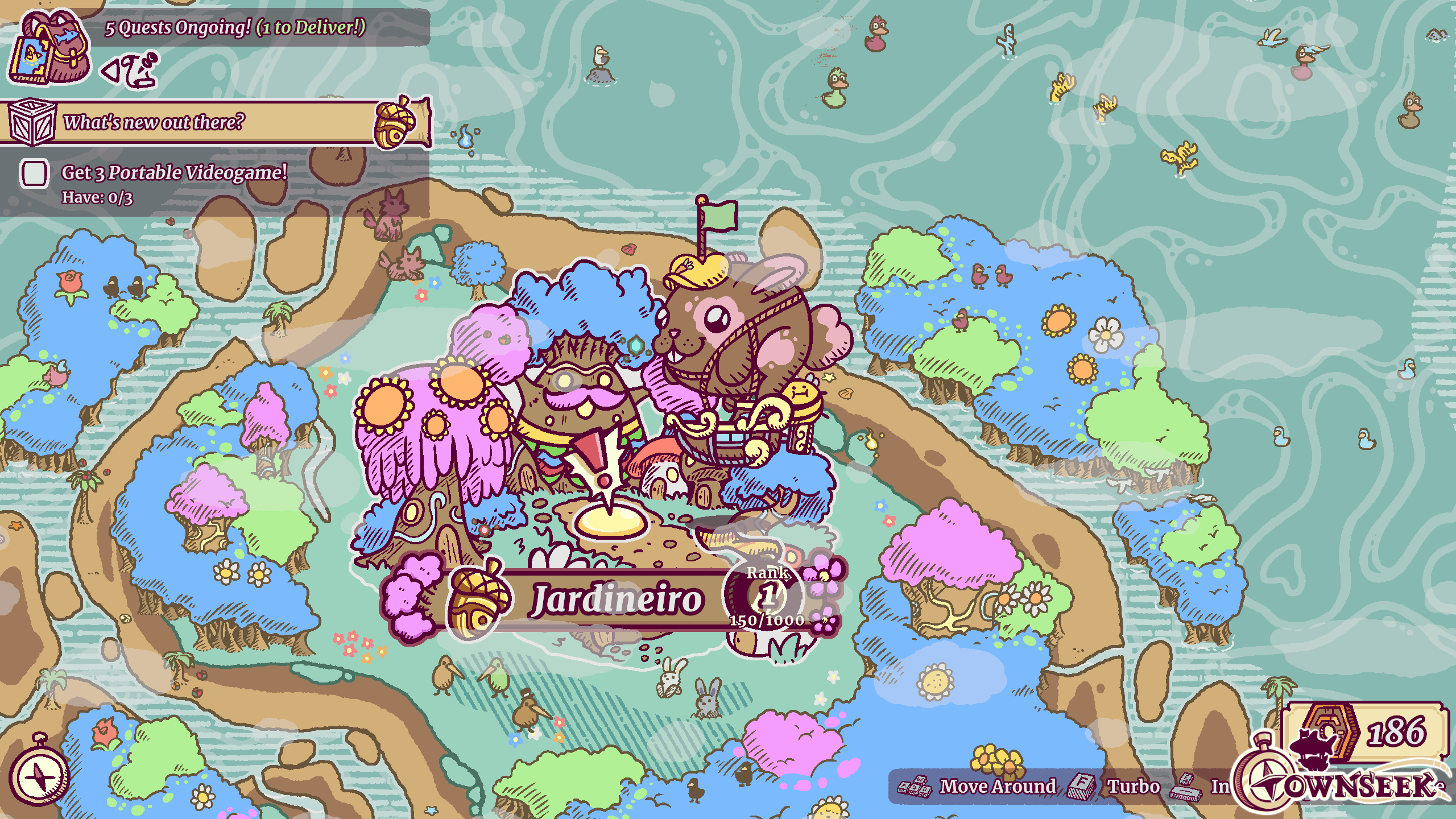 But before we start talking about what changes we plan to do, we first wanted to reflect on the changes we've made for Townseek these past months. On the last big update we made on the status of the game back in November of last year, we talked about how one of our goals was to focus more on major game systems. Over the last months, that's precisely what we did! With those changes, several aspects of the game were greatly revamped since the jam version! ✨
Starting with towns, the town and trading experience in Townseek has been massively overhauled! With towns being the namesake of the game, our goal with the full version is to put much more focus on them. We want to bring unique charisma and attention to all of the different towns around the world. Originally, towns were just stops for trading, without much else to do besides exchanging inventory.
Now, when you visit a town, you're first presented with a Town Hub, which gives you a small description about the town and introduces you to the town's host. You also get snippets of information about how the town trades, such as currency, categories, and items in demand. This interface also has a lot more charisma, with unique banners, icons and backgrounds for each of the towns. From this hub, you can select one of the three options of things to do there: Trade with Town, Town Quests and Talk with Host.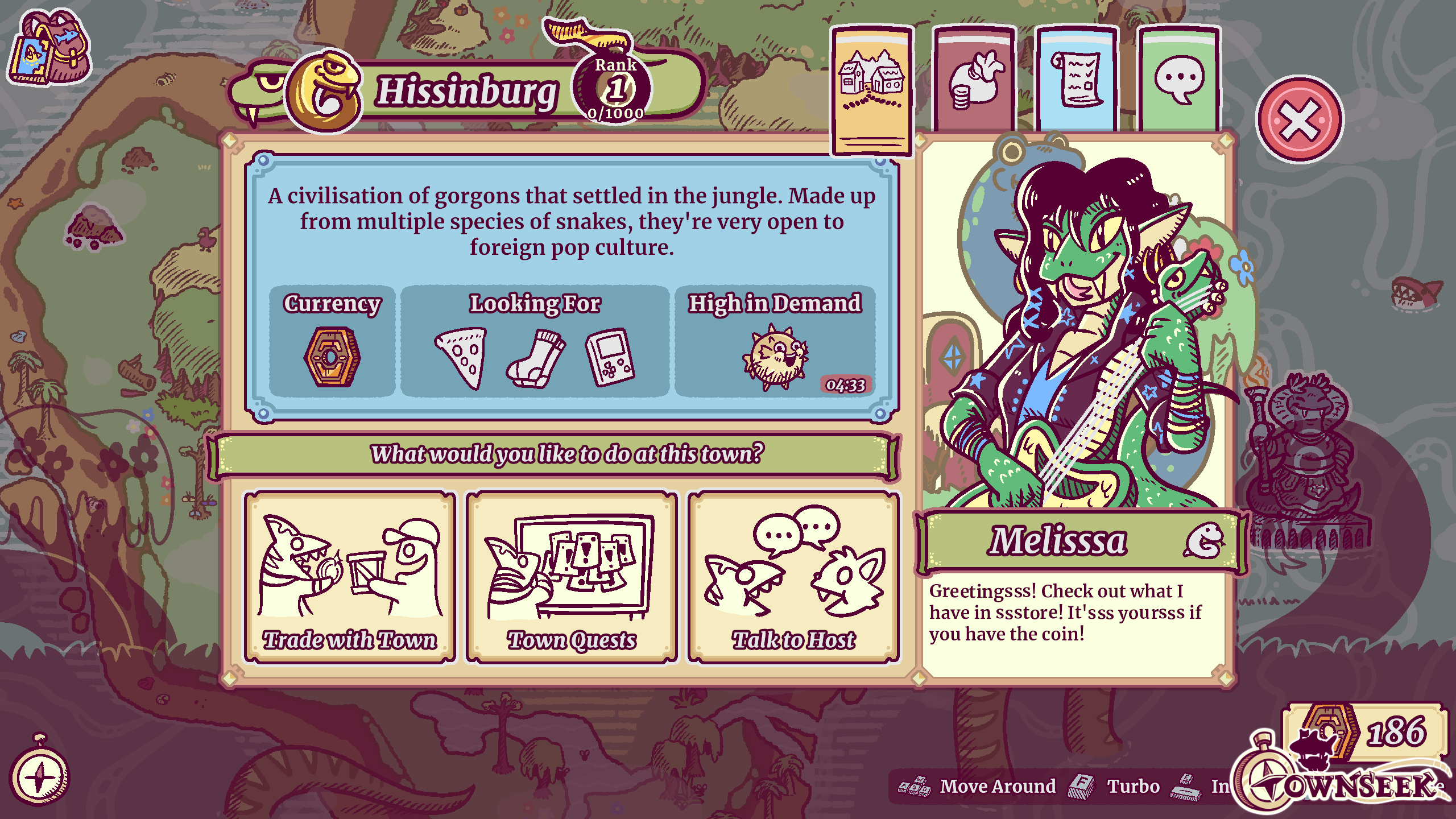 When you select Trade with Town you're presented your options to exchange merchandise with towns. We've changed the way that items are presented into easily readable grids on both your inventory and the towns. Hovering over an item shows new information beyond just their flavour text, such as the item's category, average price, and the status of the item within the town.
Item categories define how the price of an item fluctuates in a town. Different towns will have different preferences in which item categories they're looking for. Some towns will favour Valuables, while others might value Food. While towns will favour some categories, there's a small chance you could be selling an item of the same category at a loss the next time you visit!
Towns will also sell unique items including Upgrades and Cosmetic Items for your airship. Most of these are, however, locked behind a Town's Reputation Rank. As you sell new items to a town or complete town quests (more on that next), your reputation with them will increase. After you obtain a certain amount of reputation points (RP), you'll rank up with that town!
Ranking up unlocks a slew of new items, better category fluctuations, and more. Rank up with towns all over the world to complete your collection and uncover new areas to explore!
Finally, one new additional town trading feature are the Items in Demand! Towns each will have an item in demand that changes from a pool of possibilities every few minutes. These items sell for much higher price than their average value. If you happen to have these in your inventory, they're a great way for some quick profit!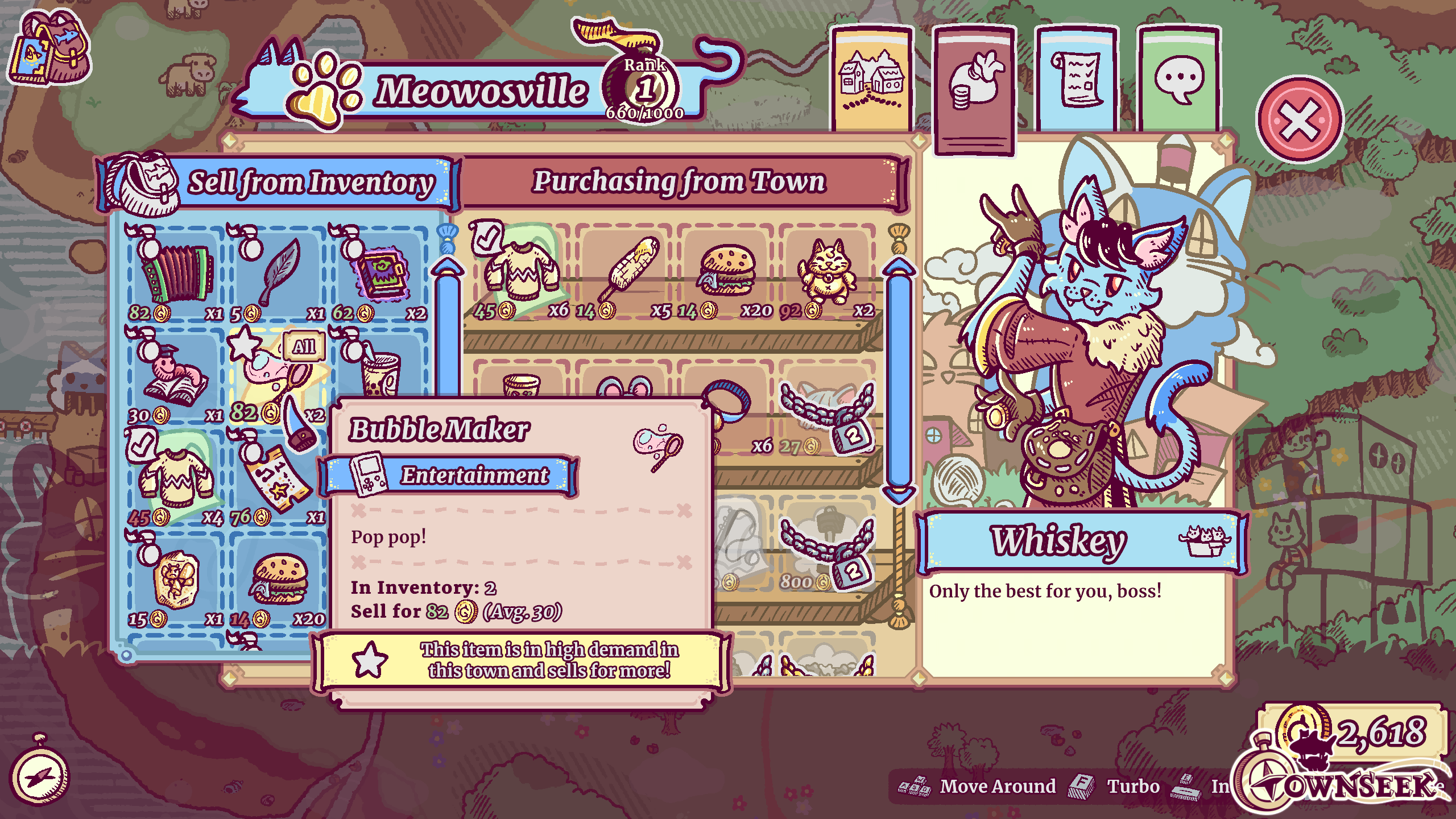 Another big new aspect to towns are Town Quests! Town Quests provide you with various tasks provided to you by each town's host. Some can include quests asking you to fetch certain items from other towns. You might have to engage in certain activities or deliver tourists from a town to a specific landmark in the world. There's even some unique quests depending on the location.
Completing Town Quests rewards you with a greater amount of currency, reputation points and sometimes even items in a single go. Of course, rewards vary depending on the task, and the quests available rotate regularly. The amount of quests that you can take from a town at a time is limited. As you improve your Town Reputation Rank you'll be able to take more quests at once. With so many towns to explore, you'll have many quests at your disposal to tackle in the order you want!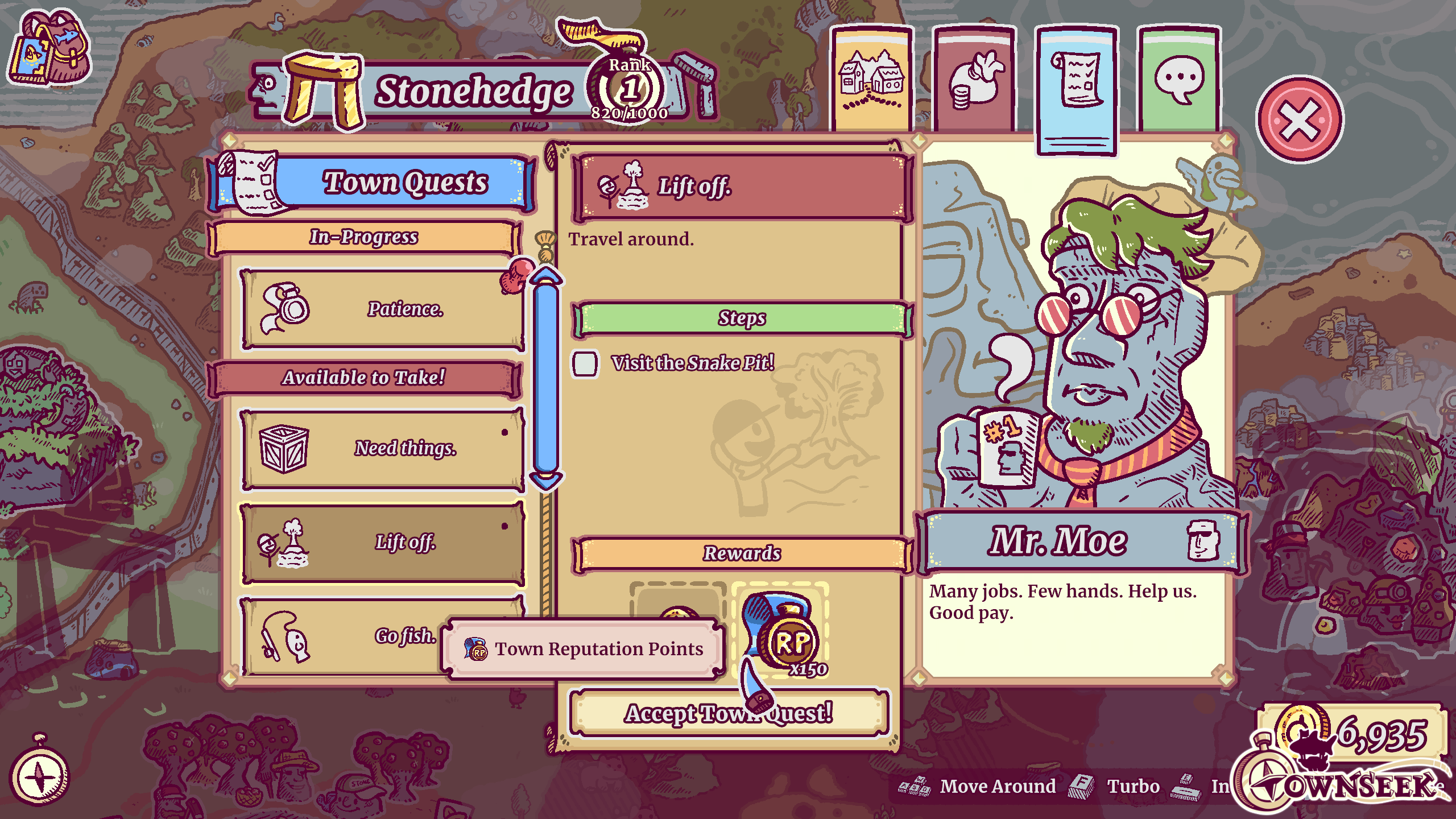 These Town Quests also relate to the Journal of Sir Reginald Sharkingston, as you'll have to perform various quest branches in order to collect the different pages from all over the different towns. We'll be going more in-depth about how the game's story will play out into the game in future reports. For now simply know that the way pages are collected is built directly on top of these quest systems.
As development progresses, we'll continue balancing and experimenting with different town mechanics. Our goal is to create interesting and diverse quests. And of course, we're taking into consideration the feedback we've received with the early demo. We expect to have made massive improvements by the time that we get to show our game to the public again with a new demo! 💪
Additionally, as we mentioned previously in this post, we're currently looking into potential publishing opportunities for Townseek. We can't go in-depth at how conversations are headed at this time, but we believe that the game has some amazing possibilities headed its way! We hope to be able to speak more about them soon! 🤗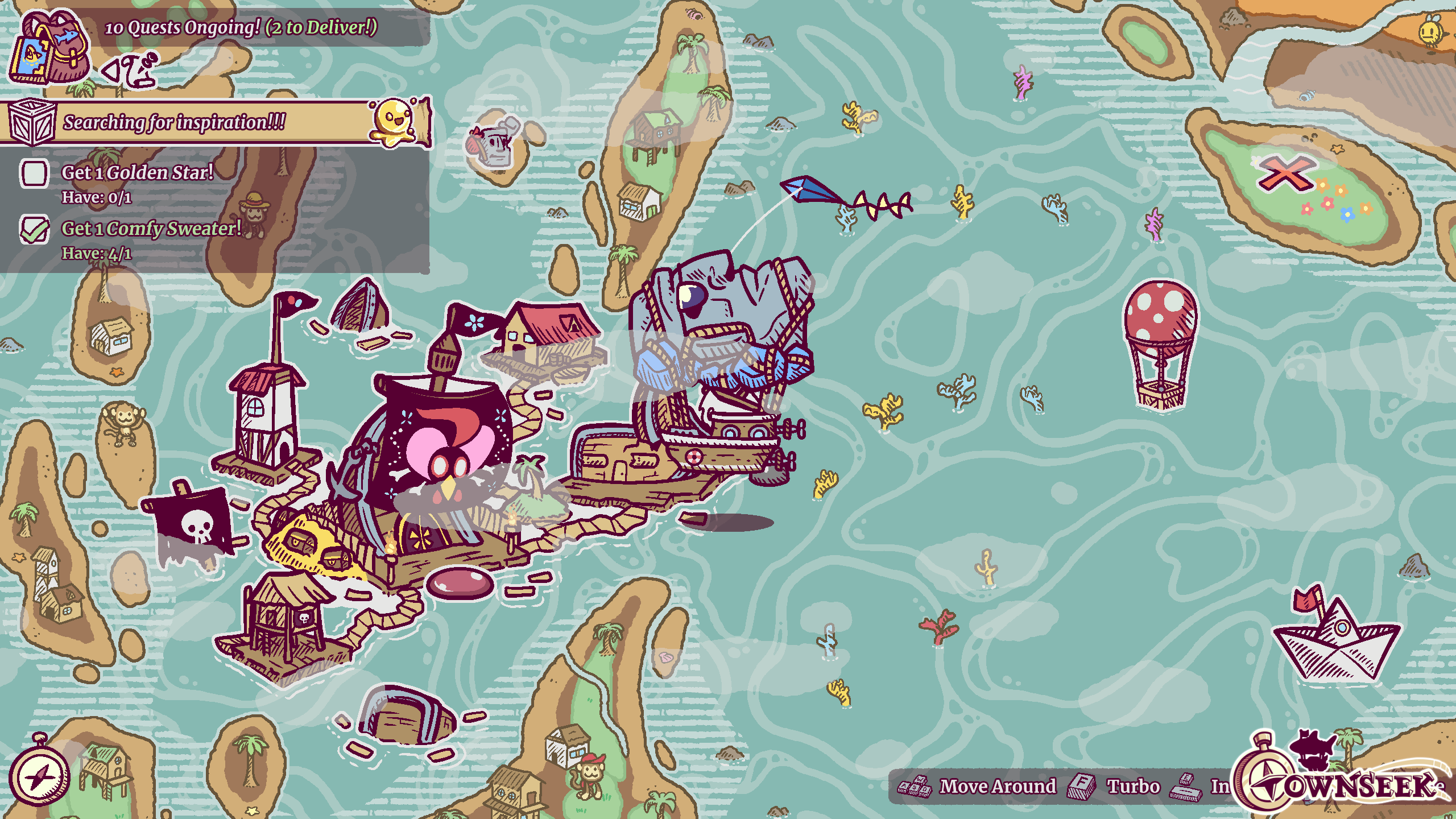 With how busy Townseek's production has been, we've been laying-low on side activities to focus primarily on the game. We want to make sure that we deliver a great cosy experience with Townseek, so we don't want to disperse our focus too much!
However, while there aren't any game related news outside of Townseek and great things have still taken place! From events, to physical collections, and now Art Fight in July, there's still a bit to cover. Let's take a gander!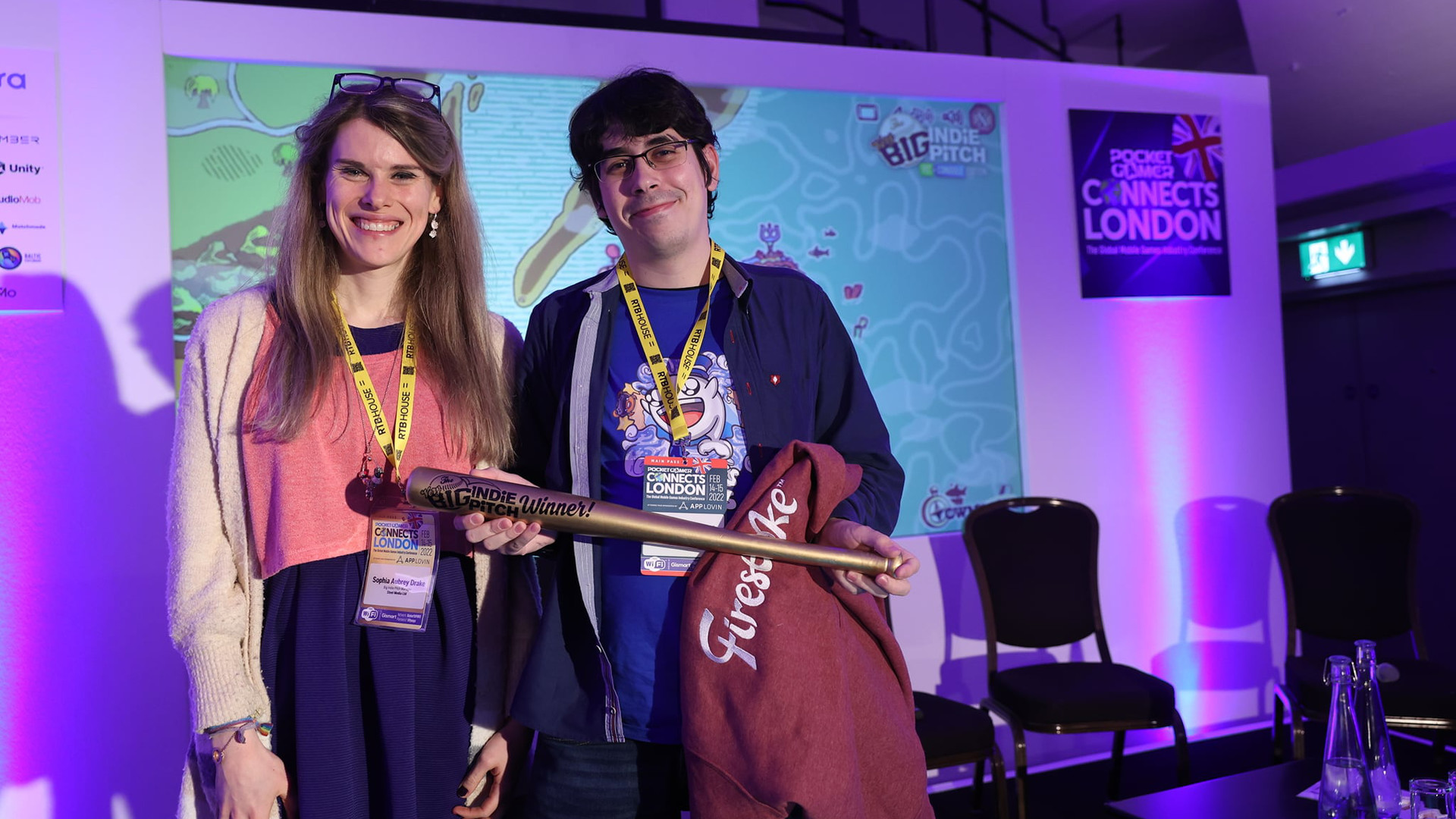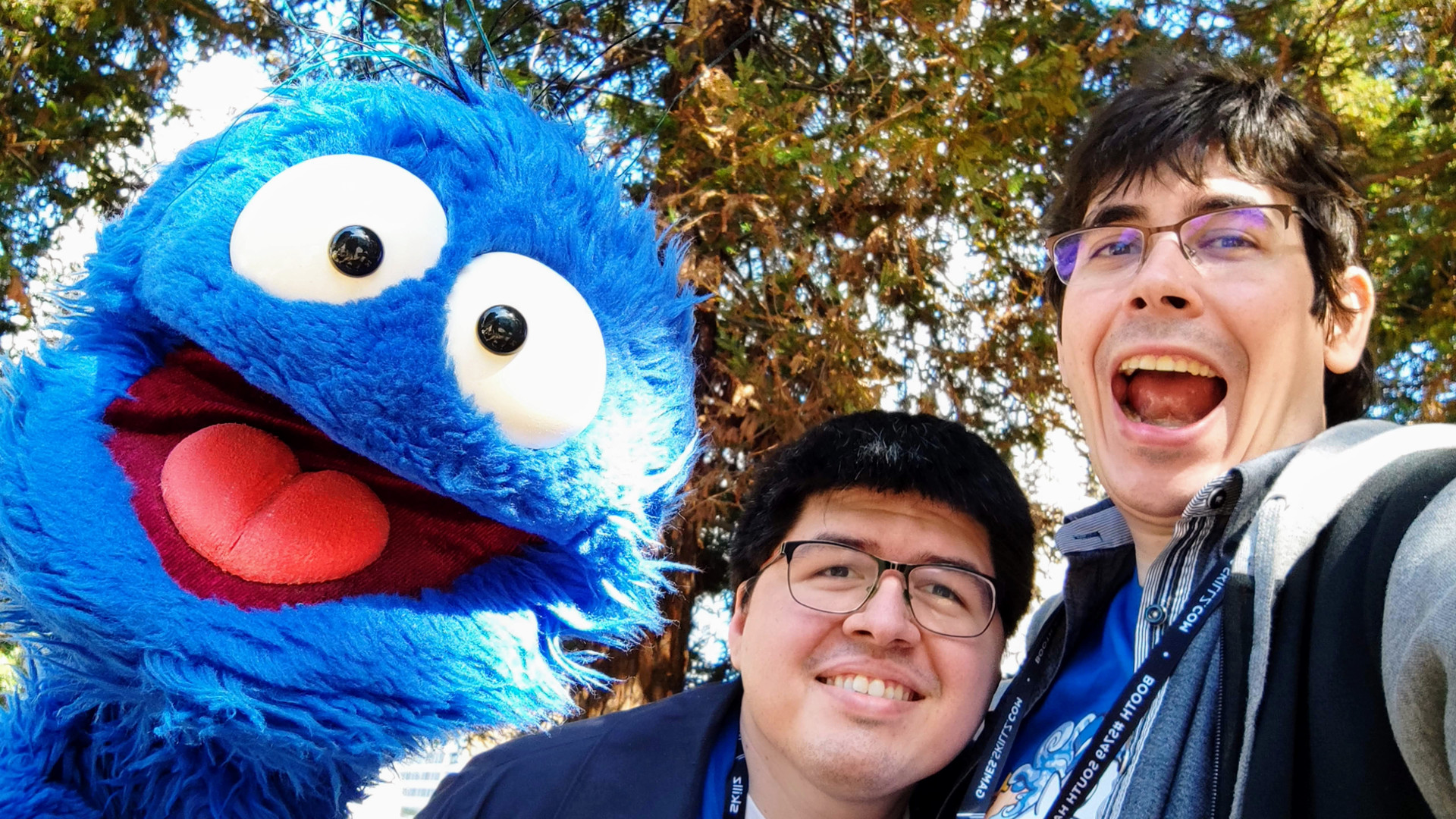 Getting to meet again after three years was a big highlight! And there are even greater things will be coming to Whales And Games thanks to our time at GDC! Make sure to keep an eye out for future reports! 🐳

It's been missing for a while, but we've been carrying on with our Whales of Culture challenge in the background these last months! 🎮
And that means we have recommendations for this month too! We have ocean exploration, memes, absurd tales and a classic movie someone finally took the time to watch! Here are this report's highlights! ✨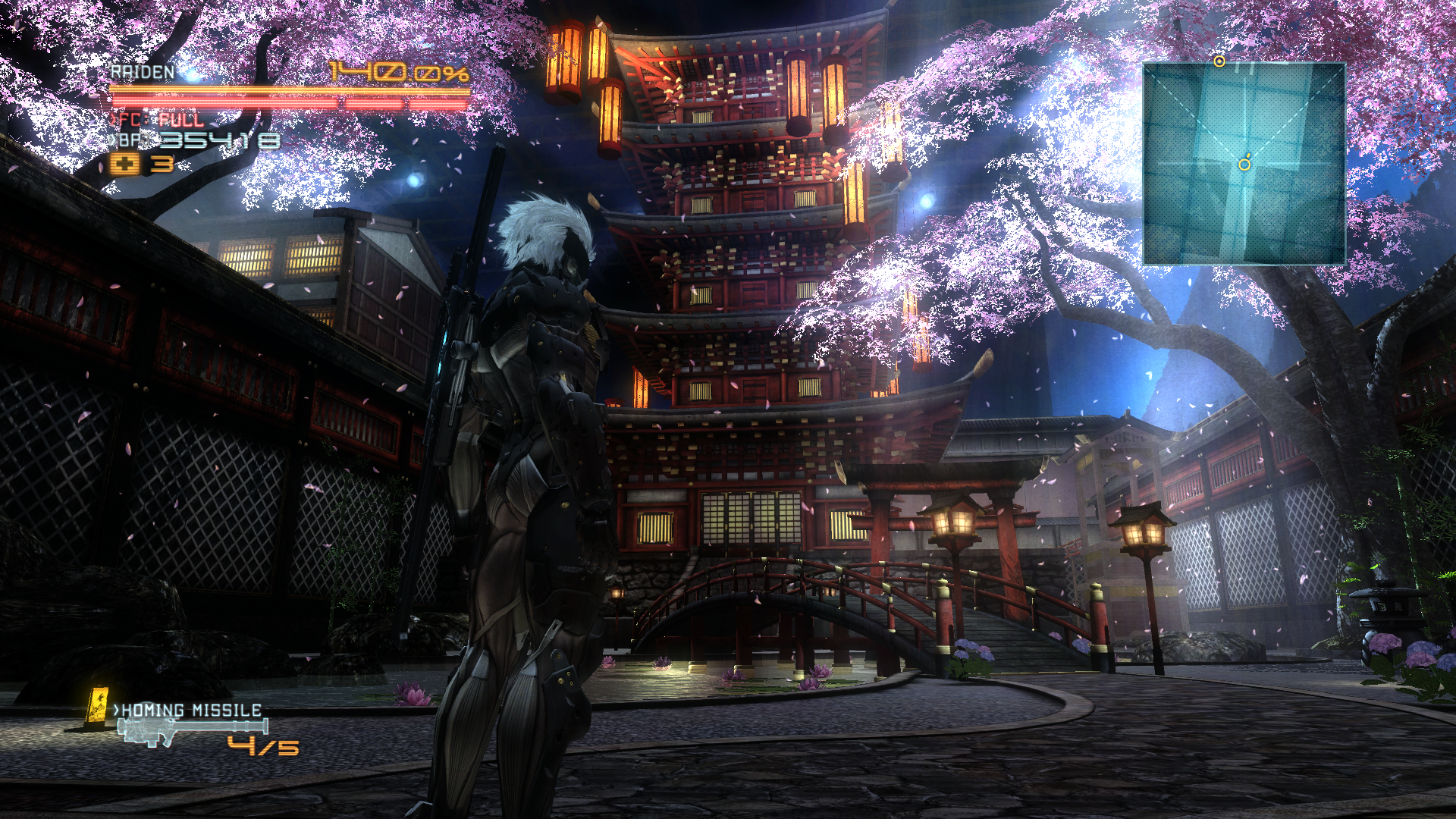 Jorge
I first played the original Subnautica back while it was still in early access, and I've been meaning to go back to it for the longest while. I finally made the time in the backlog and I have to say, the underwater wonders of Planet 4546B look as gorgeous as they are terrifying! One of my favourite takes on the survival genre, everything in the game immerses you (no pun intended). From the environment diversity; to building bases; to finding what lies at the seabed. While water has been a bit of a weak point in many games, in Subnautica, it's its strongest.
Metal Gear Rising: Revengeance has been on everyone's radars due to all of the memes that the game has spawned. However, when you look past them, you realise that you have a fantastic character action game that is actually trying to make history. While the campaign might feel a bit on the short-side, it's incredibly re-playable. The combat is fantastic, pulling off combos makes you powerful, and learning to master parrying is incredible. If you give it a play, I think we'll both agree that it is a phenomenal time!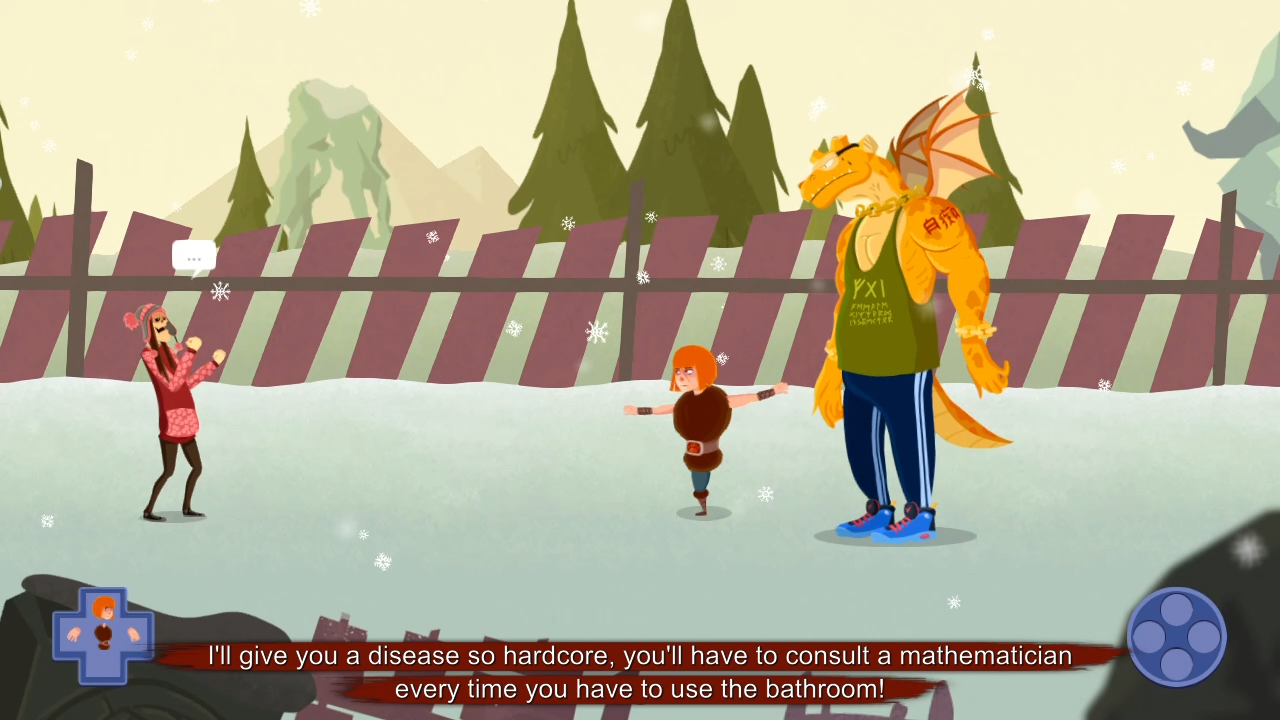 Moski
While I played it at the start of the year, I still think highly of Helheim Hassle. Absurd to the bone, sparingly gross and with witticism through and through. It's a hilarious tale about a dead viking that wants to spend eternity in peace but is instead of being forced to be part of God Odin's e-sports team. The puzzles are fun, not too convoluted and never too complicated. It's great for a casual puzzle-platforming experience!
Finally, let me recommend you to watch The Matrix (the original one). My friends have been asking me to watch for over a decade now. I'm late to the party, but but even now, it's still superb and even aged like fine wine! I won't watch the sequels myself since I know the whole story. But as a standalone experience, this one is very difficult to top!
---

For those that have been with us for a while, you know how these anniversary status reports tend to end. We really like to look forward to what's coming ahead next year! These last years of Whales And Games were very transitional, with us figuring out exactly what kinds of games we wanted to make, what kinds of professionals we were and trying to find our place in the industry. There was a lot of back-and-forth before we arrived at where we are at now.
Gladly, our fifth year has helped us in all of those regards! We're incredibly grateful to be working on a project that means much to us with Townseek. There are really great people helping us shape the project the best it can be. Even more than you might realise!
Of course, there's still a lot of work to be done until the game is actually out by next year and many more news will follow as the months go by. We can't wait to show you some of the stuff we're cooking in the background! Our sixth year is showing all signs that it will be a promising one! 👍

Like we've done in past years, if you're a part of our Discord Server, we're running a special #anniversary-cards channel! You can join the channel to say some words of encouragement and kindness about Whales And Games. You can also tell us about what you'd like to see in Townseek. Or really just go with pretty much anything that comes to mind! These are always an inspiring read and we're very grateful to have you all following our work for these last five years! 😊
Alternatively, we'll continue posting our progress through both our Twitter and our Instagram. If you're interested in Townseek news alone, you can get those by wishlisting and following Townseek on Steam!
Thank you for the amazing fifth year, and here's to a whale of a sixth year! Cheers! 🐳